TOP 6 FITS:
THE TRUCKER JACKET
Style / 
August 2021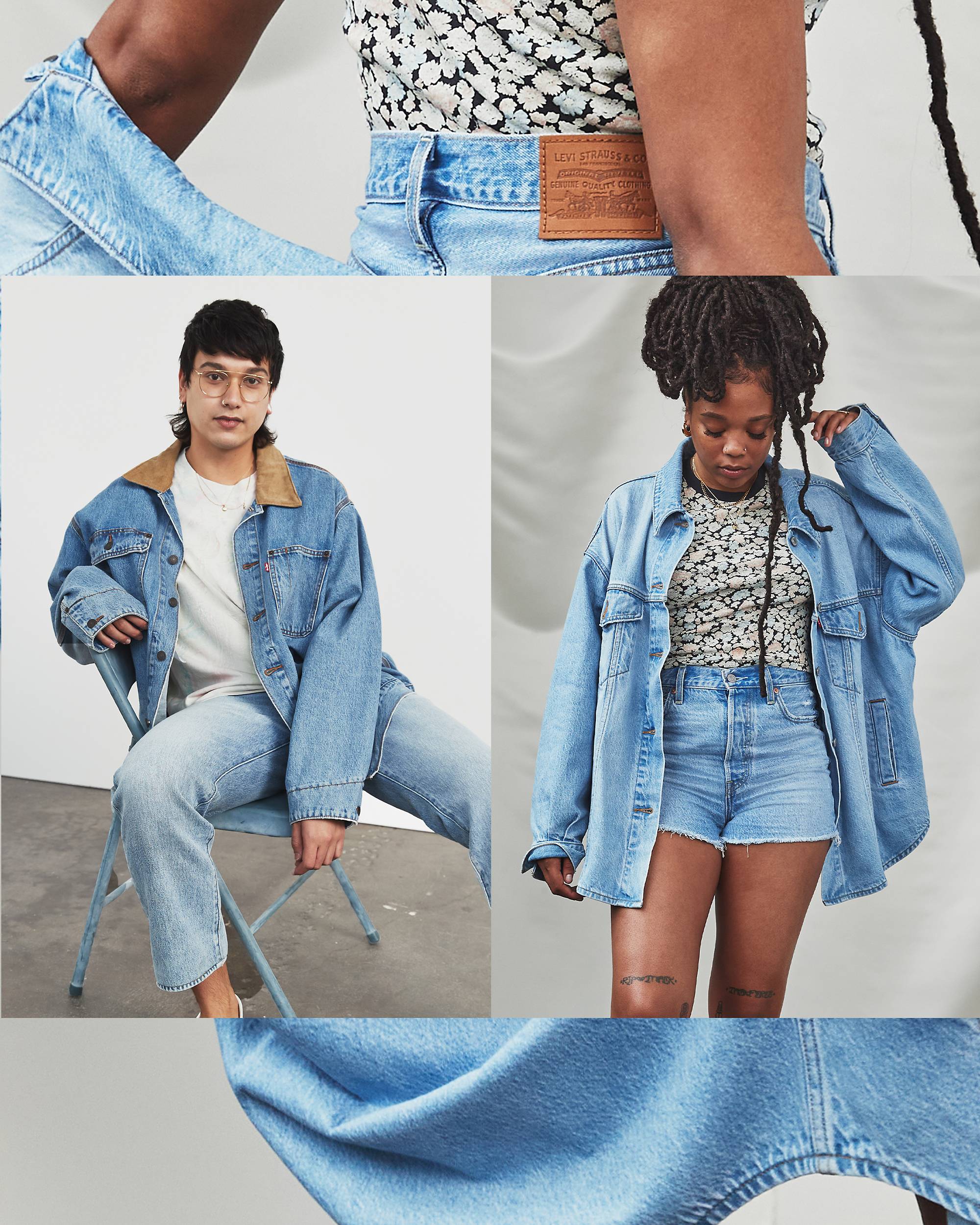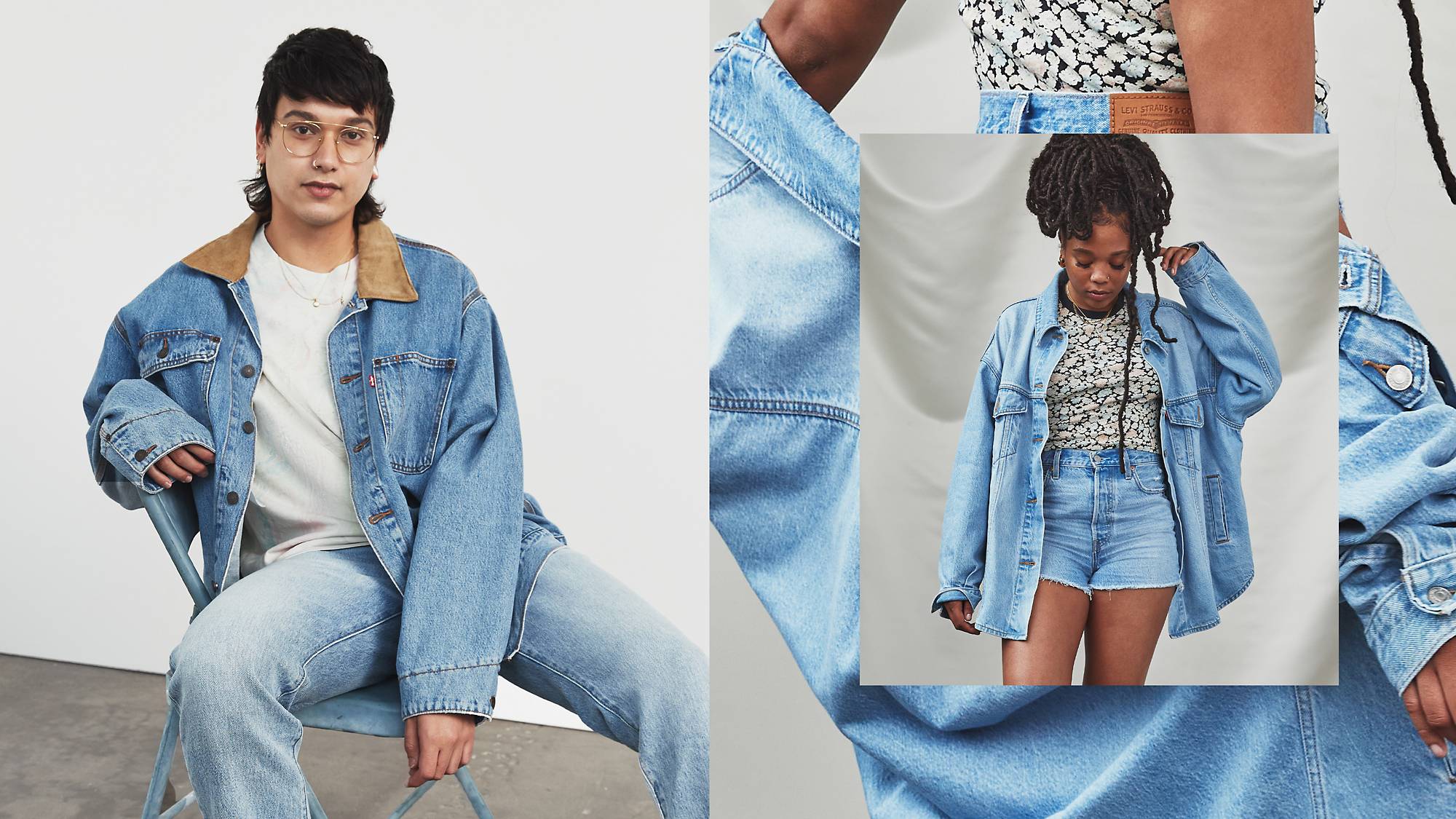 Here at Levi's®, when we like something, we really, really like it. For us, that means iterating on some of our most essential silhouettes to make sure there's a version for everyone. Today, we're breaking down the Trucker Jacket. With six different fits for both men and women, this easy layering piece is an absolute essential. And while you definitely want at least one of these in your wardrobe, the question is which one— or ones —are right for you.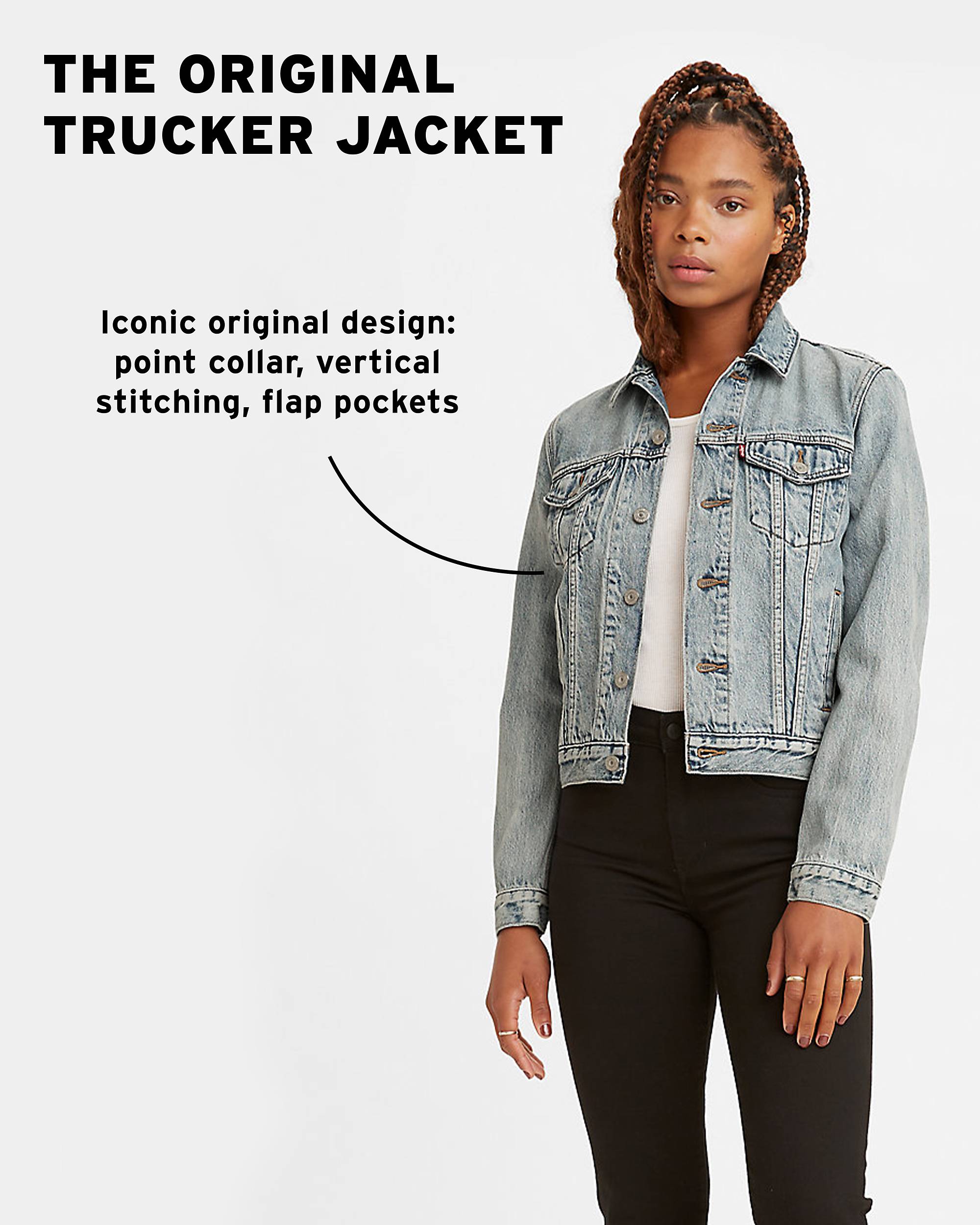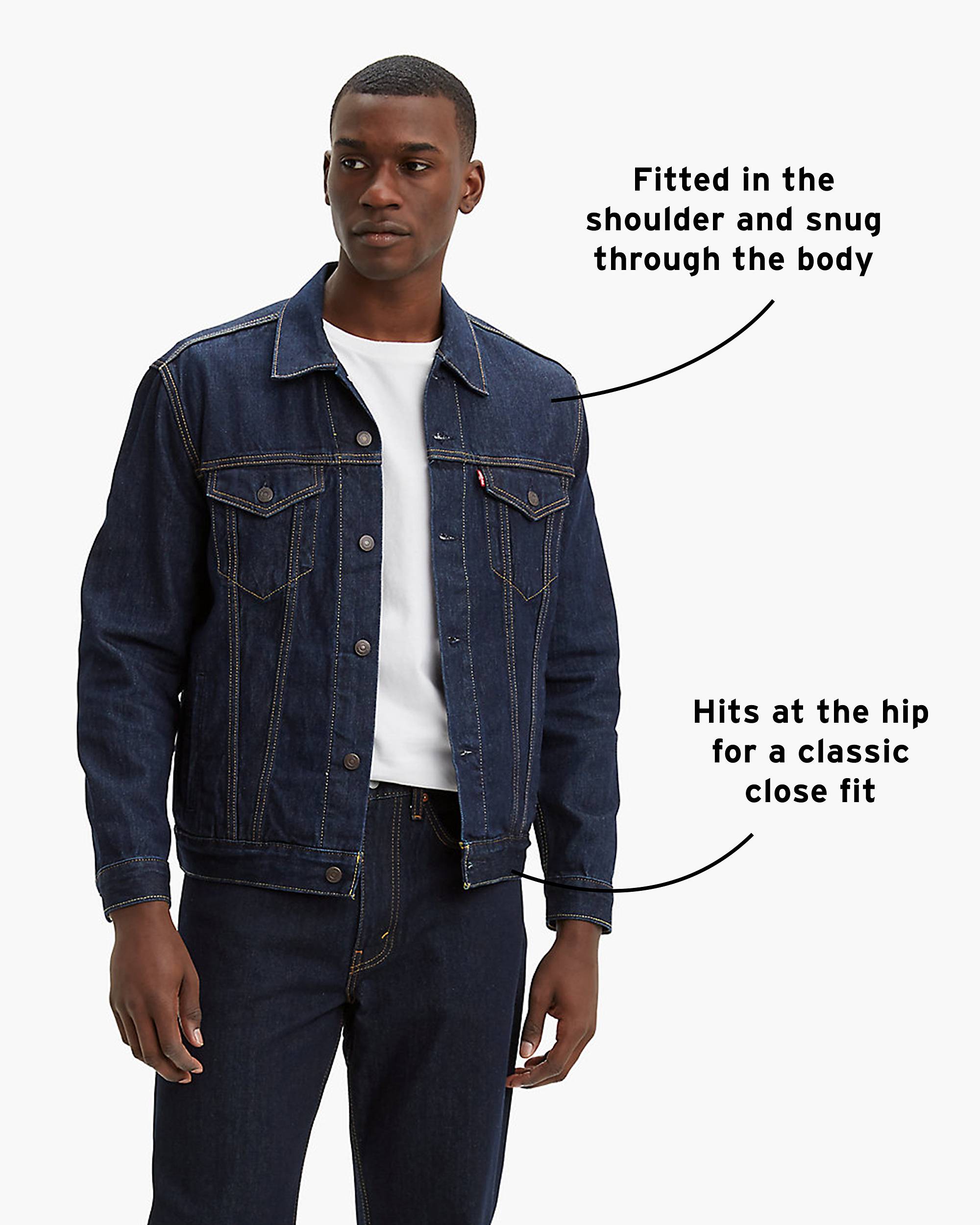 The Lowdown
Made in 1967, the Original Trucker Jacket is the O.G. jean jacket with roots in the cultural revolution, so it's no wonder it quickly became a canvas for self-expression. The no-nonsense design features lightweight versatility and classic workwear details for a go-anywhere, do-anything type of vibe. History lesson aside, this is really our most classic, quintessential jean jacket. Like when you think "jean jacket" you're thinking of the Original Trucker. It's the kind of classic denim piece you wanna pass down from generation to generation. 
The Breakdown
Made for either men, or women, the Original Trucker Jacket is designed with a classic fit. Fitted in the shoulder and snug through the body, the Original Trucker design hits at the hip for a classic close fit. A 98% cotton and 2% elastane denim holds its shape for a structured look while still providing the perfect amount of stretch. Foldover point collar, vertical "V" stitching, and chest flap pockets are part of the iconic original design, but we've managed to bring it into the 21st century with sustainable Water<Less™ techniques. Style this one however you'd like. It's equally at home over a t-shirt or sweatshirt, as it is under a heavy coat.
The Lowdown
We know, we know. Everyone is looking for that perfect "boyfriend jacket." You know the one: the oversized effortless style that looks freshly plucked from your man's closet (with or without his knowledge). But hear us out on this one—with the Ex-Boyfriend Trucker Jacket,  there's no chance he'll come and take it back from you since it's yours and yours alone. That's the upside of this easy, versatile women's trucker jacket fit: all the slouchy laidback vibes of boyfriend jean jackets, none of the fuss.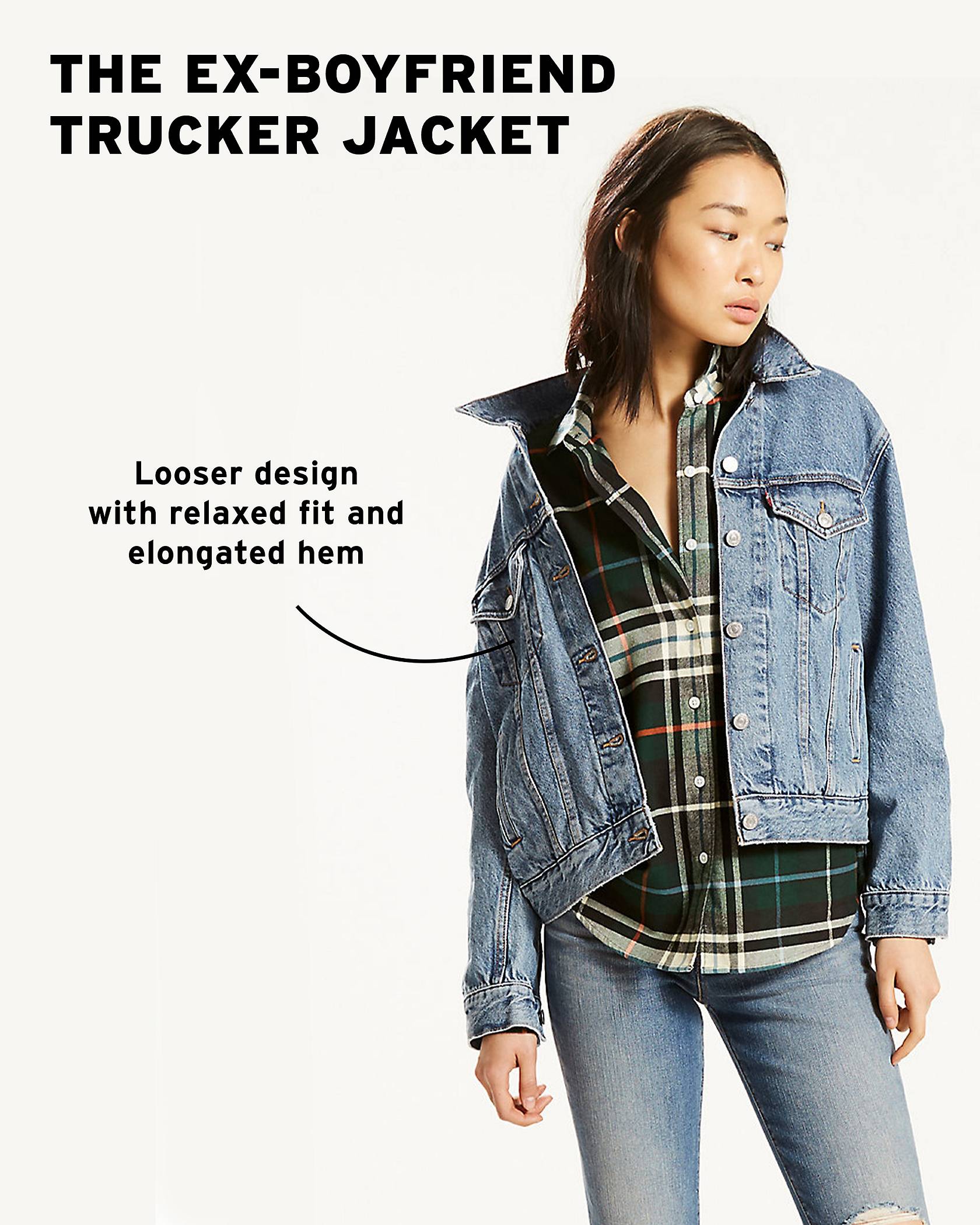 The Breakdown
An updated take on the original, the Ex-Boyfriend Trucker Jacket features a bigger, looser design than the traditional Trucker with a relaxed fit and an elongated hem. A 100% cotton non-stretch denim is durable and rigid for a structured, boxy fit that breaks in over time. Plus, this look features all the classic Trucker trappings including a point collar, button cuff, front flap pockets and iconic "V" stitching. It's even made with Water<Less® techniques that reduce the use of water in the garment manufacturing process. Now that's a good ex-boyfriend.
The Lowdown
This one's different. The Sunset Trucker Jacket is a ultra-modern take on a vintage inspired denim jacket. It takes cues from classic workwear jackets for a cleaner design with old-school detailing. Built to wear over time, the Sunset Trucker Jacket was made to thrift and be thrifted thanks to longwearing denim and a uniquely timeless look. A classic staple that's not afraid to make a statement, the Sunset Men's Trucker Jacket is the throwback you need.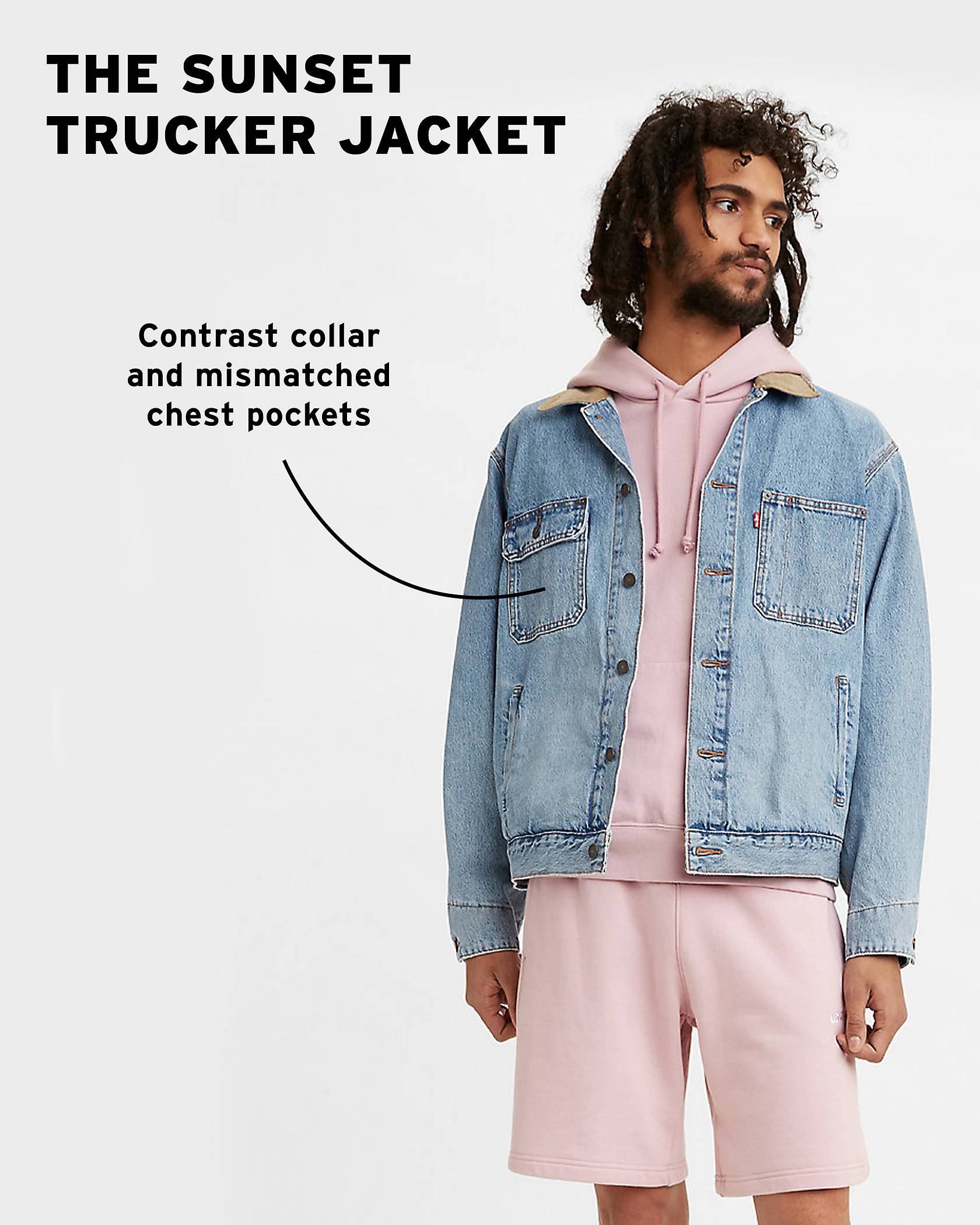 The Breakdown
This laidback relaxed fit features a vintage-inspired drop shoulder and 100% non-stretch denim construction for a boxy, old-school fit. A contrast collar is borrowed from workwear design language, while mismatched chest pockets add character. Traditional button cuffs and welt side pockets keep this look true to its original Trucker roots. A true throwback, style this look with modern classics like an easy tee and a straight leg pant for a statement-making layered look.
The Lowdown
The '90s are back and we couldn't be more excited about it. That's why we're so stoked about Vintage Fit Trucker jackets. Designed after '90s versions of our Original Trucker, this look is classic enough to be a wardrobe keepsake, but has the right amount of throwback edge to feel fresh. Not to mention, there's a surprise interior sherpa lining that adds that little something extra. This is the epitome of vintage craftsmanship at its best.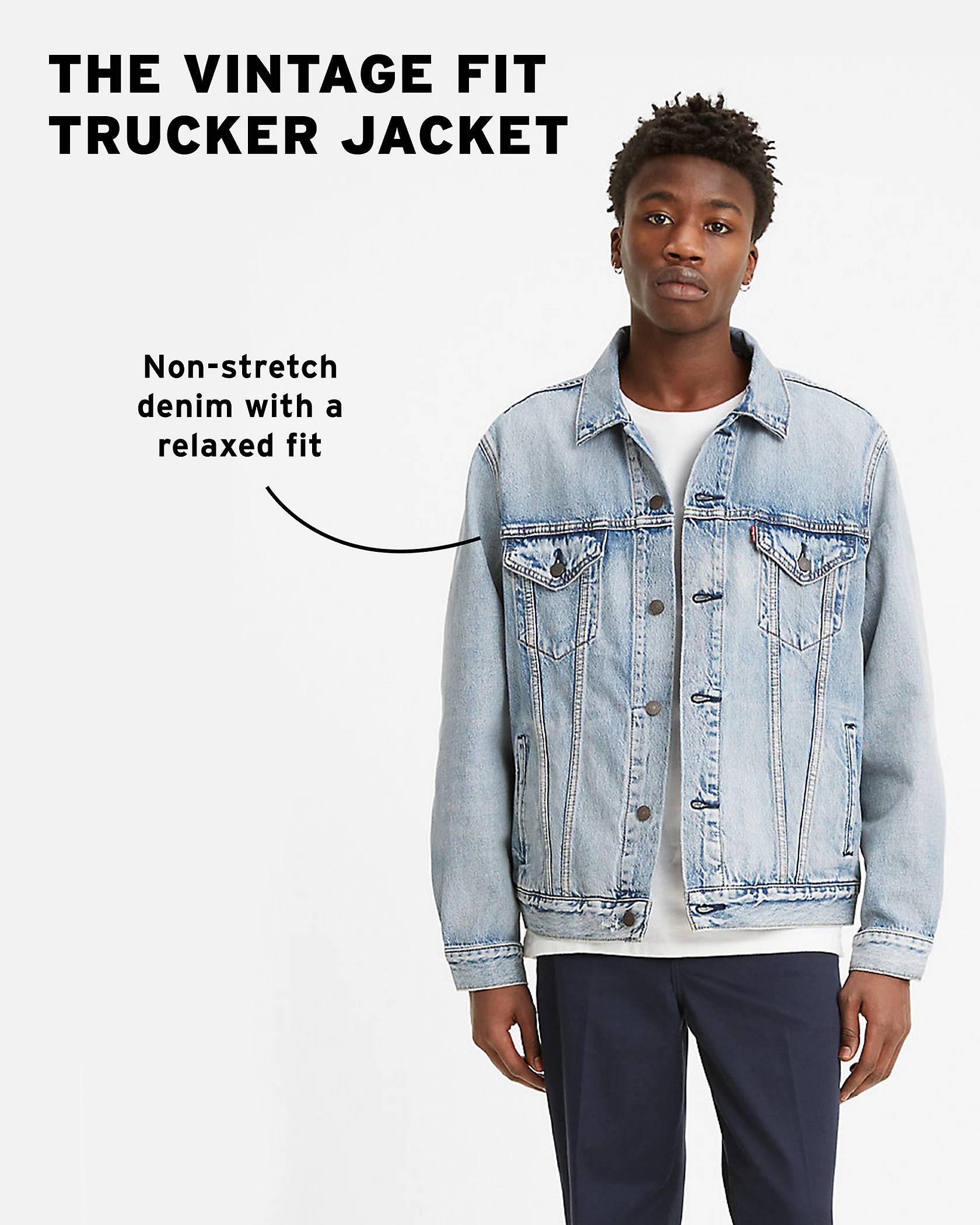 The Breakdown
A 100% cotton non-stretch denim provides a sturdy backing for a sherpa and quilted liner and adds to the boxy, vintage-inspired look. A relaxed fit features a generous cut for extra room throughout and a longer sleeve for a slouchy laidback feel. All the classic details are here: point collar, "V" stitching, a button cuff and flap chest pockets. Since this look is a little more heavyweight than our other Trucker fits, save the Sherpa Trucker Jacket for some serious layering in chillier temperatures.
The Lowdown
Shirt + Jacket = Shacket. You + Shacket = true love. The Shacket is a fresh take on the Trucker that feels very now despite its '90s roots. The deal is in the name. A heavyweight construction and boxy fit feel like a jacket but a curved shirttail hem and shirting details give it a distinctly shirt look. This women's oversized jean jacket is great for layering. The Shacket is delightfully oversized and perfectly vintage-inspired to go with just about anything.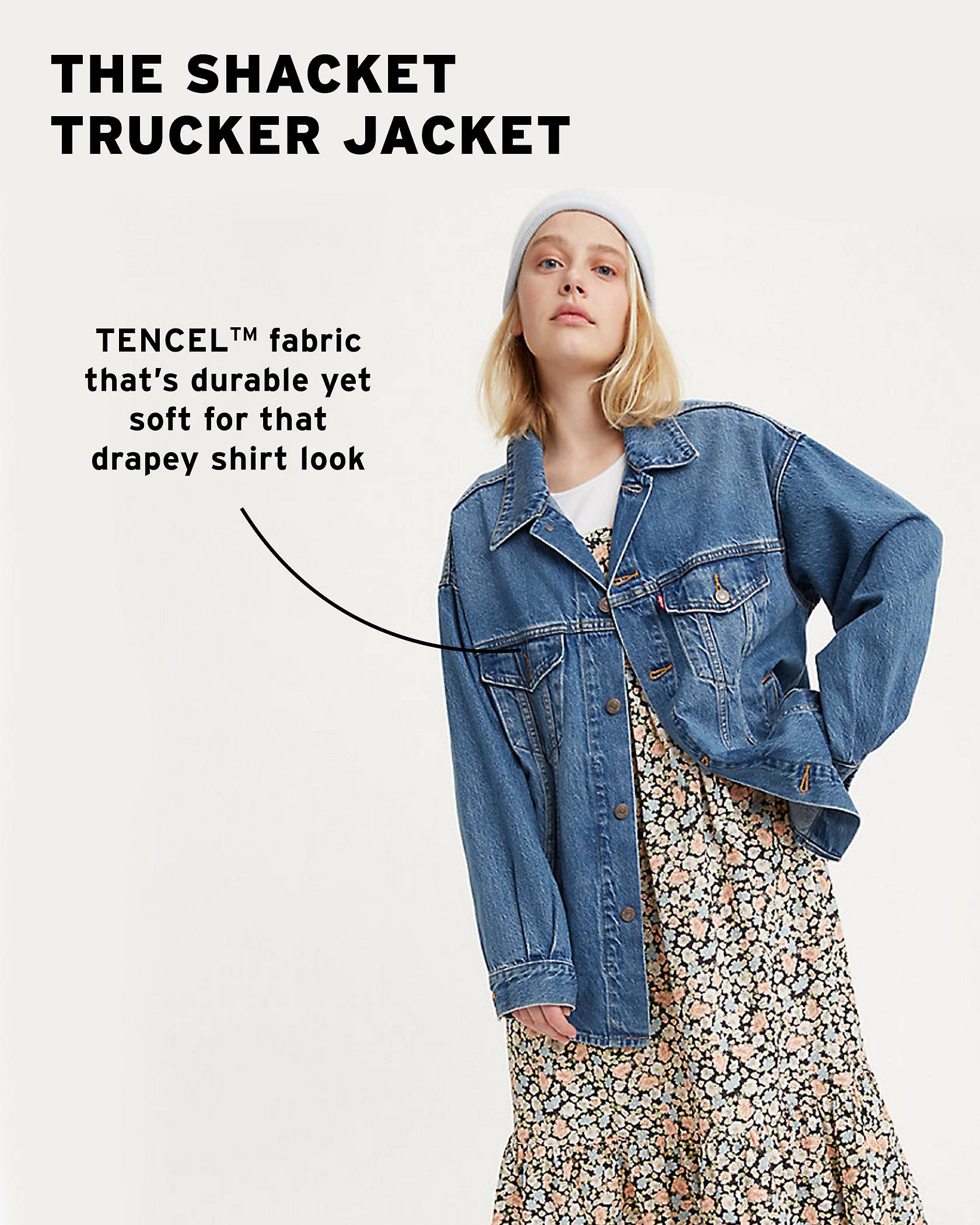 The Breakdown
We start with a TENCEL™ construction. The fabric is durable yet soft for that drapey shirt look with the right amount of stiffness for a boxy jacket look and feel. Loose fit features a dropped shoulder for a laidback '90s vibe. A pleated button cuff and back pleat bring those shirting details into the look, while a classic point collar, dual flap pockets, "V" stitching and a button front are taken directly from the Original Trucker.
The Lowdown
With high-waisted jeans taking up a prime spot in women's outfit rotations these days, it's only right we have a Trucker to match. The Shrunken Trucker is designed to be paired with that ubiquitous high-rise look. Built like a shrunken version of the Original Trucker, and finished with a slightly cropped fit, this '90s-inspired look can't help but show off that waist-defining look while still giving you that extra layer you want.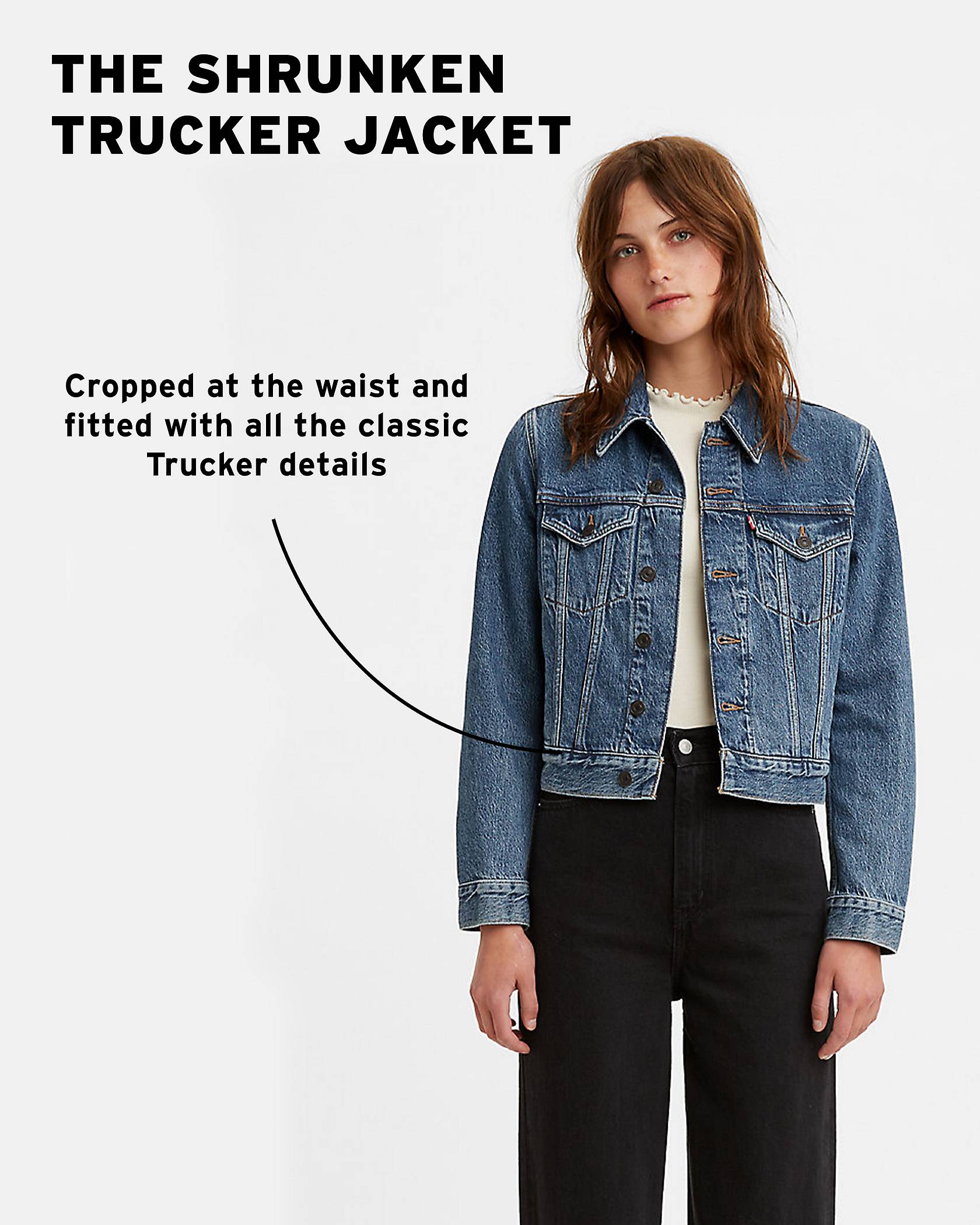 The Breakdown
Cropped at the waist and fitted with all the classic Trucker details, the Shrunken Trucker is ultra-classic. Regular fit sits at shoulder and sits snug through the body for a close, flattering fit. V stitching adds those quintessential jean jacket design lines while the dual flap patch pockets at the chest top off the look. Button front and cuff let you style your way.
See. We told you we really, really like our truckers. With all of these options, the layering possibilities are endless. So pick your favorite or one of our other fabulous options and start styling.