Sherpa Jackets Explained: History, Styles & More
SHERPA JACKETS EXPLAINED
Style / 
October 2021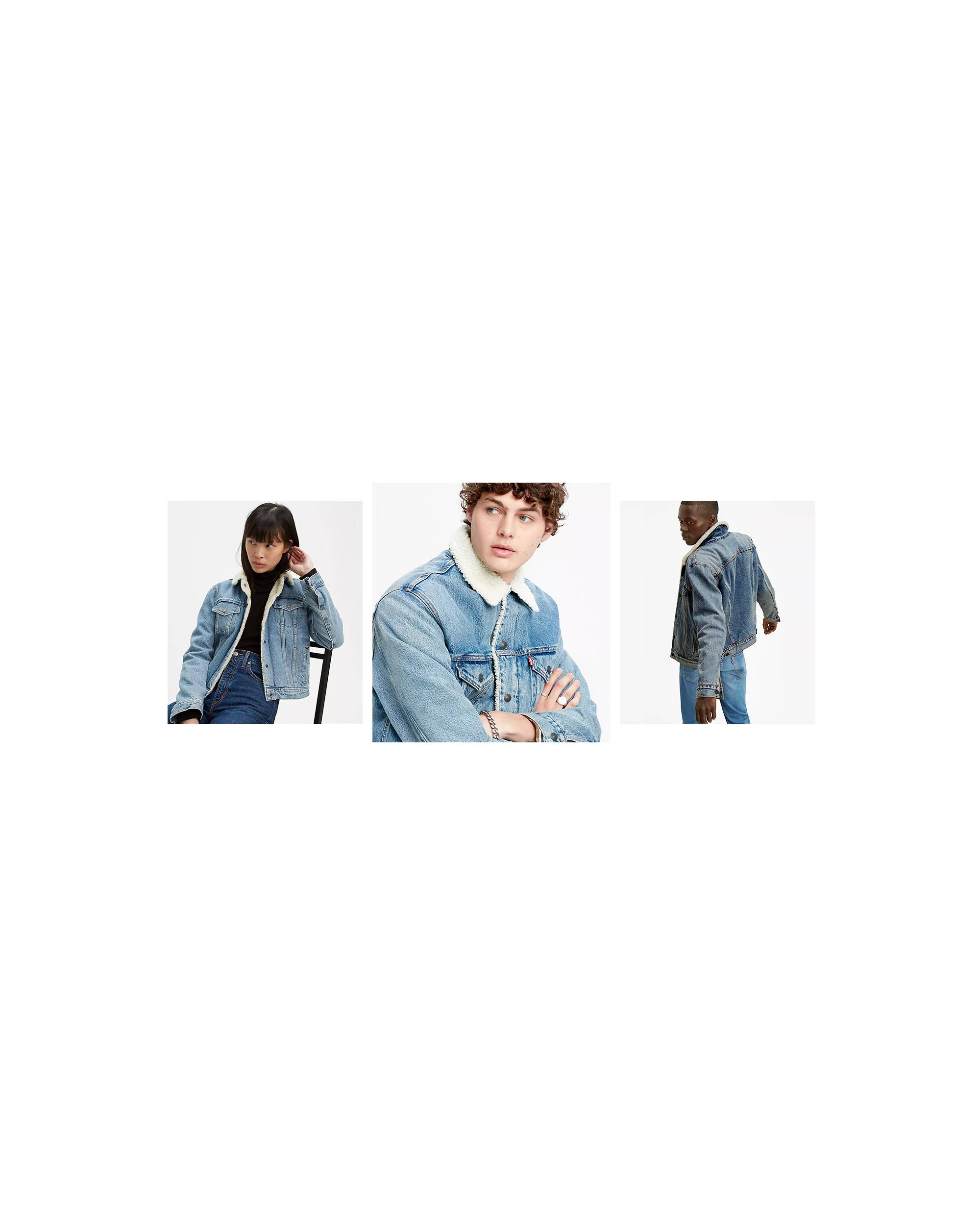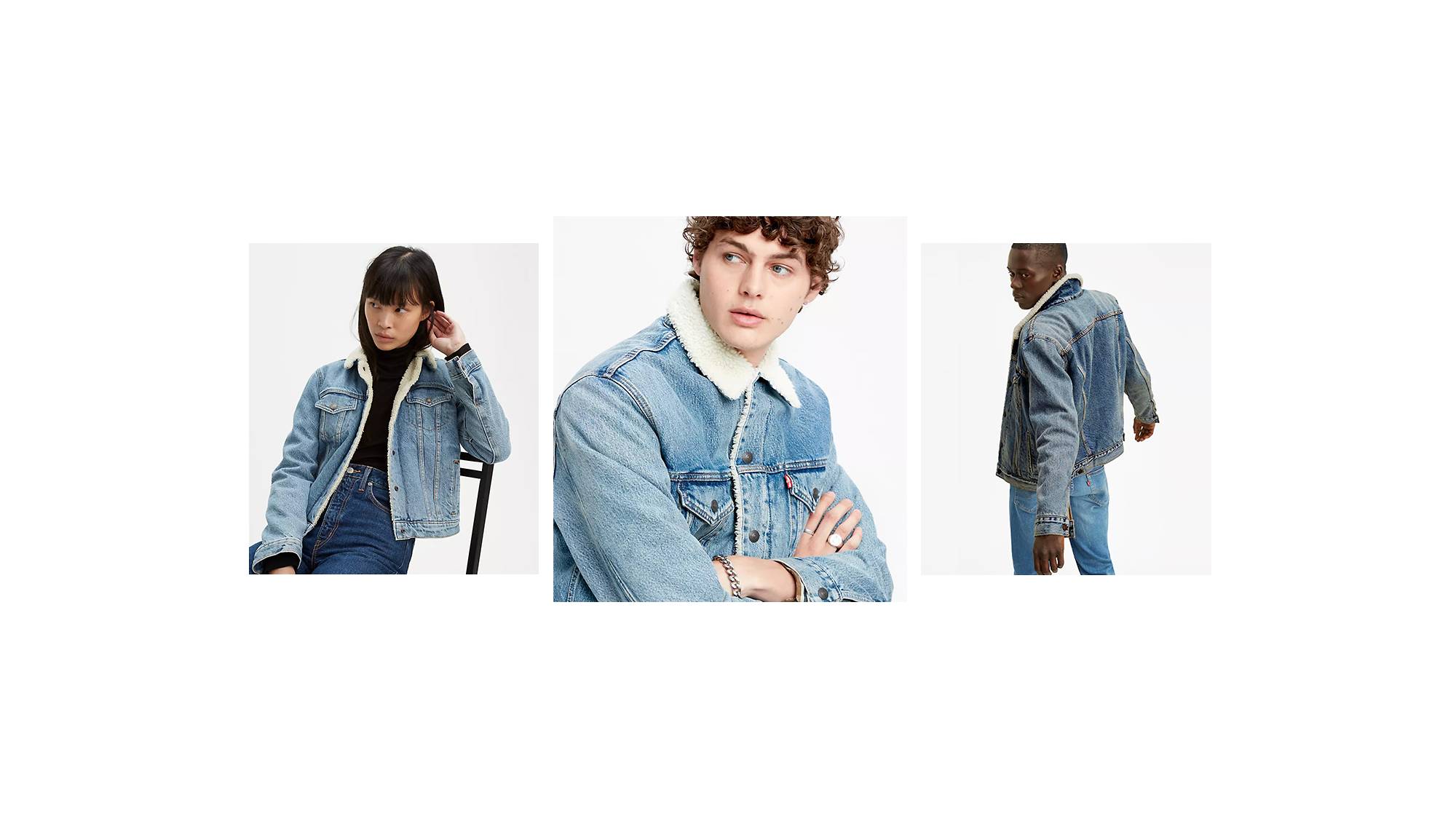 SHERPA JACKETS EXPLAINED
When it comes to looking cool while staying warm, sherpa jackets rule the day. We love sherpa jackets in their many variations, beginning with the original Sherpa Trucker Jacket, all the way to the All-Over Sherpa, a jacket covered inside and out in plush faux shearling.
To back up, let's learn a bit about sherpa and what makes it so special.

What Is Sherpa?
Sherpa lining refers to that cozy fuzz you see peeking out of the necks of many a jacket in cooler months. A sherpa jacket has it all: A protective outer layer (denim, corduroy, you name it), button front, plenty of pockets and a cozy, supersoft fabric lining. The perfect transitional piece, sherpa jackets offer protection from cooler temps without going wild in the weather-proofing department and are great for layering clothes as temps start dropping.


What Are Sherpa Jackets Made Of?
Originally made of sheep's wool, our modernized take on sherpa is made of lightweight cotton or recycled polyester, boasting a nice deep pile and little fleece fuzzies that gives it it's beloved texture. This modern sherpa lining has a much lighter weight, is less bulky and dries much faster than its predecessor. It's that extra cozy layer everyone needs to make it through the chillier months.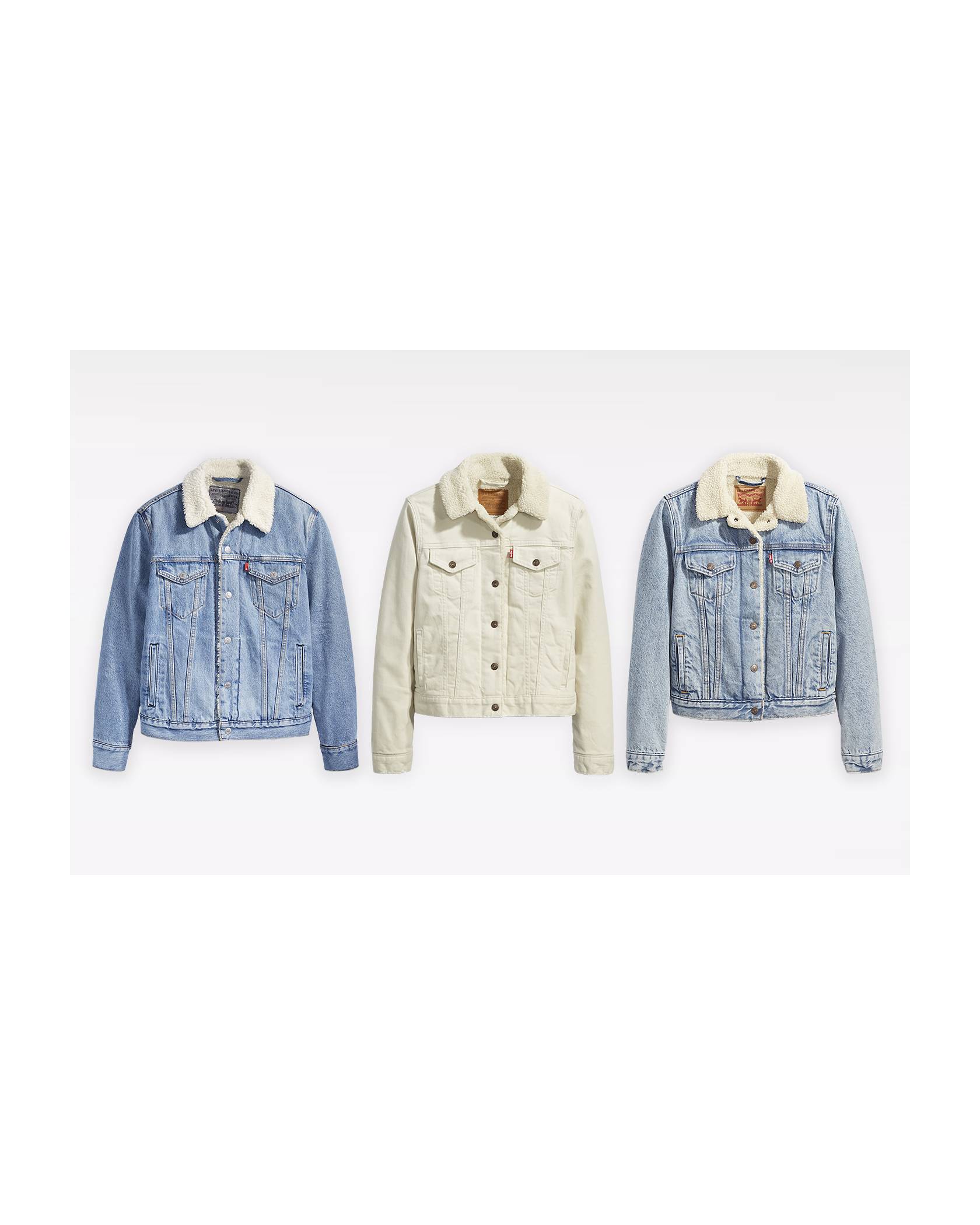 When Were Sherpa Jackets Invented?
Levi Strauss & Co. introduced blanket-lined jackets for colder weather as early as 1943. Twenty years later, in 1963, we started offering "fleece" or "orlon fleece" jackets — the term used before "sherpa" was eventually adopted.
Sherpa-lined Trucker Jackets have been in the Levi's® line continuously since the 1960s, featured in a variety of fabrics from denim and corduroy to suede.

What Do Sherpa Jackets Go With?
Hot tip: You can wear it just like you wear your jean jacket...with everything. Like a little portable nest, your sherpa keeps you warm while adding an effortless coolness to any winter outfits. Stay true to size for a tailored fit that hugs the body or size up for a more laid-back look and feel that's easy to layer with undershirts, thermals and flannels. However you choose to sherpa, we're here for it with different styles like our original, Ex-Boyfriend and Vintage Fit Trucker Jackets.
The Original Sherpa Trucker Jacket
Worn by generations of rebels and creators, this sherpa staple is the cozier counterpart to our Original Trucker Jacket. Rebooted for winter with a supersoft sherpa interior and insulated quilted lining in the sleeves, you'll never have to choose between comfort and style again.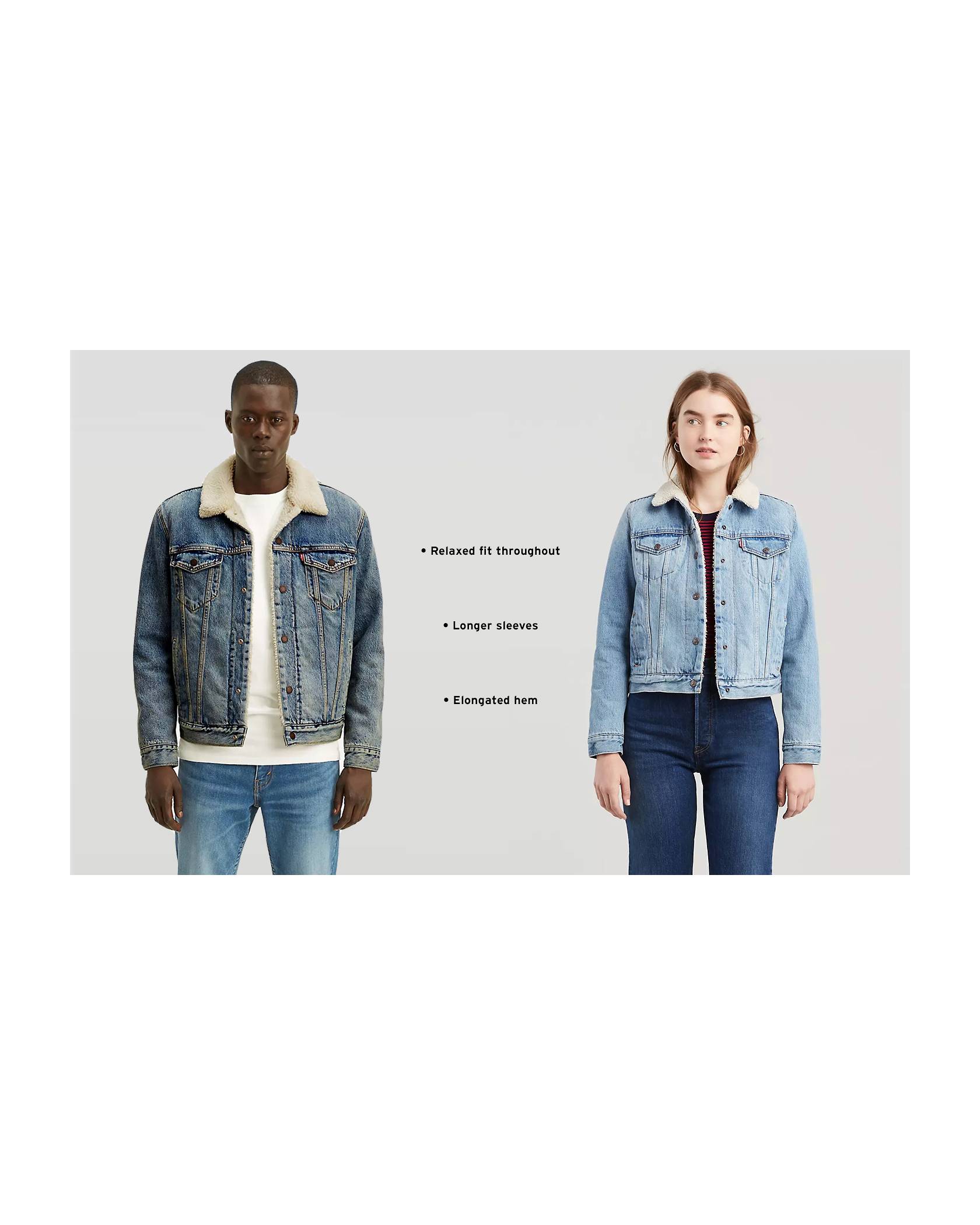 The Ex-Boyfriend Sherpa Trucker Jacket
In case of layers, look to the Ex-Boyfriend. No, not that one. We took our relaxed, borrowed-from-the-boys silhouette and lined it with textured sherpa fabric, giving you all the comfort you could ever need without making any potentially regrettable phone calls. This hearty go-to features a slight drop shoulder, longer sleeves and elongated hem that hits just past the hip. Weather permitting, layer with a sweatshirt or some chunky knits. And unlike your real-life ex, this one will be there for you season after season.
The Vintage Fit Sherpa Trucker Jacket
Our Vintage Sherpa Trucker is another cozy take on the original — this one is updated with a roomier fit and is, of course, full of fuzzy sherpa goodness. Perfectly worn-in from day one, try this style if you're looking for an oversized fit that's looser in the shoulders, offers more room in the chest and arms and has longer sleeves. One of those jackets you can throw on and look instantly pulled together, this versatile staple combines the cool and the comfortable while keeping it as authentic as its namesake.
ALL-OVER SHERPA TRUCKER
Feeling a little extra? Our All-Over Sherpa Jacket is all you. This teddy bear beauty adds a tiny bit of drama with its plush inside-out faux shearing shell and extra-warm touches like quilted sleeves and fluffy sherpa-lining. It's perfect for chilly days that require a little more insulation, all while handing out a heavy dose of style.
Let's Get Personal
Don't want to blend in with the flock? Make your sherpa jacket your own with a trip to a Levi's® Tailor Shop, where you can get creative with customizations like embroidery, patches and alterations of all kinds.