What We're Wearing Vo. 24: Get Down, Layering Up Outfits Edition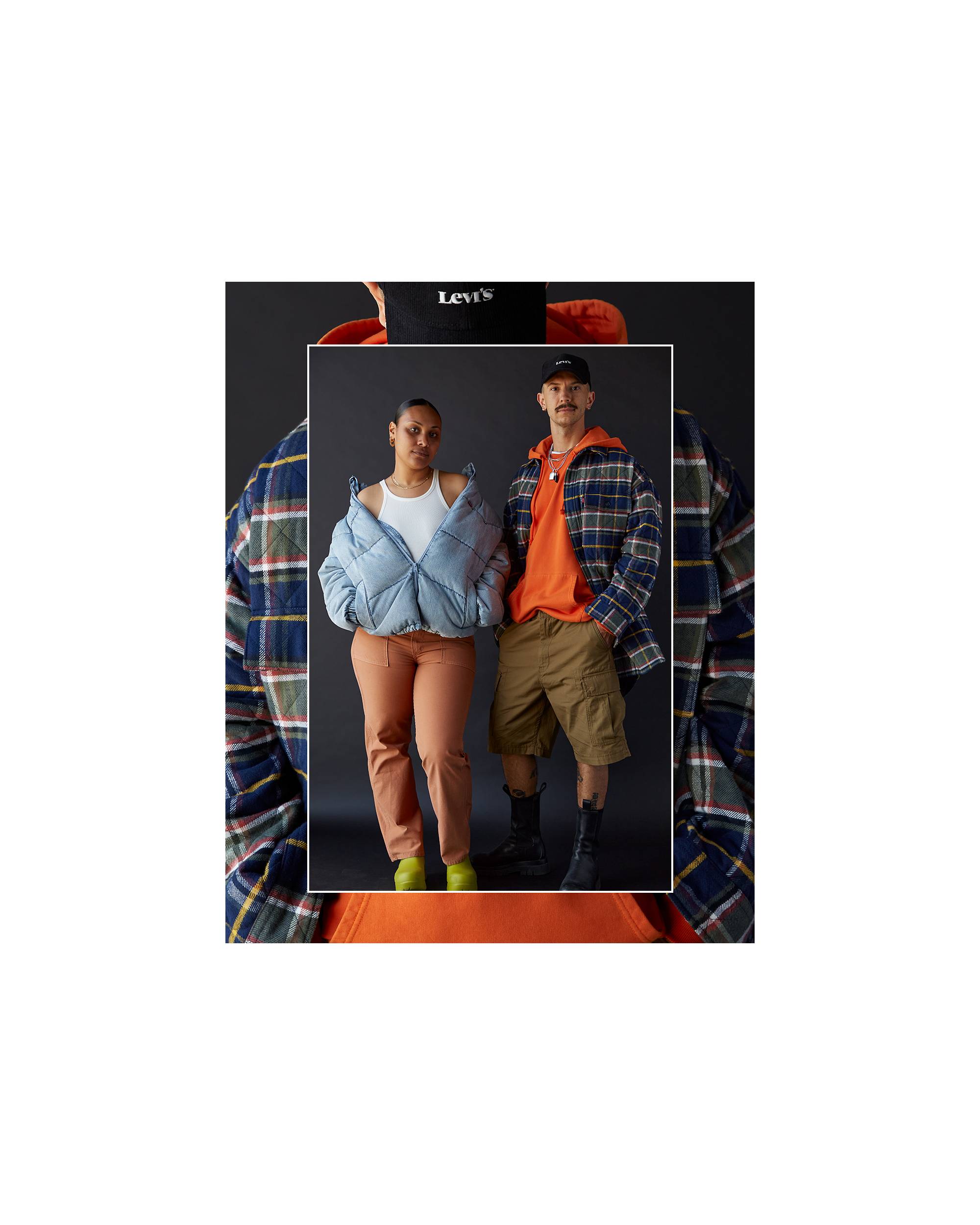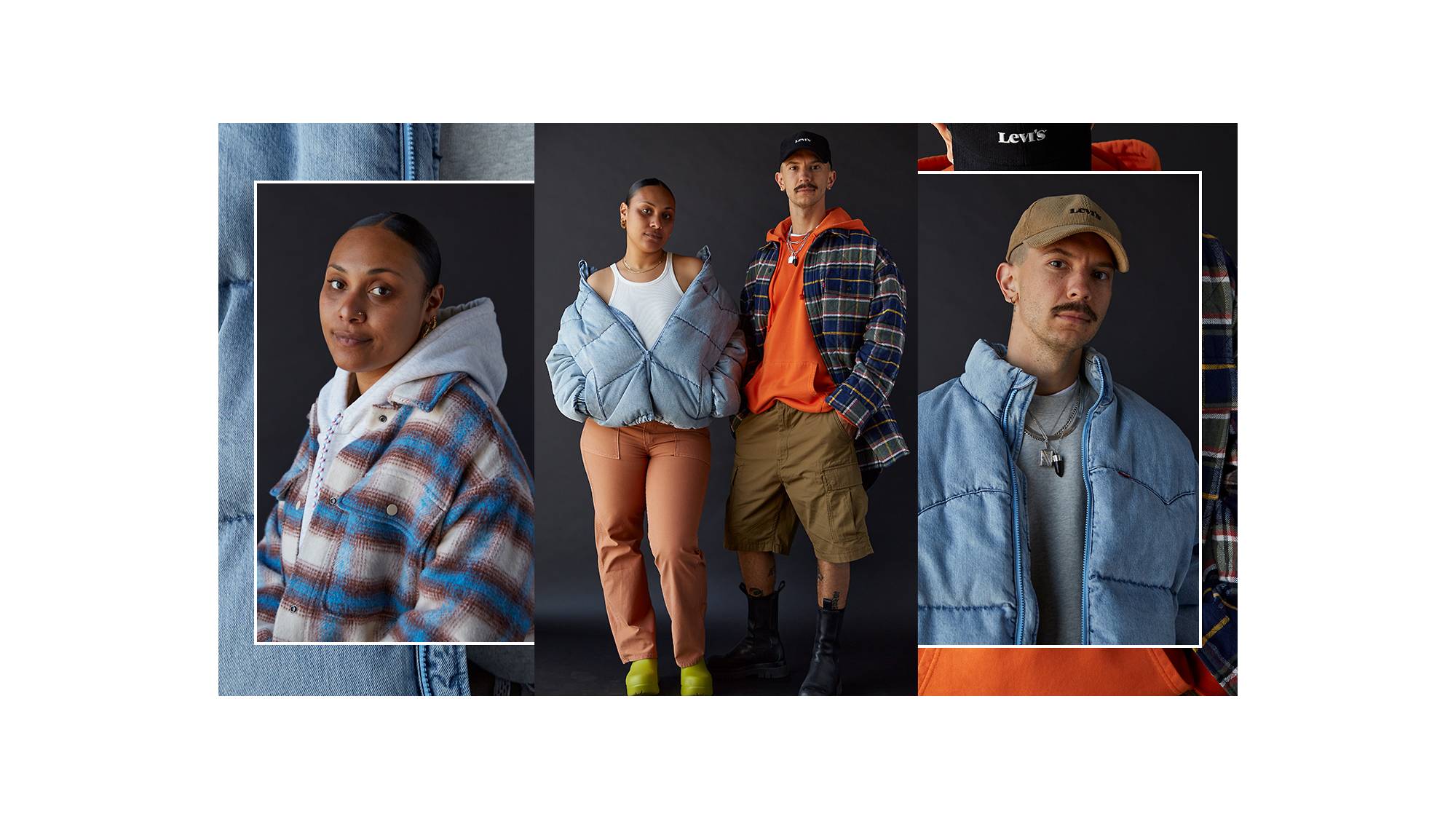 As longtime residents of the Bay Area, Levi's® stylists Amber Talley and Josh Fargher have mastered the subtle art of layering clothes. It's a skill all people who live there must learn to some degree, because big temperature shifts are common throughout the year. When Levi's® started in San Francisco in 1853, we introduced "waist overalls" or "overalls" — what would be called jeans 100 years later — so layering clothes has always been a part of what we do. As summer winds down and temperatures decrease (eventually), everyone can benefit from layering. We asked Amber and Josh to provide some expert insight on how to do it with style.
Josh:
I'm always in a hoodie or some kind of sweatshirt or fleece, then it's an oversized denim jacket — a third wearing piece that I can put on or take off depending on the fluctuation of the weather here.
Amber:
I really like puffer jackets when it does get cold enough. I like crewneck sweatshirts a lot, too. I have hoodies, but I lean toward crews more just 'cause my hair gets in the way. I like an oversized layering piece, like a flannel or an overshirt — something that, if it gets hot, you can take off, but it's still keeping you warm.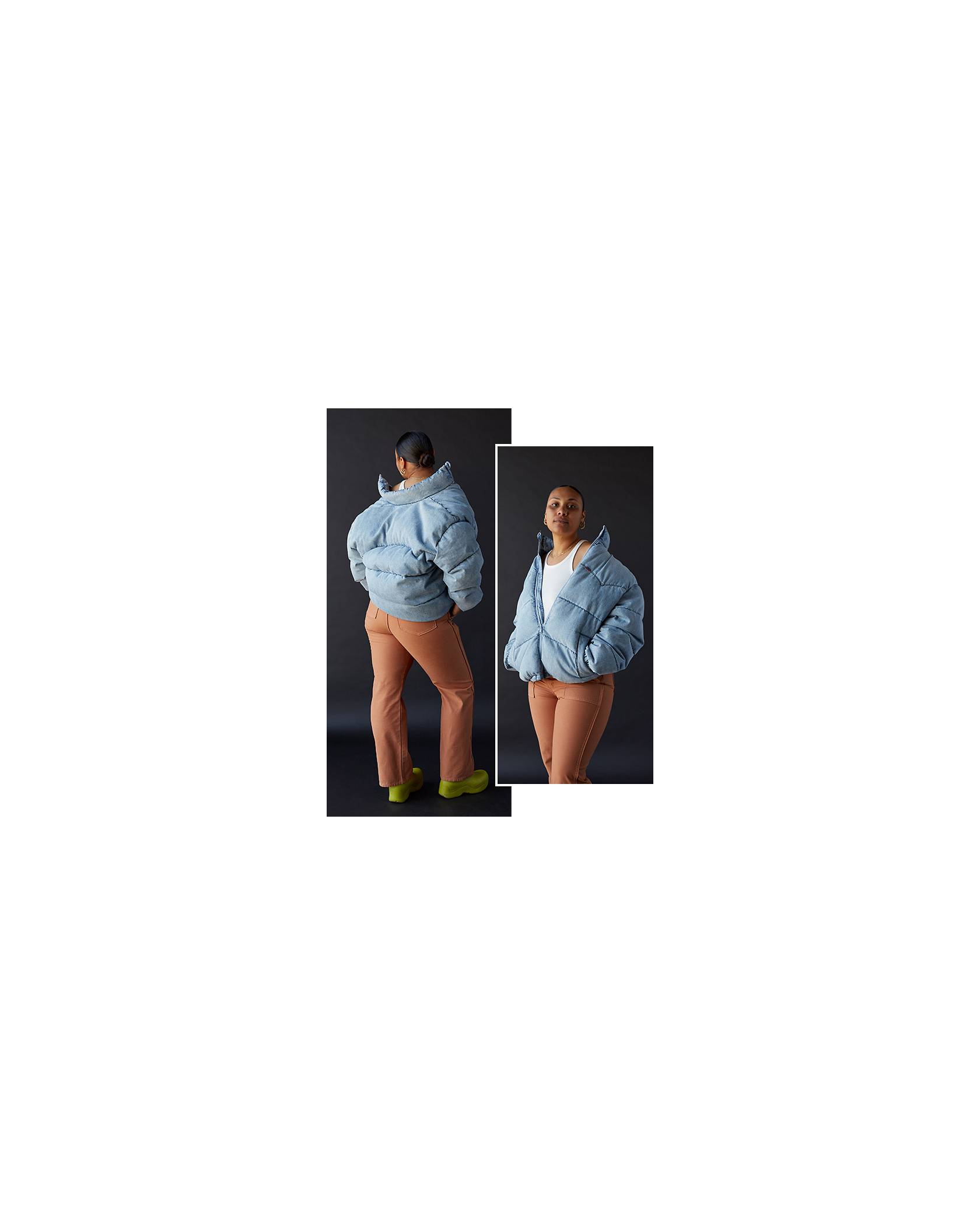 Josh:
Living in the Bay, you can have a day that starts off in the 50s and then goes up to the high 60s, low 70s and then back down to 50, just depending where you are in the city. It's really important to layer here because, at one point you can only be wearing a T-shirt, and then you can go out an hour later and you're like, "I need a hoodie and a third layering piece just so I can keep warm."
Amber:
Yeah, layering is really utilitarian and less about style. It's kind of weird because you have to do it, otherwise you're going to be too hot or too cold.
Josh:
I'll size up my jacket because I want it to be bigger than my hoodie or my sweater or whatever is my second piece. I want my third piece to lay over it kind of bigger so it has that proportion change between the two pieces.

We both wear this denim puffer that's releasing this fall, and we both style it out how we would wear it. I love how it can be a unisex piece. You just size up or down according to how you want the shape to be.
Amber:
I think scale is really important, like he said. You don't want to have two jumbo or huge, super-loud patterns. I think one should kind of be understated, and the other one can be kind of loud.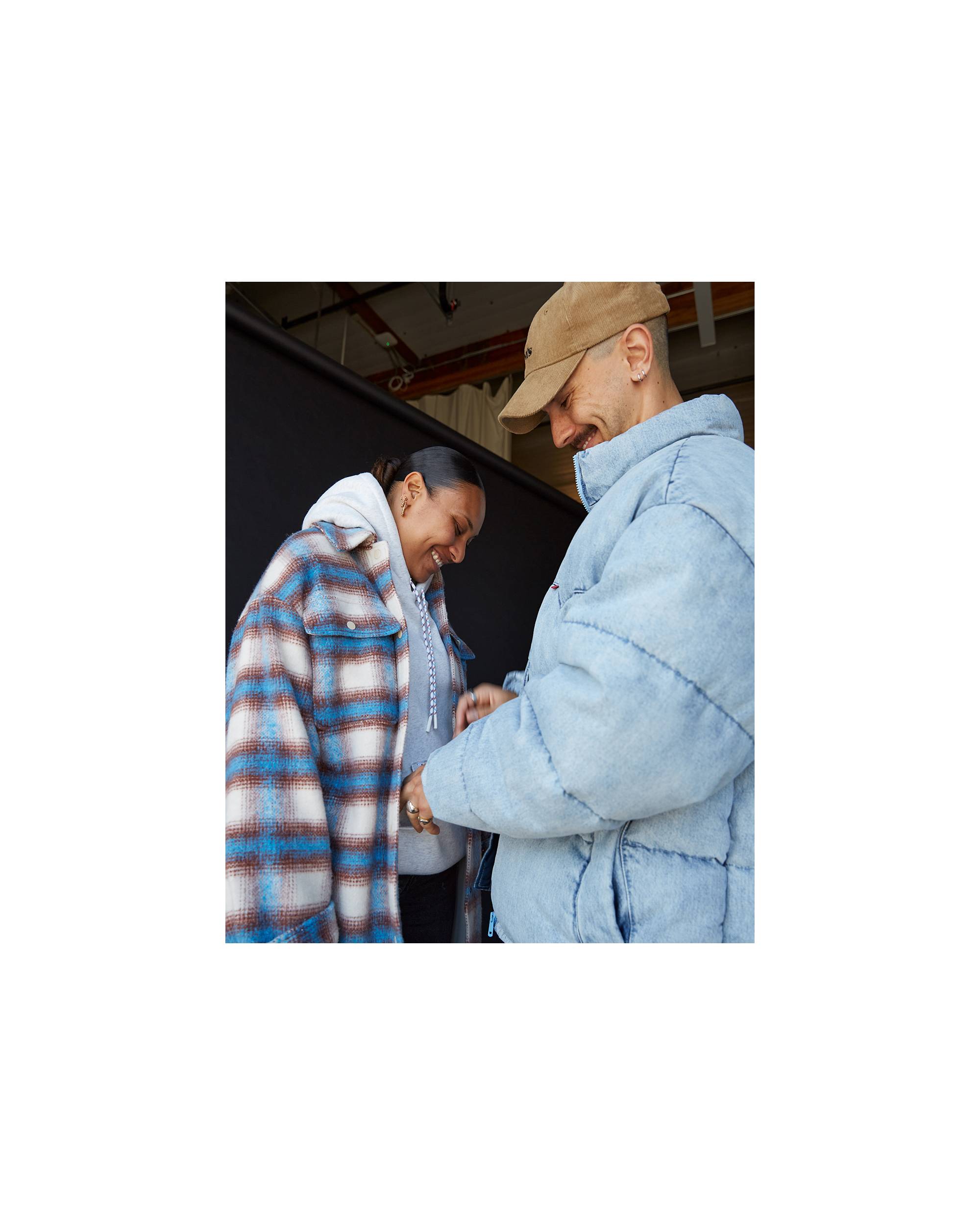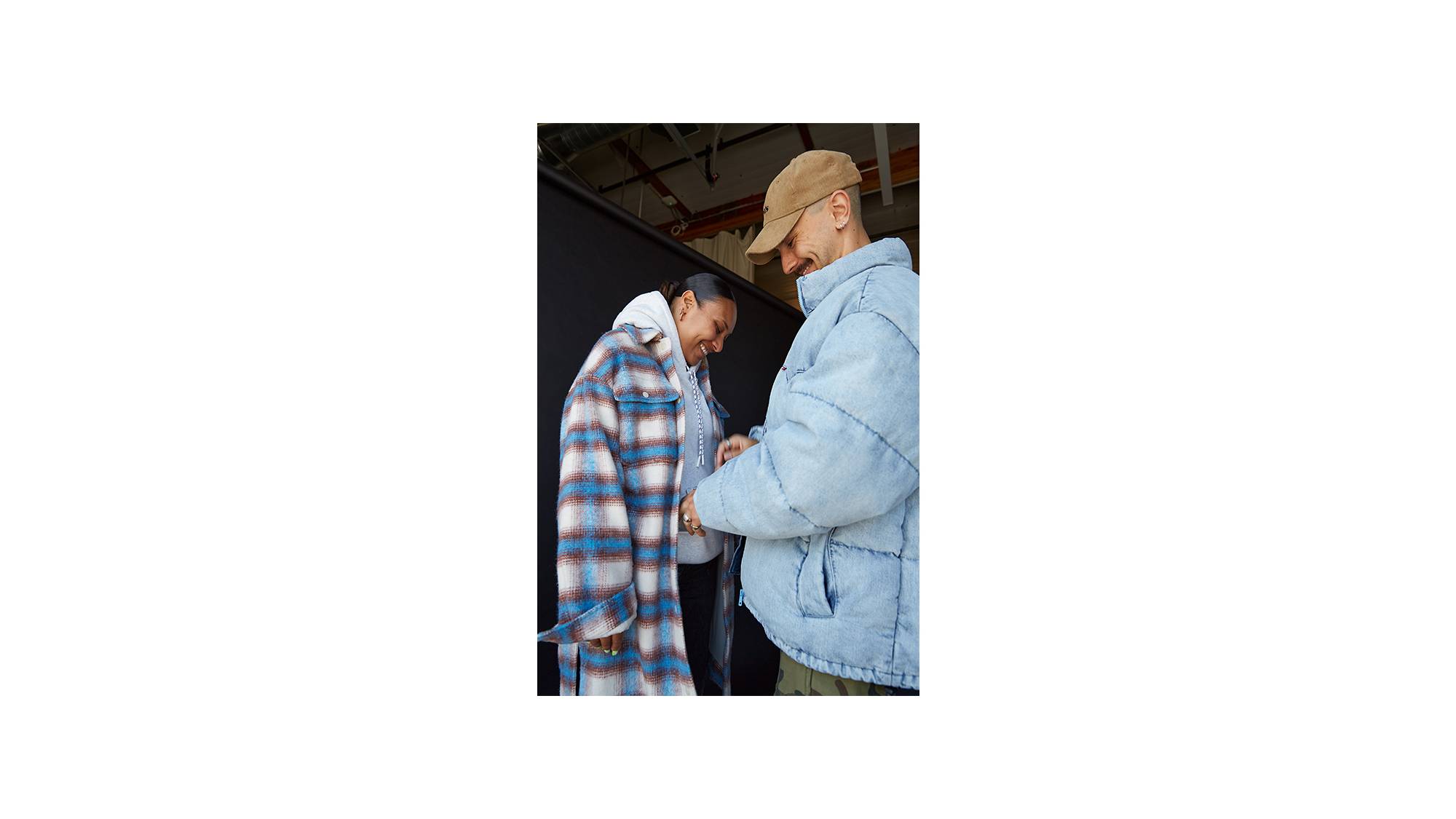 Josh:
This is my middle school science, but there's always a dominant and recessive. If you have a dominant color, like if you're doing an orange, then maybe tone it down with more neutrals and one pattern. Or if you want to mix patterns, make sure one pattern has a larger scale than the rest of the patterns, so it's counterpointed.
Amber:
Keep that in mind whenever you're mixing patterns: You don't want it to be too crazy, but you still want to take a chance. [Laughs.]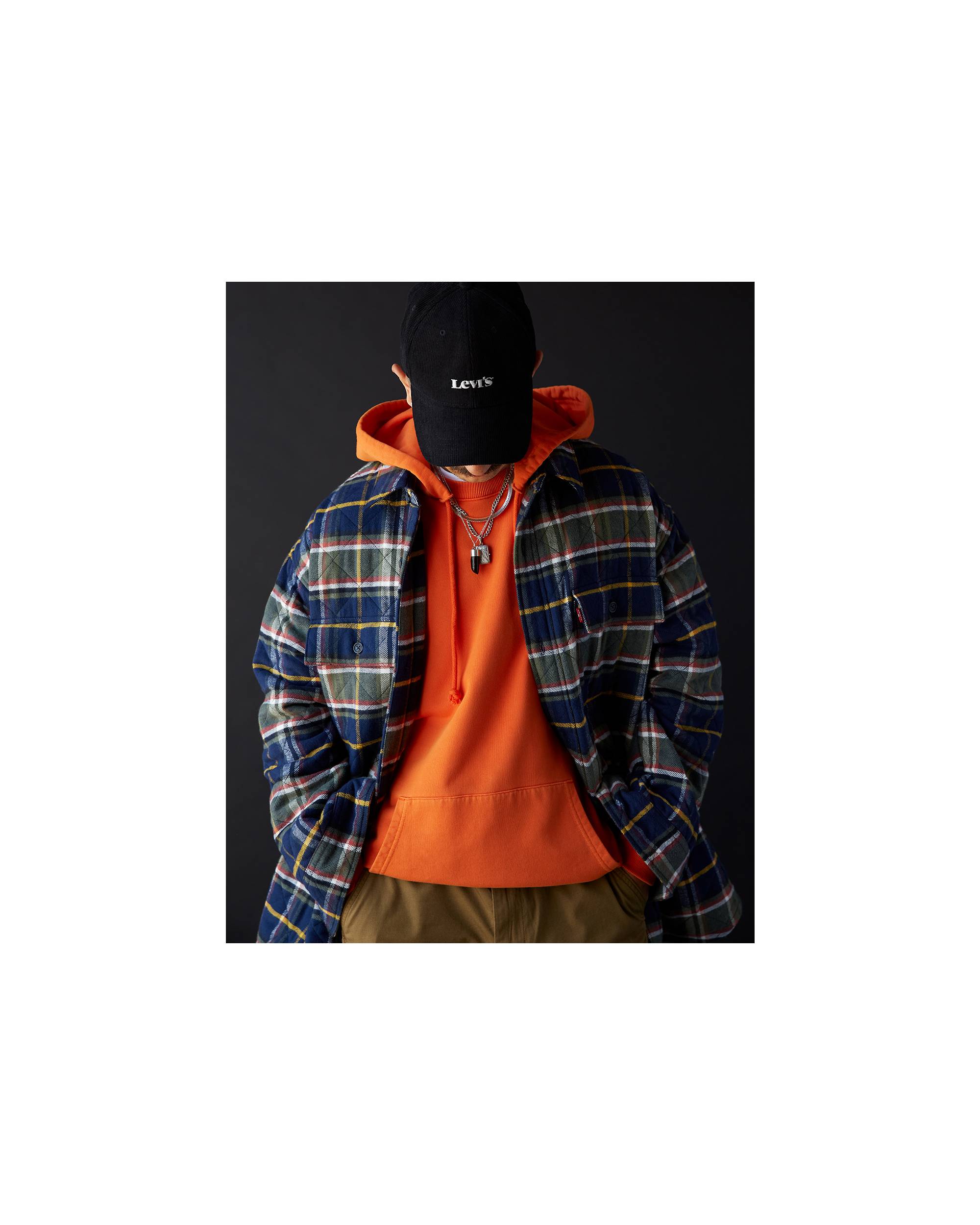 Josh:
Even if you're not mixing color, I think it's nice to have a textural theme between your second piece and your third piece. If you're wearing a fleece, maybe do some kind of flannel or wool or leather — something that gives the look dimension.
Also don't be afraid to layer with
accessories
, like beanies, hats, things like that. Not only are they going to be functional for warmth, but they can also add a little bit more style to the look.