SECONDHAND STORIES: DENIM IN TECHNICOLOR WITH JOHNNY WUJEK
Style / 
June 2021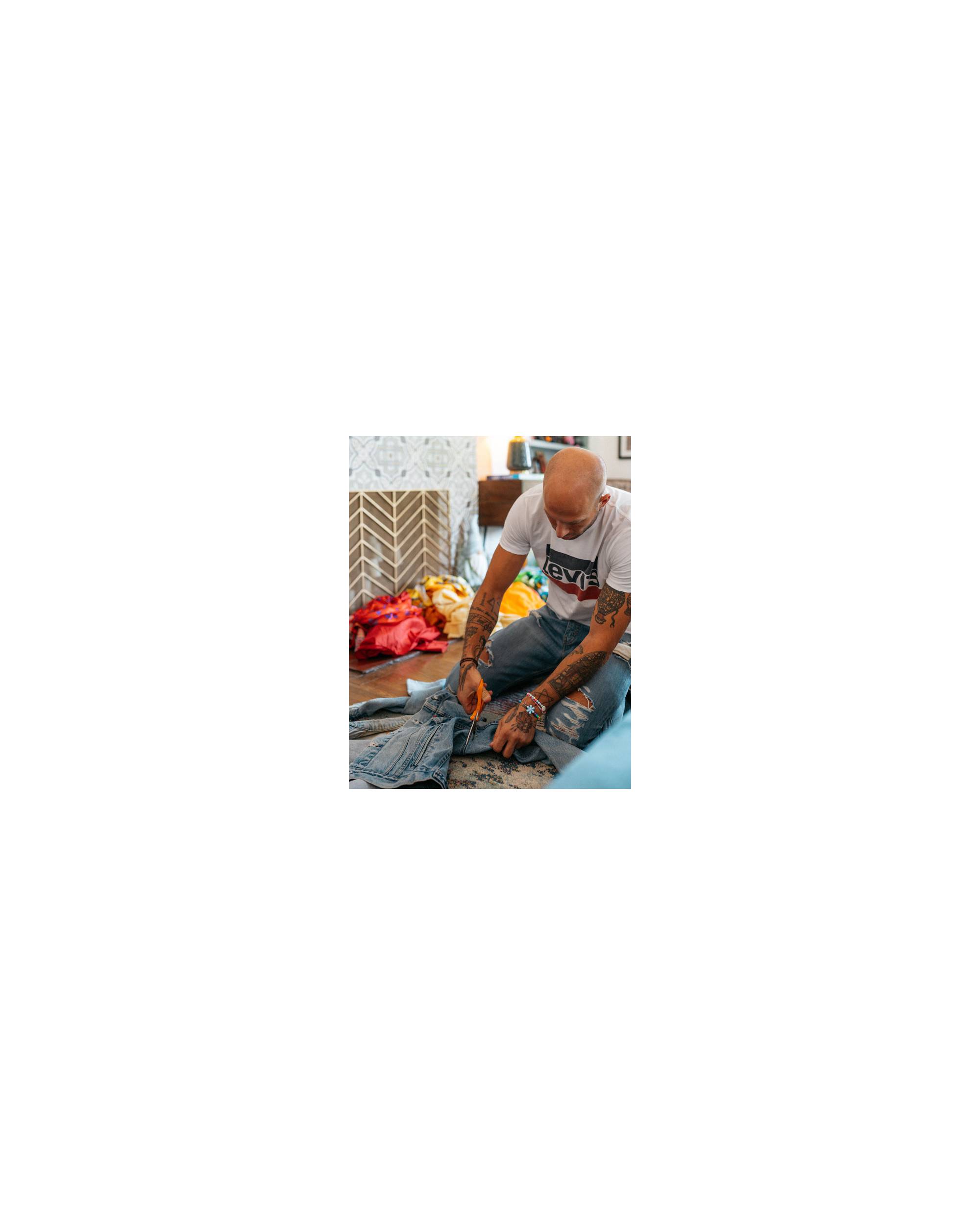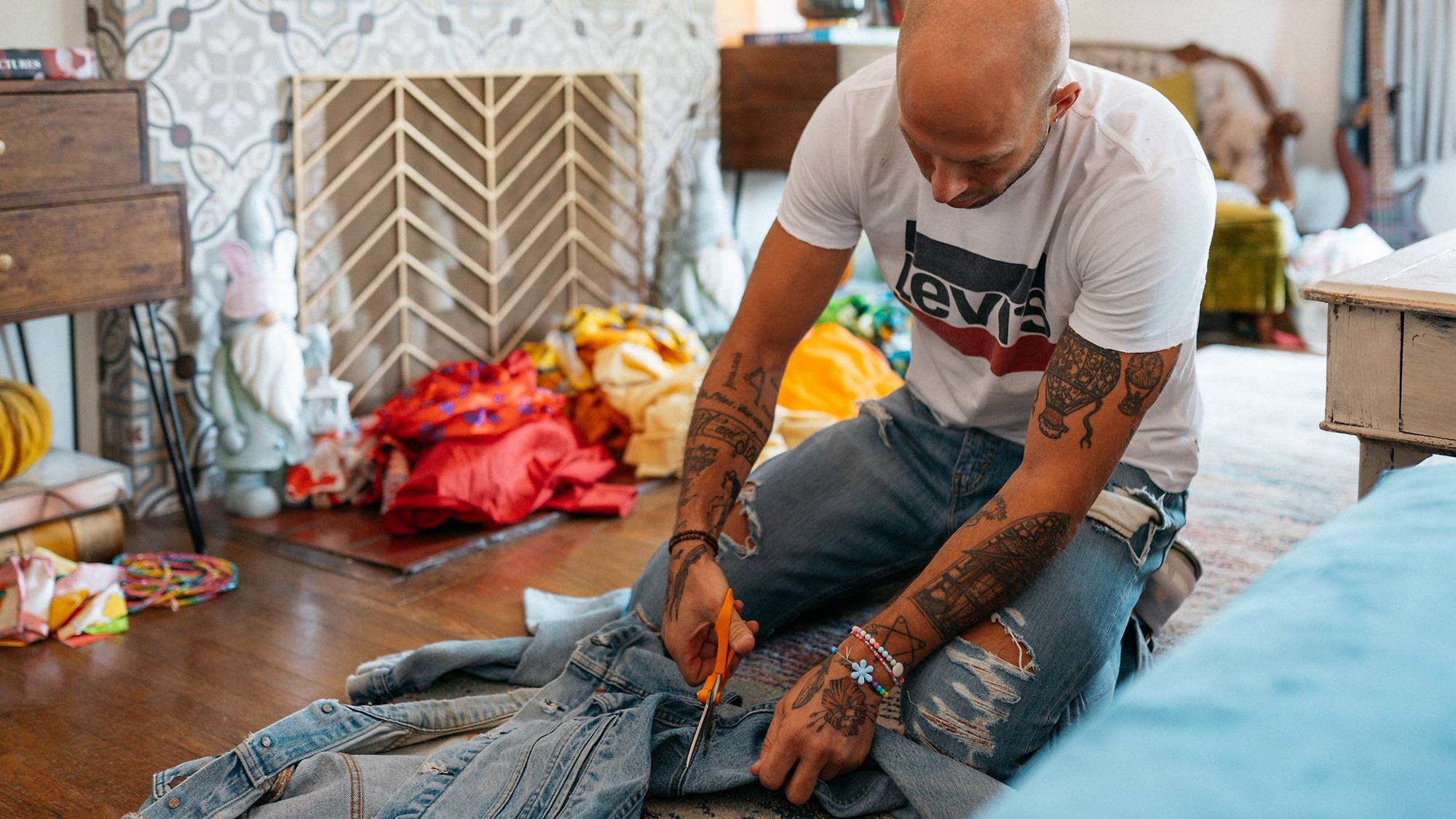 When you've got something as iconic as Katy Perry's cupcake bra on your resume, you know you've made your mark as a costume designer. But for Johnny Wujek, it's all part of using clothes to tell a—very often fabulous—story. Beyond styling his longtime collaborator Katy Perry, Wujek has also designed costumes for Disney's fantasy reality series The Quest, and the hit HBO Max voguing competition series Legendary. And, to kick off L.A. and NYC Pride weekends for 2021, Levi's® SecondHand has partnered with him to create two colorful Pride-inspired pieces using SecondHand denim.

We sat down to chat with Johnny about his love of vintage, how to create a unique, one-of-a-kind look, and why, when it comes to Pride, bigger and bolder is always better.
DOES VINTAGE AND DENIM PLAY A BIG ROLE WHEN STYLING YOUR CLIENTS?
Yeah, I've always been a big vintage guy. I've loved flea markets and vintage shops my whole life. It was really when I started working with Katy Perry that I started incorporating high-end designers, and then vintage as well. She was so into that Lolita-ness and then '50s and '60s fashion. And so, I was really getting into it with that. On music videos I would always do a lot of vintage, because you find very cool, unique pieces that are just super special. Even in editorial, vintage just offers so much character. It gives you that authentic character you can't find in a store.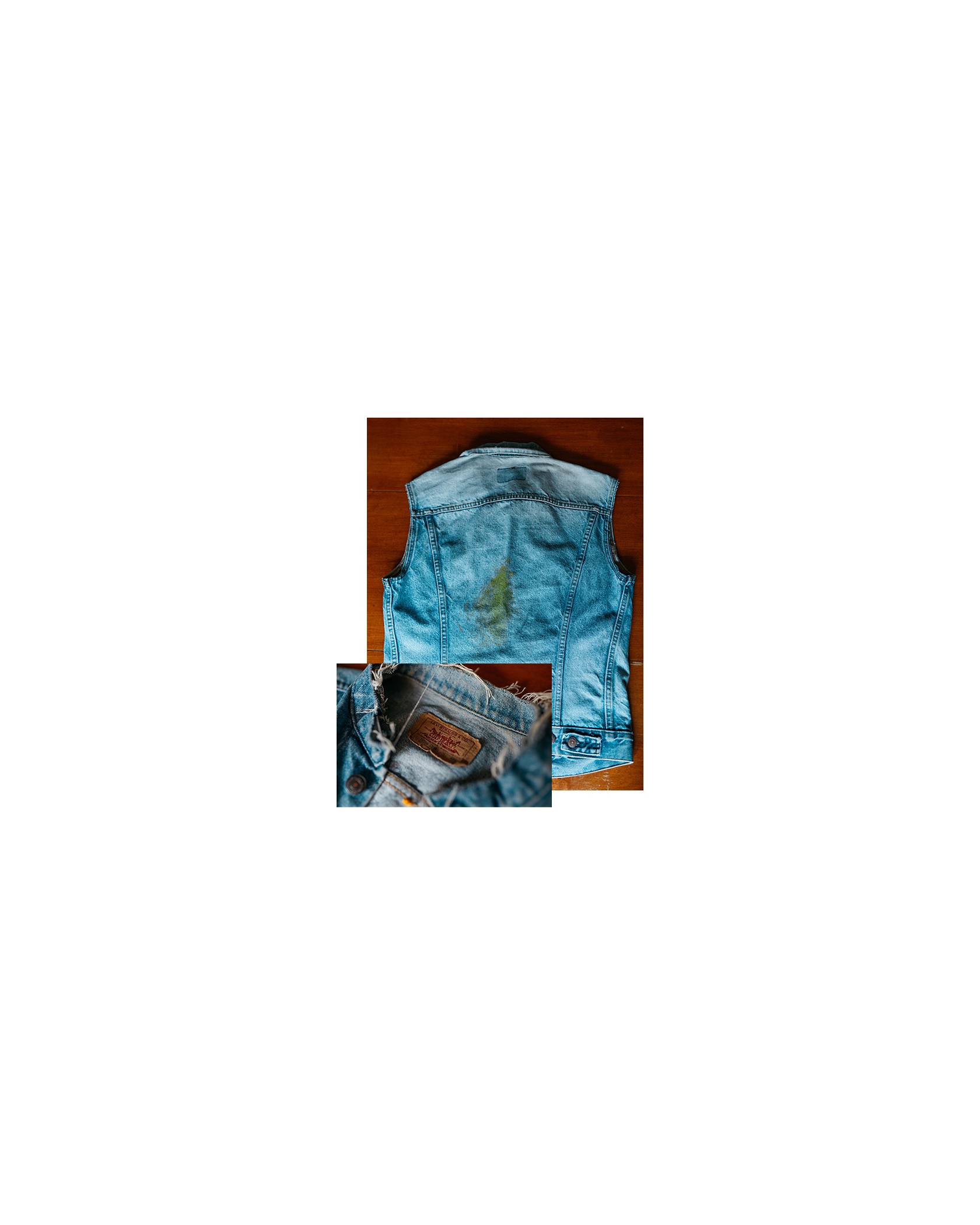 HOW DO YOU STYLE VINTAGE? DO YOU LIKE GOING FOR A WHOLE LOOK OR JUST WORKING A PIECE IN HERE OR THERE?
It really depends on the look. Sometimes you find a solid, whole vintage look that takes you back to an era. All of the sudden it's a mod '60s or a classic rock '70s moment. But I definitely have done looks that are a Saint Laurent blazer and a pair of vintage jeans. I think that's the cool part about it, you can play it both ways.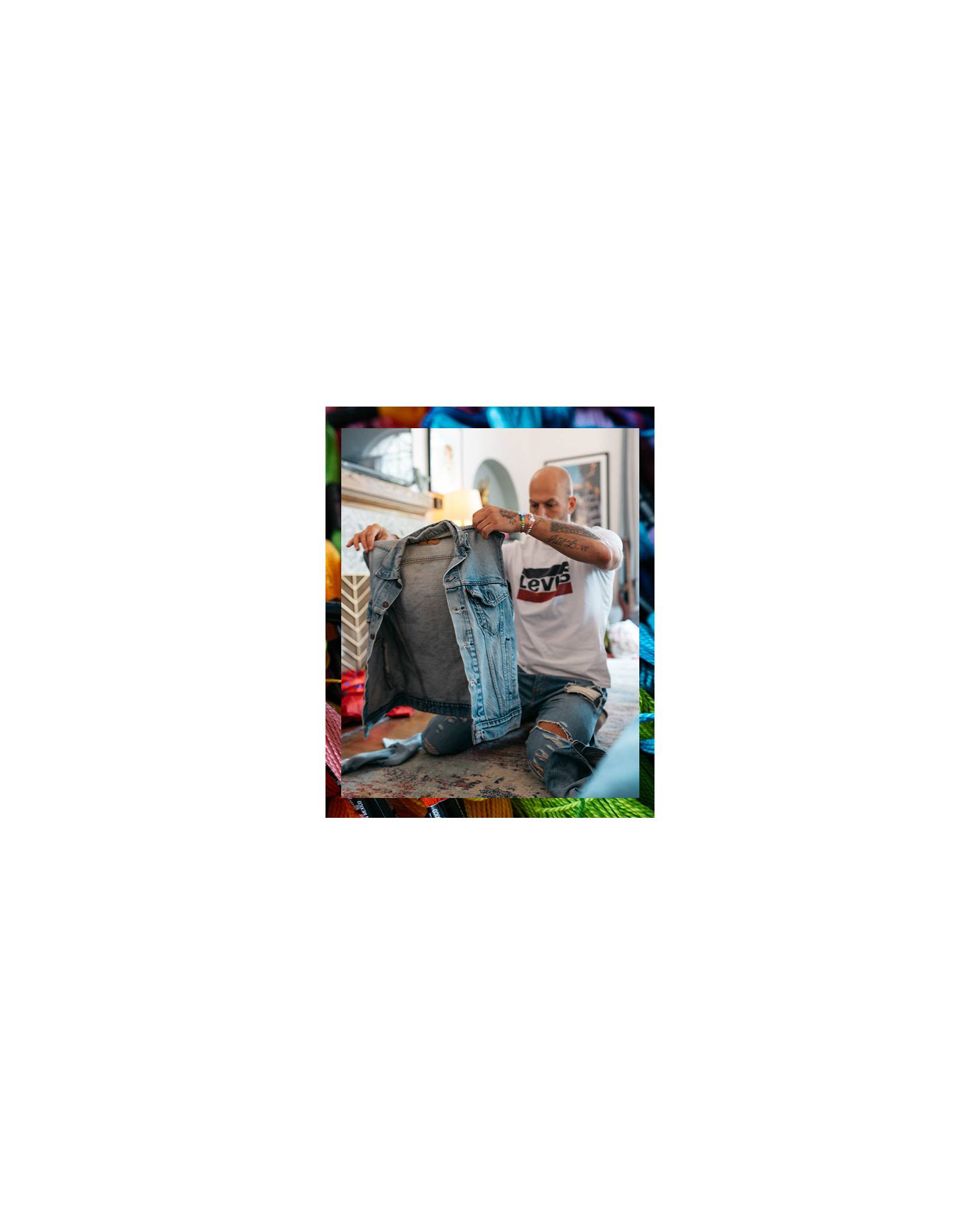 HOW DO YOU BREATHE NEW LIFE INTO A VINTAGE PIECE, MAYBE EVEN SOMETHING YOU FIND IN YOUR CLOSET?
Well, it's like what I did for this partnership with Levi's® SecondHand. I love giving new life to pieces, even if that means cutting it up, or adding to it, or altering it in some way. Obviously, I've cut plenty of jeans into jean shorts, but I always try and find pieces that are stand outs. I have tons of denim in every color and wash, but when it comes to those really fun pieces that people stop and are like "Oh my god, where'd you get that jacket?" I love that. Because no one else has it. It's a statement piece, which I'm all about.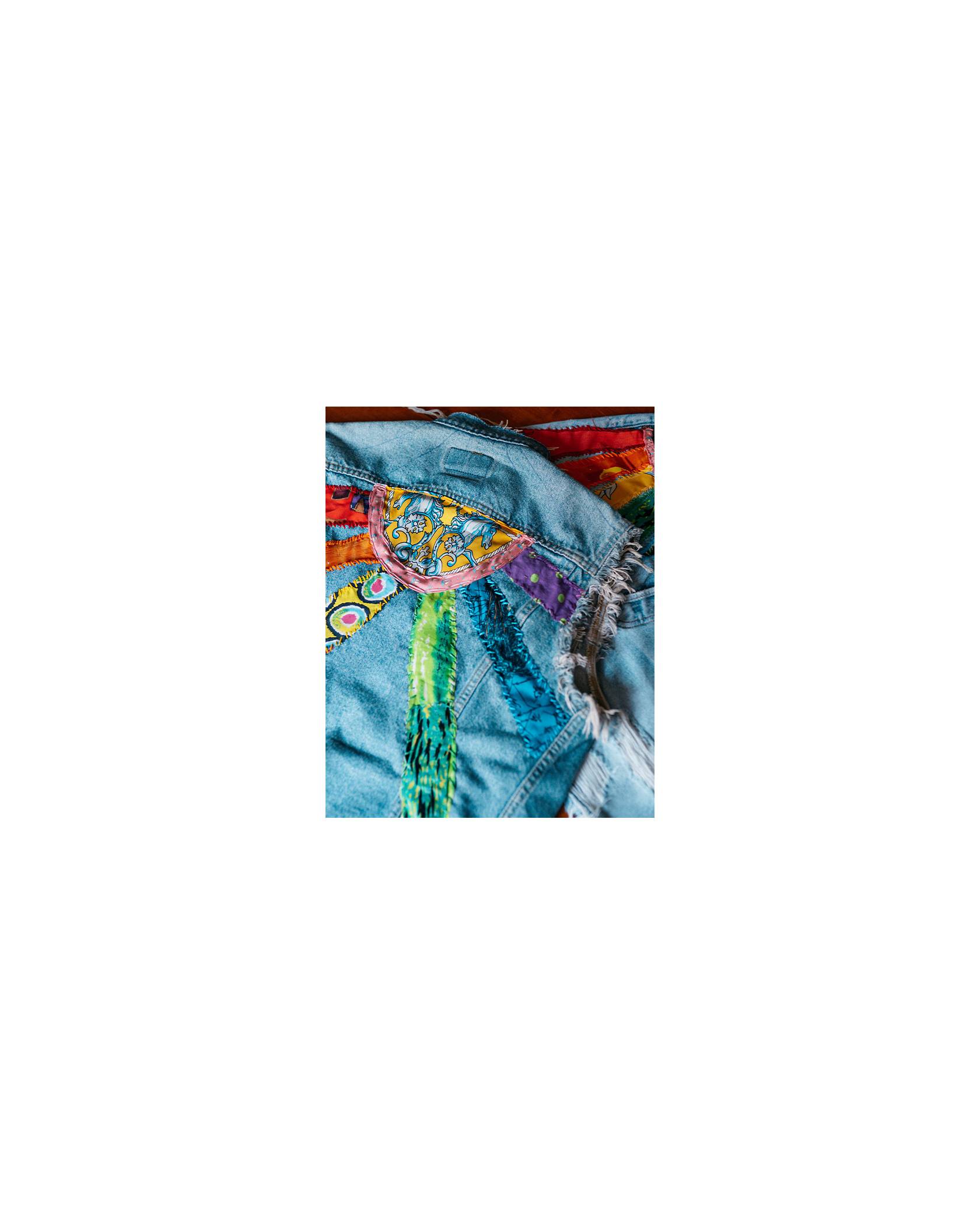 AS FOR THE TWO PIECES IN THIS PARTNERSHIP, WHAT WAS YOUR INSPIRATION?
I was in Palm Springs when I started doing the DIY on this project, so I was very inspired by that modern '60s, '70s flair. It was like Peter Max, the artist. He inspired the starburst-ness of it. I'm very much into bold prints and colors, and I thought, rather that painting or tie dyeing, it could be cool to do an upholstery effect. I went to the vintage shops in Palm Springs and just bought all of these old silk blouses and things that had color waves, but all in the Pride color rainbow and the LGBTQ trans flag colors. And I just started playing around and cutting everything up.
The sunbursts and the rainbows are very Pride, but different. When it comes to Pride, you start seeing that Pride rainbow, and I wanted something a little different, just make it my own. And I did it on a pair of shorts and a denim vest, something that I would personally wear.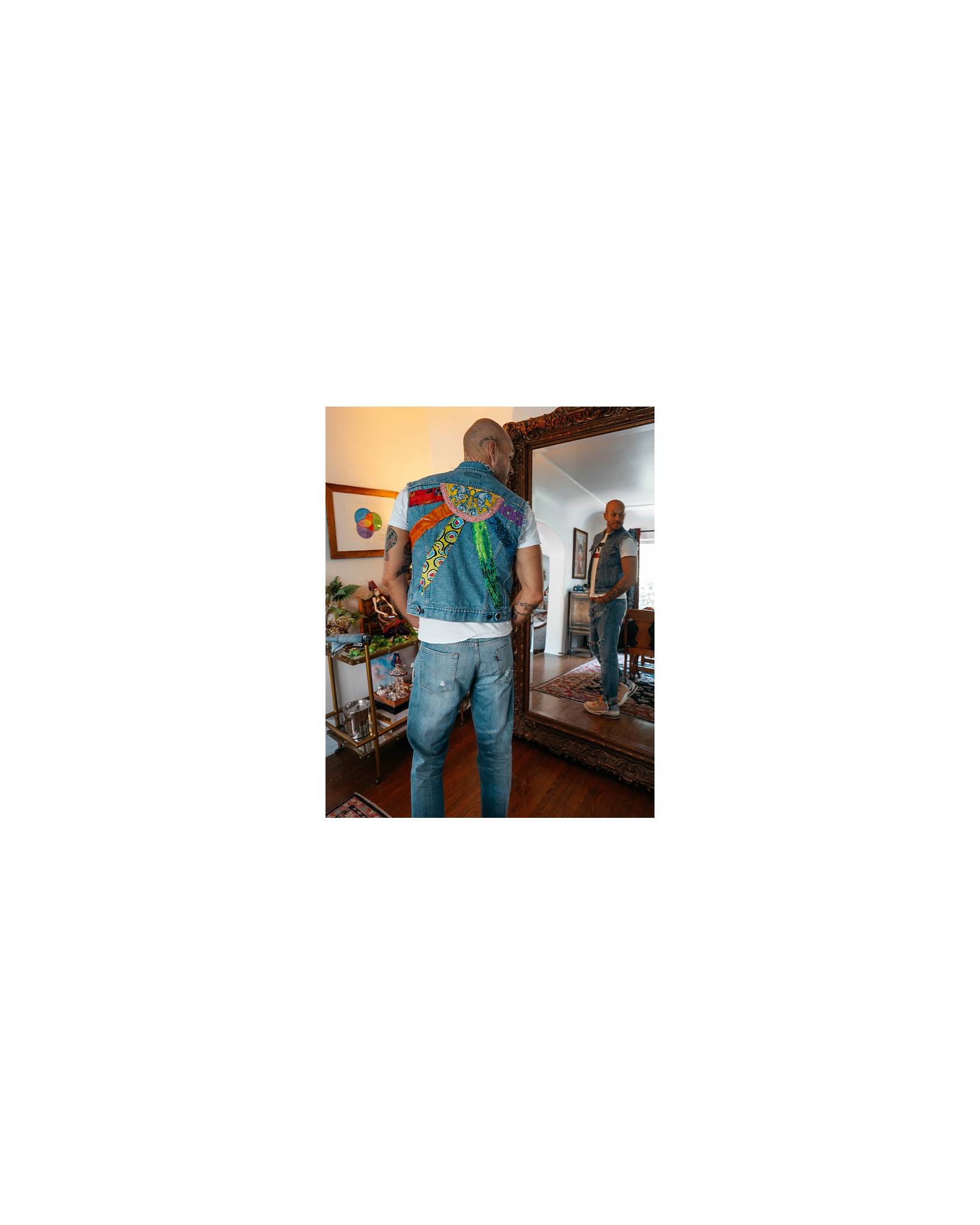 And yet, they feel very approachable, like someone could do something similar themselves.
Anyone can do upholstery needle and stitch, and get it going. You don't have to really be a pro sewer, because the stitching is irregular and not perfect. In high school, we used to go to Phish concerts, and I'd cut the side of my corduroys and patch in some patches, it would be all hippie dippy. And I was inspired by that as well.
DO YOU HAVE ANY STYLING TIPS FOR PRIDE EVENTS?
Pride is all about representing your authentic self. It's about being who you are and shining a light. Being colorful and having fun. I've seen the craziest costumes for the Pride parade. It's definitely no holds barred. More color is always great. It's fun, and it's what you feel like represents your most authentic self and celebrates the community. I'm making costumes right now for two clients who are performing, and it's literally just a vomit of color. But it's just so fun, and it works. Pride is all about a celebration, and it's from all genders and sexuality. So, to me, the more the merrier.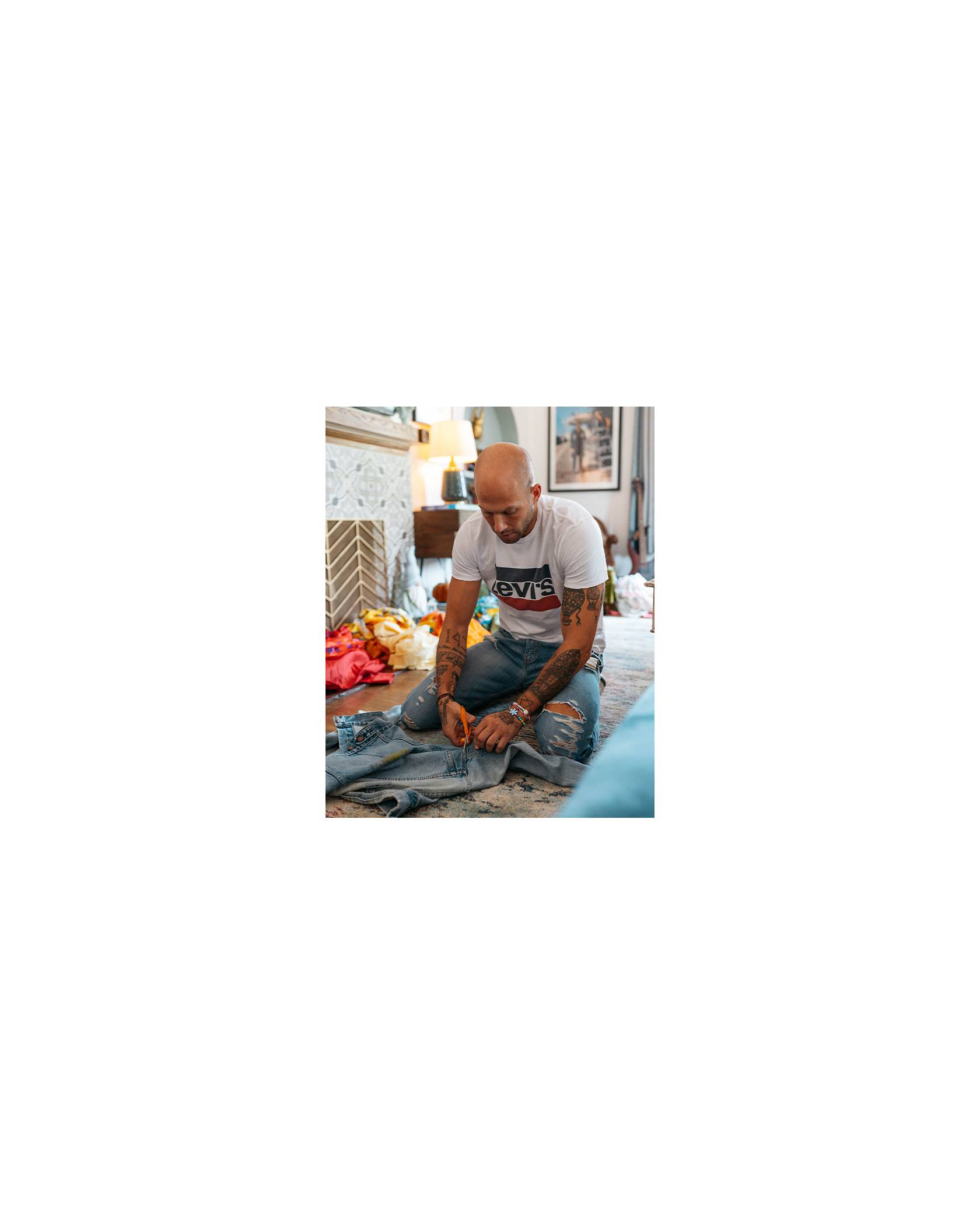 WHAT IS YOUR FAVORITE ELEMENT OF THE LEVI'S® SECONDHAND PROGRAM?
For me, when I heard about this, I was really drawn to the environmental aspect of it. So much fashion and clothing is just wasted and thrown to the wayside. What I love about it is the re-purposing. A second life. You can donate a pair of jeans, or a dozen pairs of jeans, and then they're giving you credit to get new stuff. It's just that aspect of it for me, because in fashion, I get gifted so much stuff, and so many things in boxes and bags, and I'm just like, "Oh god, this is just overwhelming in how much waste comes from the fashion industry." So anytime I hear about things that are being re-purposed or conserved, I'm all about that. If you buy vintage, you're saving the planet. One man's trash is another man's treasure.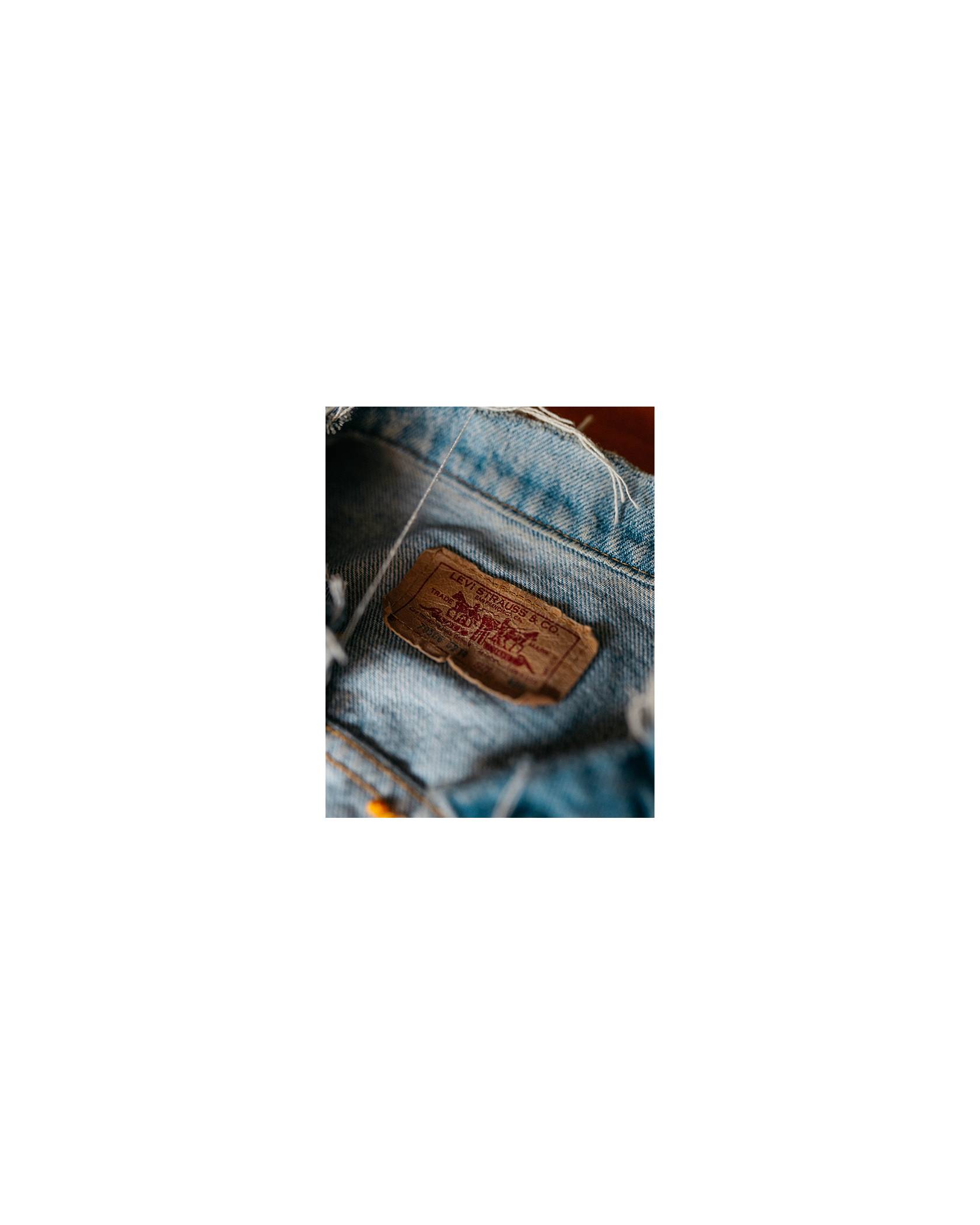 AND FINALLY, WHAT'S THE ONE LEVI'S® PIECE YOU CAN'T LIVE WITHOUT?
It's a pair of 501s. I mean, I'm from the Midwest, so I'm a jeans and flannel kind of guy. There are a lot of jeans brands, and Levi's® is the classic, all-American brand. It always does me right. I was at the Long Beach Flea Market the other day and, literally this has been a multi-year journey, finding the perfectly worn jean that just fits and looks sexy. It's everything you want and I found it. I actually wore it the day we filmed this project for Levi's®. There's nothing better than a classic jean, because it just goes with everything. It's timeless. It's amazing. The wear of it is so perfect.