TAILOR PROFILE SERIES VOL. 10 WITH VERONIQUE HEBERT
Style / 
March 2022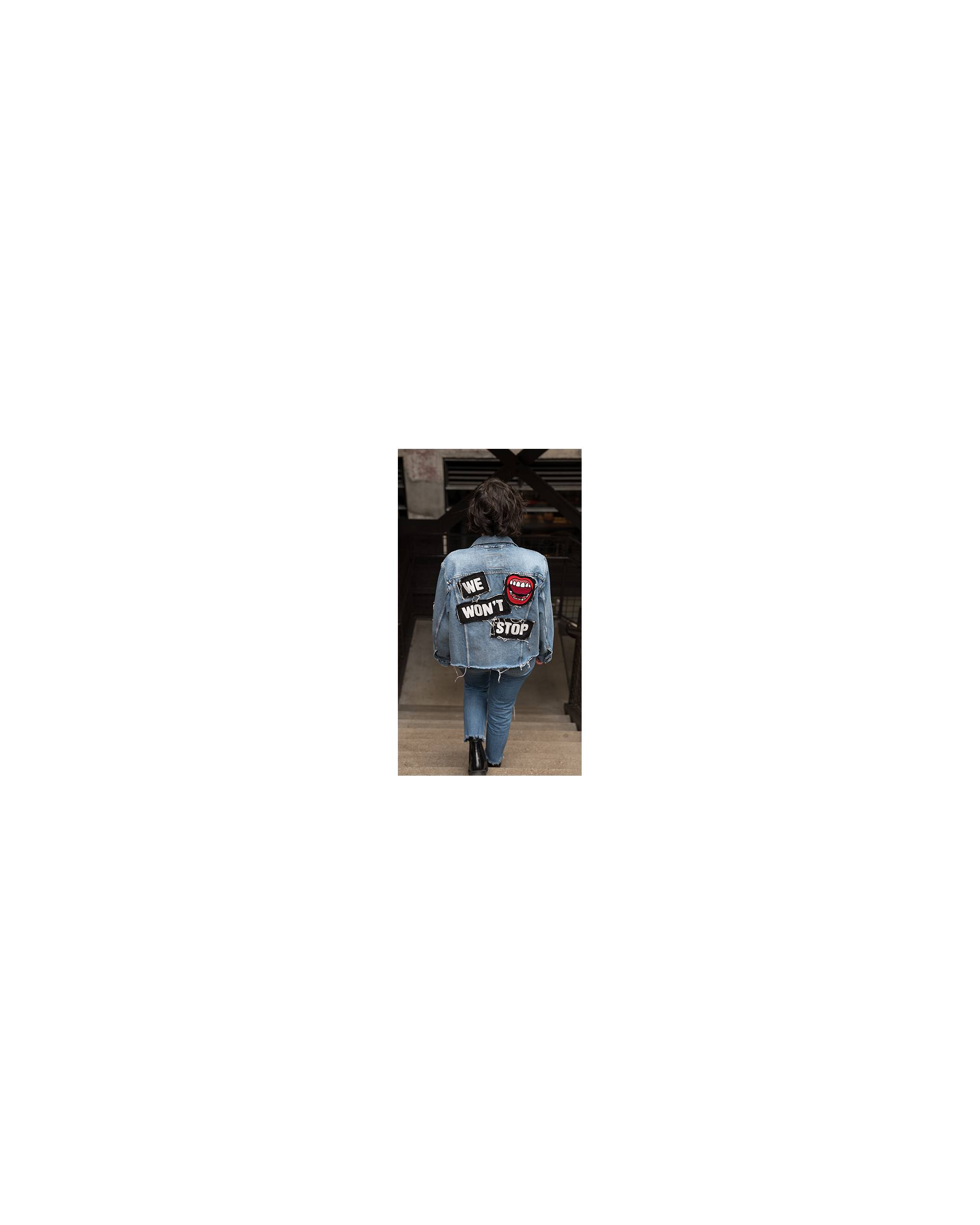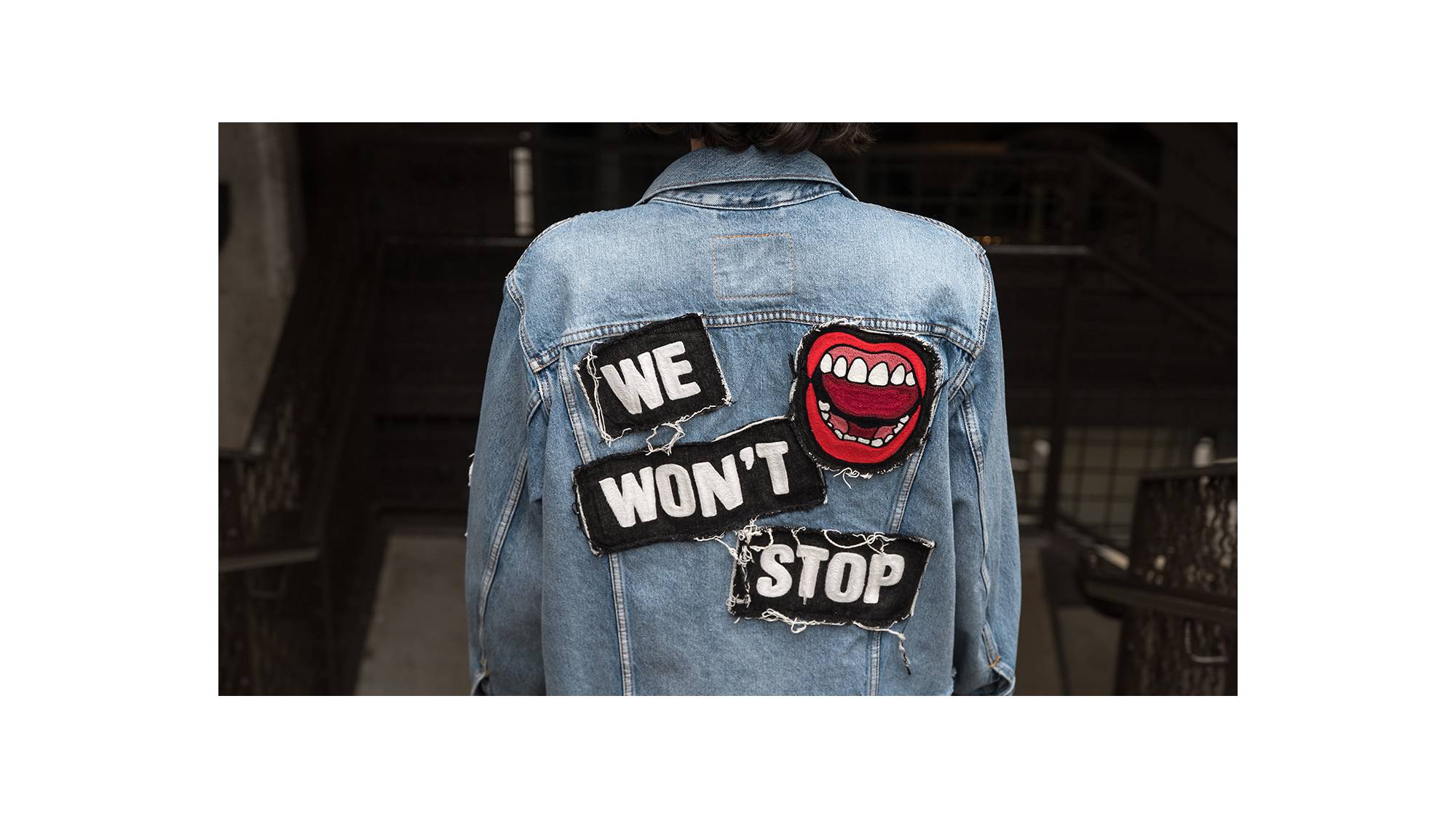 This series follows Tailors from around the world - highlighting their craft, passions, love for the brand and the impact they have on bettering the planet through extending the life of your garments. For Vol. 10, we interviewed Veronique Hebert from Atlanta, Georgia. This volume highlights International Women's Month and the impact it has on Veronique's craft, so it was fitting that she designed an exclusive Trucker inspired by women.
WHAT IS YOUR POSITION AND HOW LONG HAVE YOU BEEN WITH LEVI'S®?
I'm the Tailor at Ponce City Market in Atlanta, Georgia. I have been happily stitching with Levi's® for a little over 3 years.
WHAT IS YOUR FIRST MEMORY OF SEWING?
My paternal grandma supported her family by being a seamstress and had a huge sewing studio in her basement. I remember being so fascinated with her industrial sewing machines – and of course we weren't allowed to touch them. That is when my fascination began with sewing. She would make full size quilts in her spare time, and I remember being amazed at how she would turn those carefully cut pattern pieces into something so beautiful. I truly thought she was doing magic! When I turned 9 years old, I asked my mom to sign me up for beginner's sewing classes. First thing I ever made was a drawstring bag (makes me laugh thinking about it now) and I was so proud of myself!
HOW DO YOU CELEBRATE INTERNATIONAL WOMEN'S MONTH?
I've always been inspired by female artists that use their voice to inspire other women. When I relate to their point of view, I support their movement any way I can no matter how small or big. I also love to watch movies and series directed by women – this truly keeps me inspired. So how do I celebrate IWM you ask? I celebrate EVERYDAY by standing up for women's rights and movements bettering this planet.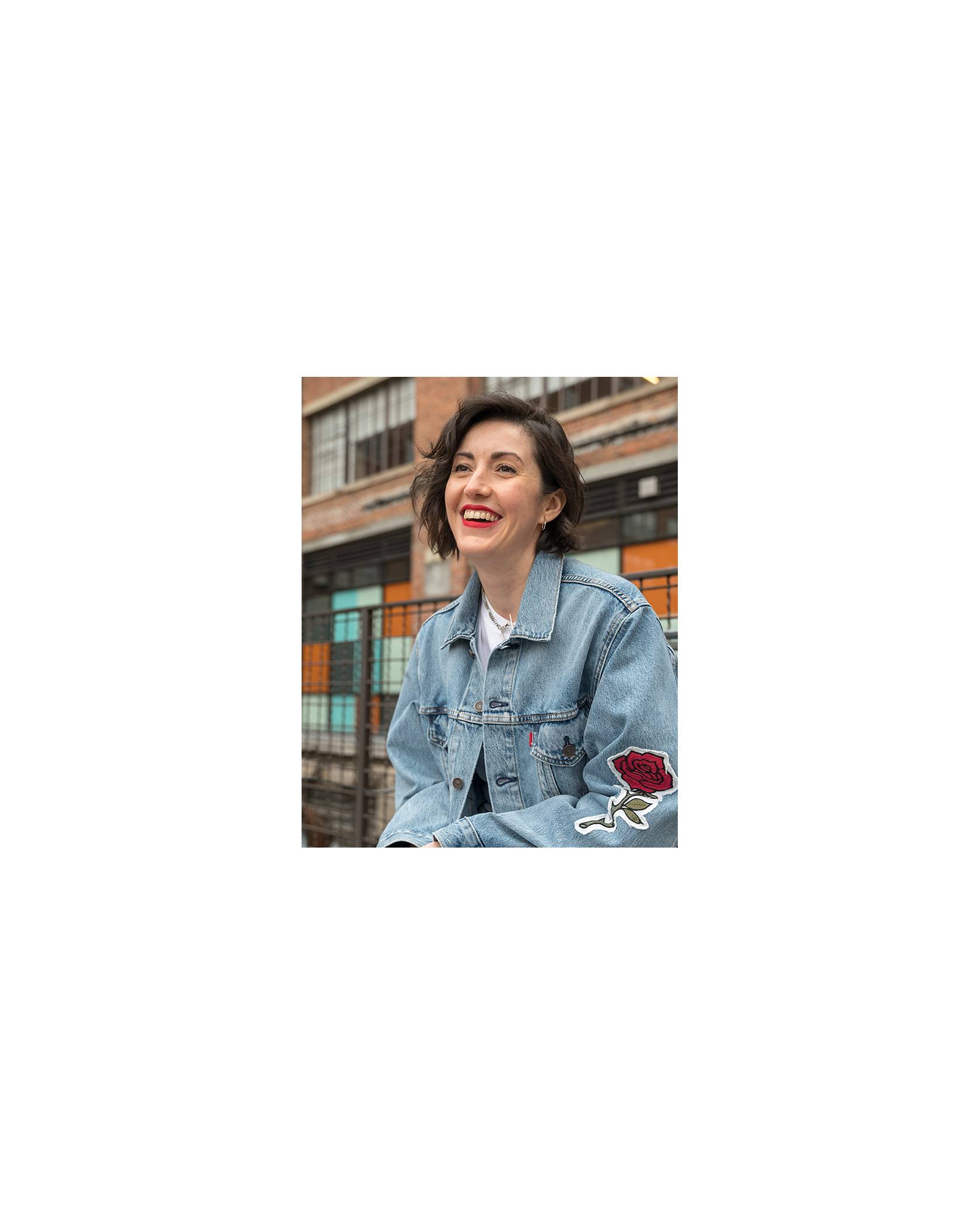 TELL US ABOUT YOUR PIECE YOU CREATED FOR THE ARCHIVES IN CELEBRATION OF INTERNATIONAL WOMEN'S MONTH?
When you guys asked me to create a piece for women's month, I started to think about my own experience and the first time I realized there were women out there fighting for their rights. My mind immediately went to my teenage years when I discovered the Riot Grrrl Movement and their feminist punk style music with bands such as Bikini Kill, Hole, Sleater-Kinney, and L7. I think this movement continues to empower women today, so this is where I drew my inspiration from. I wanted my piece to feel very much DYI and to send a clear message. Although progress has been made, there are issues women still face today. It's important to acknowledge those obstacles and to keep pushing for equality.
Although progress has been made, there are issues women still face today. It's important to acknowledge those obstacles and to keep pushing for equality.
HOW DO YOU GET INVOLVED IN THE COMMUNITY TO MAKE AN IMPACT FOR WOMEN?
In my personal and professional life, I've had the chance to meet, be-friend, and receive support from many women. As I progress in my life, I look to mentor and be a role model for young women out there. From my Riot Grrrl Movement days to getting young women to register to vote today, I always take a moment to connect and make an impact.
WHAT INSPIRES YOU AS AN ARTIST?
I find inspiration for creating when I am in nature and being in the present moment. It helps the shapes, colors and textures stand out to me that otherwise would have gone unnoticed. In my daily work, I always try experimenting - because making mistakes and learning from them is how we progress in life. And of course, music, movies, and art galleries from strong women always keep me in the right frame to find inspiration.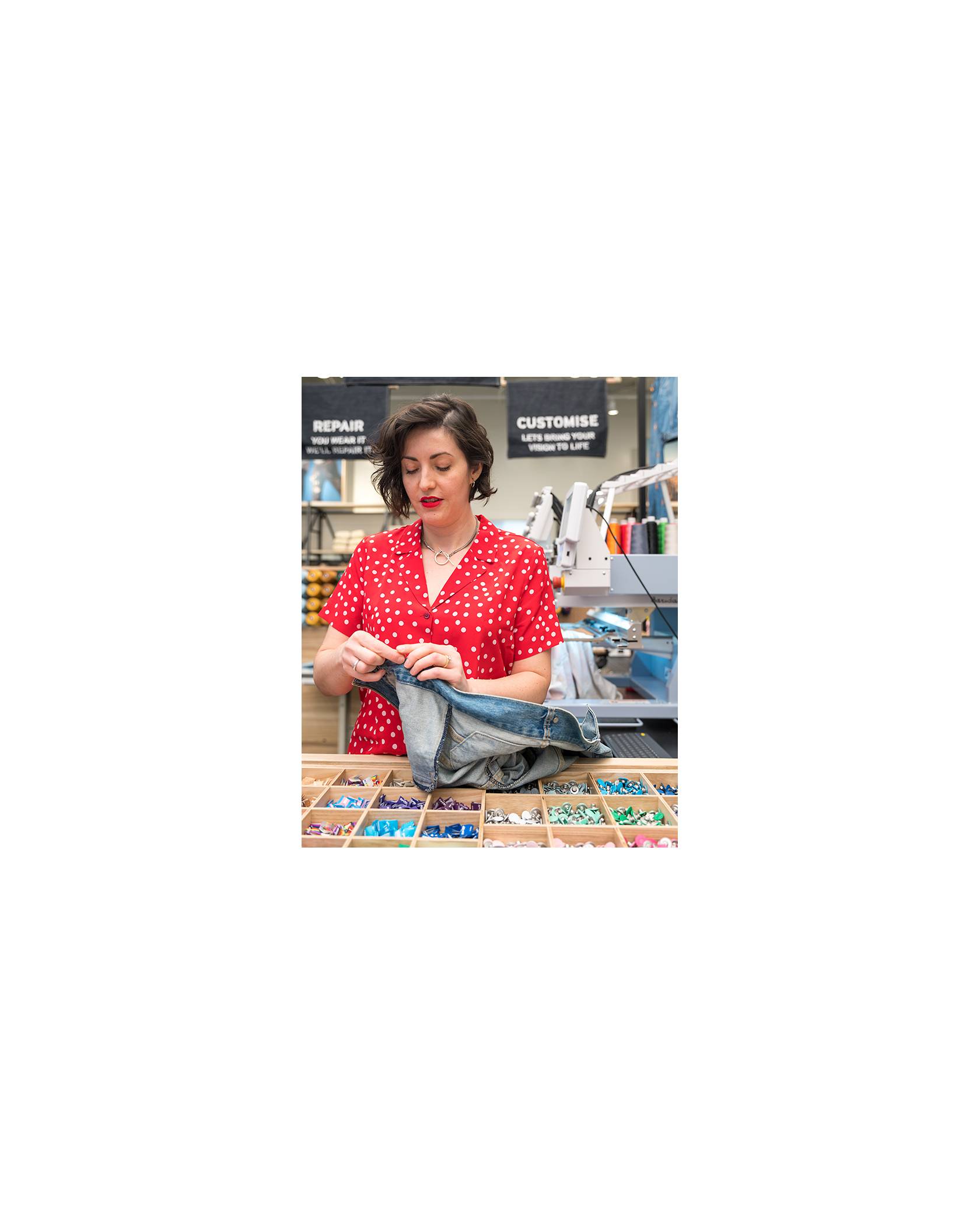 CAN YOU SHARE A STORY OF A MEMORABLE EXPERIENCE WITH A CLIENT?
Consumers often come to their appointment and share vulnerable information on how they see their bodies or how they feel left out because they don't fit the standard size chart. You must be able to listen without judgment, consult with them, then find a solution that makes them happy. You get to know them on a personal level, so being authentic is key. So, every time someone walks out of the fitting room with a huge smile wearing the garment I customized or altered for them, it's a memorable experience for the books. They trust me with their clothes to give them confidence, so I am forever grateful to have been part of that journey. So, I can't share just one…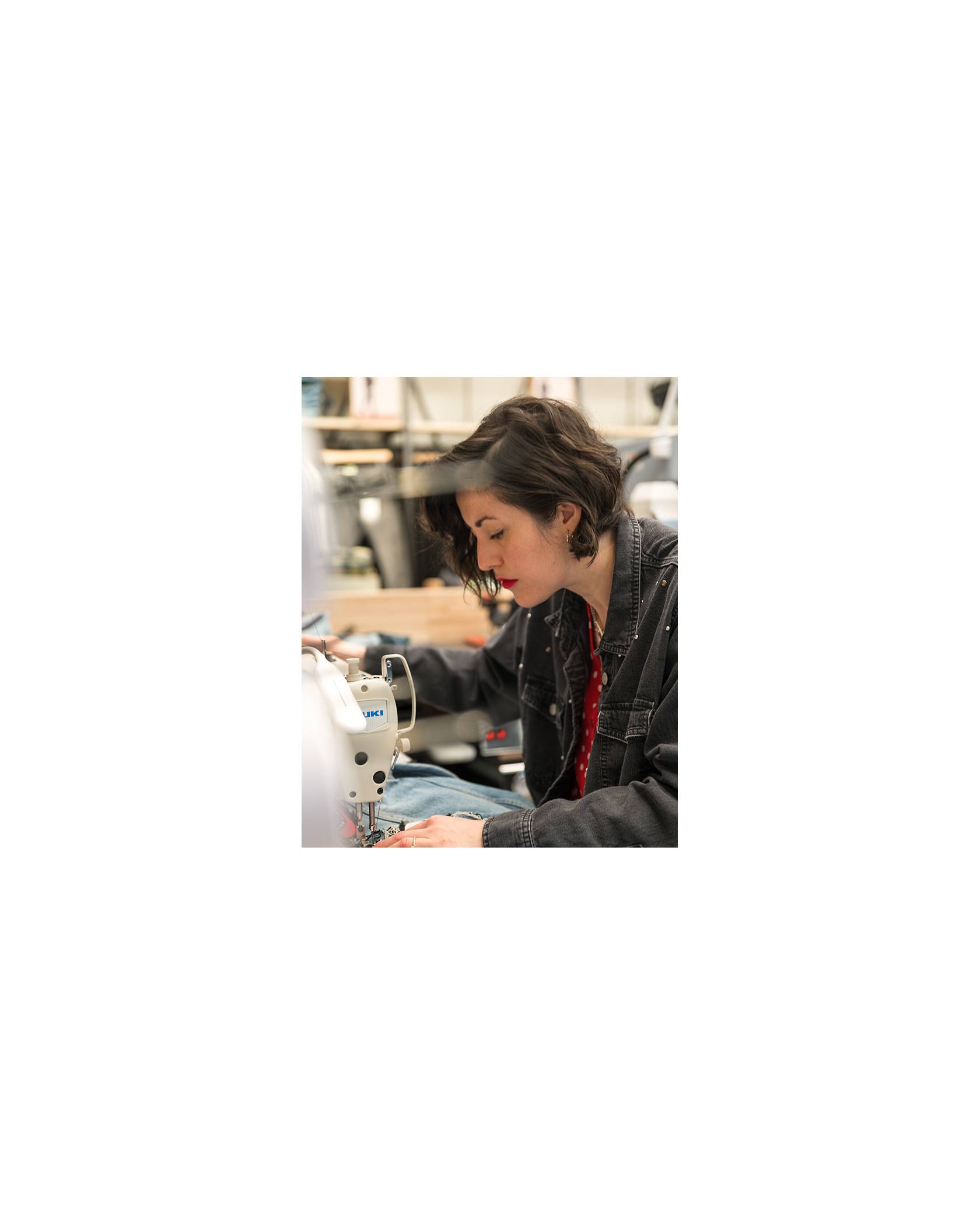 SINCE SUSTAINABILITY IS A CORE VALUE WITH LEVI'S®, CAN YOU HIGHLIGHT HOW YOU BRING THIS TO LIFE IN YOUR SHOP?
I love doing repairs, so I always educate consumers that almost everything is repairable. When they share the story behind their favorite jeans or jacket that needs a little fix, I get excited by extending that journey. By wearing your clothes longer and embracing how they age, you're reducing waste and making a sustainable effort.