The Concise on the Non-Conforming
LEVI'S® X DENIM TEARS 
Tremaine Emory of Denim Tears continues to explore the intersection between fashion and the African diaspora, cultivating a striking historical perspective in which every character, look, and setting evokes an autonomous examination of America's past and future.

The third season from Levi's® x Denim Tears features ten distinct pieces that reverently pay homage to the Black biker community and its enduring mind state. The following excerpt from Tremaine contextualizes the inspiration, vision, & background behind the latest collection.
In Black biker culture, there is an outsider sense, a danger, a pride, a respect, a commitment to freedom, and a defiance against conforming to a polite doctrine.
"A biker's look can only come from treating what is worn as lifetime sacred objects that develop mystery and patina. Secret codes, symbols, and colors beautifully damaged by heat, scratches, rips and spilt fuel. It gives the feel of a living skin or an armor.

The pharaoh symbol may not have ever been used in the context of biker culture, but it evokes the mythical, heroic, and fantastic otherness that forms the biker identity, while referencing the idea and resonance of Afro-Futurism and legend. This splicing of inspirations is critical in preventing exact reproductions."
"The Western Stitch Denim Shirt, 501® and Black Riders Rucksack are pieces within the DNA of America. There is a long-standing tradition of customization and transformation. The application being this culture that distilled found biker imagery, folk art, and cultic code, all realized through an Afro channel prism. The result is these classic objects handled with respect and reverence but also entirely shifted in their dynamic and meaning.

The Leather Cotton Wreath Type III Jacket and matching pants are both bold statements. Worn together, they represent a hyper confidence. The cotton wreath has proud significance: how far Black people have come. It is simple divine justice that it looks so beautifully strong across these pieces."
"Tracy's King Tut Vest and the Western Cowboy Shirt are the most extreme and challenging pieces. They are the refusal to compromise; the collection could not exist without them. Biker clothes may appear as simple and functional attire, but think of what informs it – Native American, cowboy and rodeo, workwear and military, outlaw and drifter. This is then merged with the legacy of flash show and Afro opulence. The defining pieces are like totemic artifacts. Many will look and lust after them, but back off from actually owning them."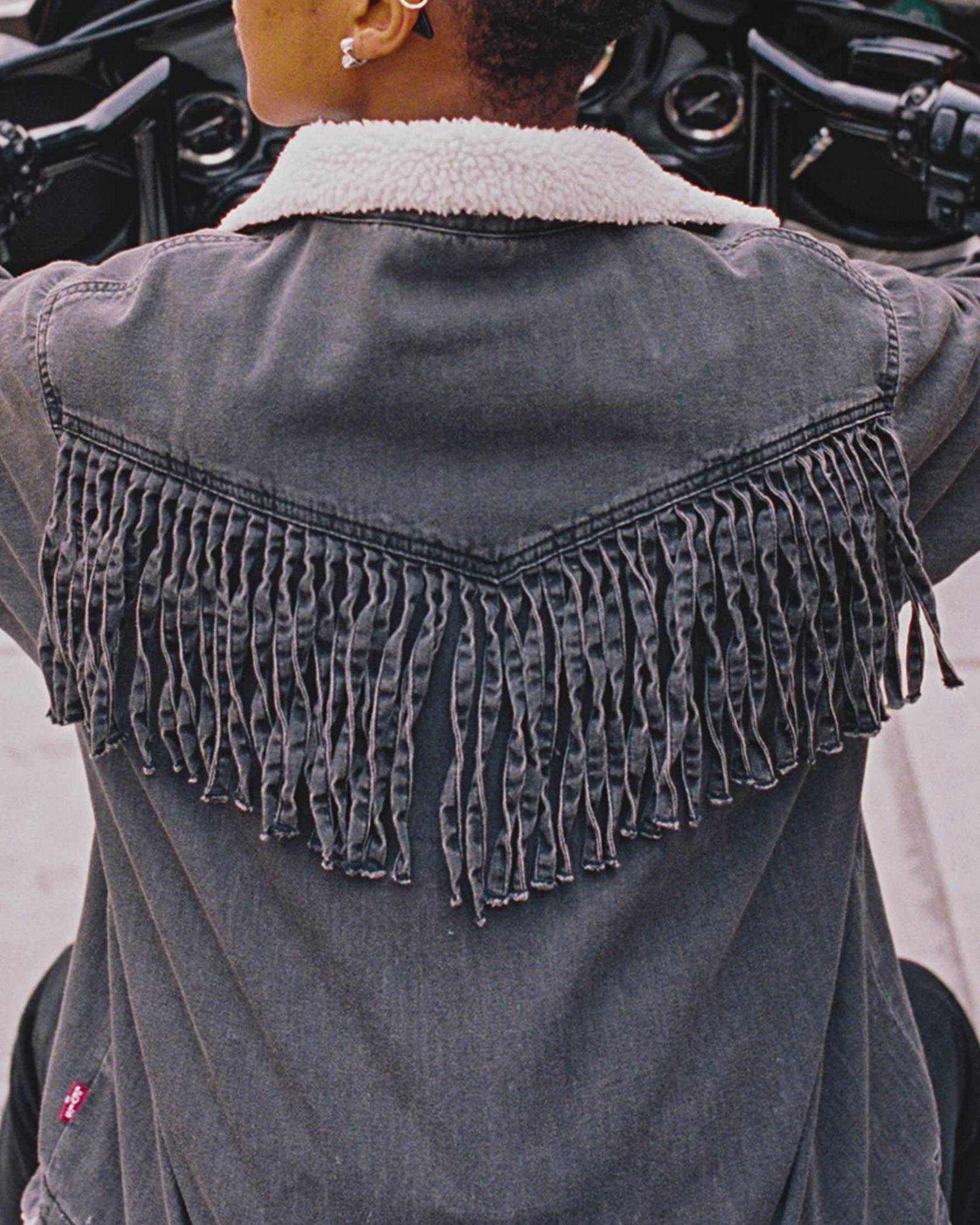 "Those who have the attitude and the character to wear them will do so forever. Who's gonna tell them not to?

The whole reason for the collection boiled down to wearing something forever that not everybody could get away with. Study Black bikers, warriors, Native Americans, and the figures and cultures that feed into biker aesthetic and philosophy. They all adorn their clothing and themselves with details. Tools, charms, talismans, and insignia – sacred objects that become integral elements of the wearer.
These objects have a power, an allure, and a message even when they are not in use. A hat or a bag hanging up can look inspiring. This idea informs everything. Every object has this value, it's what makes them important. Detail is fundamental. It makes a thing extraordinary.

These things are sacred, but don't be precious."
The campaign features real members of the Black biker community, shot in the places they live their lives. The third season from Levi's® x Denim Tears launches worldwide on September 14th, 2023 and will be available for purchase at the following Levi's® channels.

U.S. / CANADA: Levi's® App and Levi.com

EUROPE: Levi's® App and Levi.com
United Kingdom: Levi's® London Haus
Italy: Levi's® Store Roma Via Del Corso
JAPAN: Levi.com and Levi's® Store Harajuku
KOREA: Levi.com
CHINA: Levi.com, Levi's® TMALL, Levi's® Store Wuhan, Levi's® Store Shanghai
TAIWAN: Levi's® Store J Shop, Levi's® Store SOGO
DUBAI: Levi's® Store Dubai
ISRAEL: Levi's® Store Tel Aviv
INDIA: Levi.com and Levi's® Store New Delhi