Women's Tees: Find Your Fit
Style / 
September 2022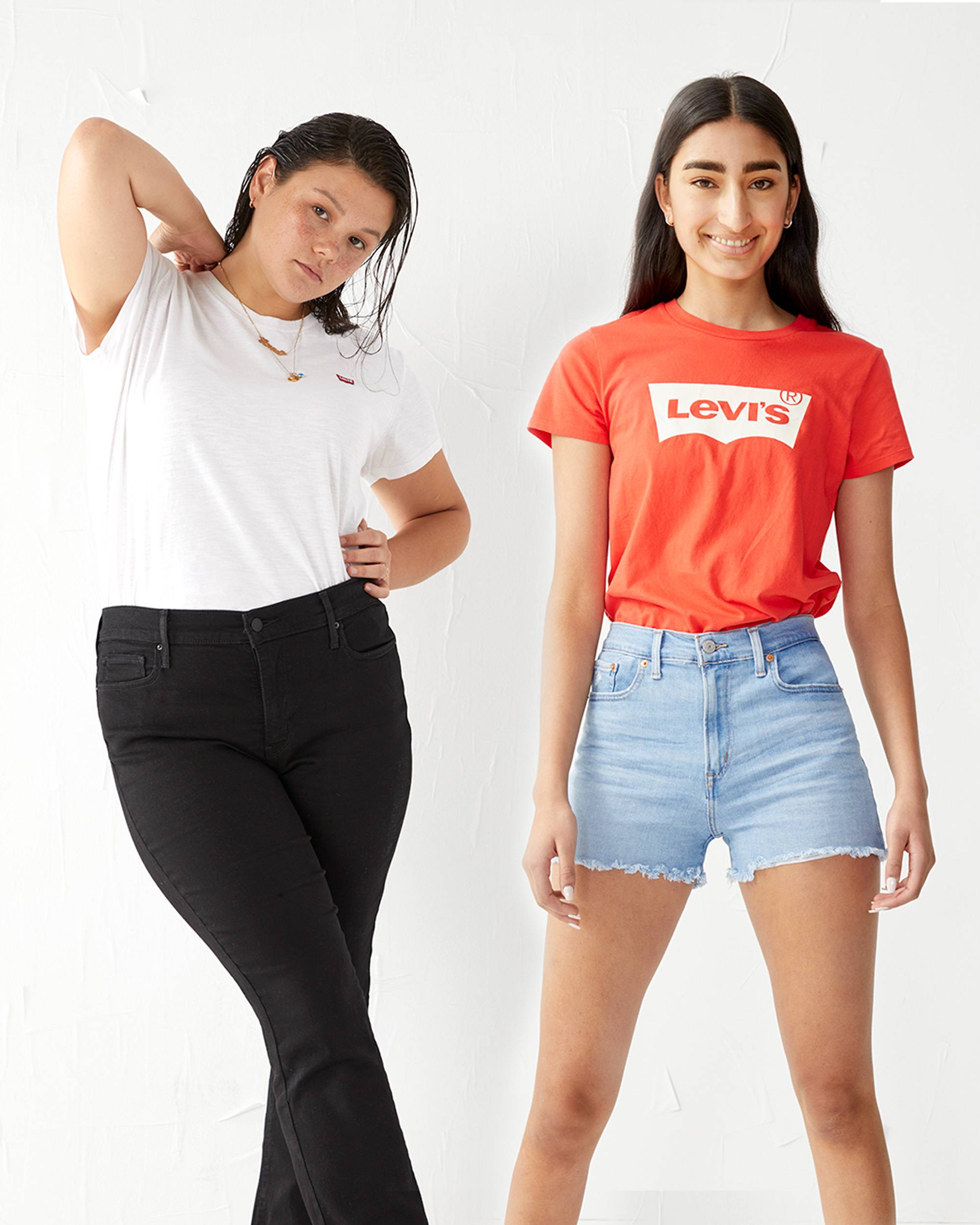 With the weather slowly warming, layers are getting lighter and breezier which means one thing and one thing only: T-shirt weather is just around the corner. So naturally, you're gonna wanna update your wardrobe with the latest styles and fits. Luckily for you, we've made this season's t-shirt refresh easier than ever by putting together a total breakdown of all our women's tees from the reliable classics to the new gals in the line. From texture to length and feel, check out the ultimate rundown on all the features that make these similar-looking but actually very different t-shirt styles unique.
GOLD TAB™ TEE
Inspired by California's easy living, the Gold Tab™ Tee is a laid-back casual addition to our t-shirt lineup. A palette of vintage-inspired primary colors feels a little bit collegiate and a lot a bit timeless while a cropped fit keeps things effortlessly cool. Wear this cotton spandex style on its own as a simple statement maker or layer up with button-downs and jackets – whatever your look calls for.
- A stretchy, comfy everyday tee
- Wear with jeans for the perfect Levi's® look
- Special Levi's® Gold Tab™ labels
- Levi's® Gold Tab™: a new collection inspired by our Northern California roots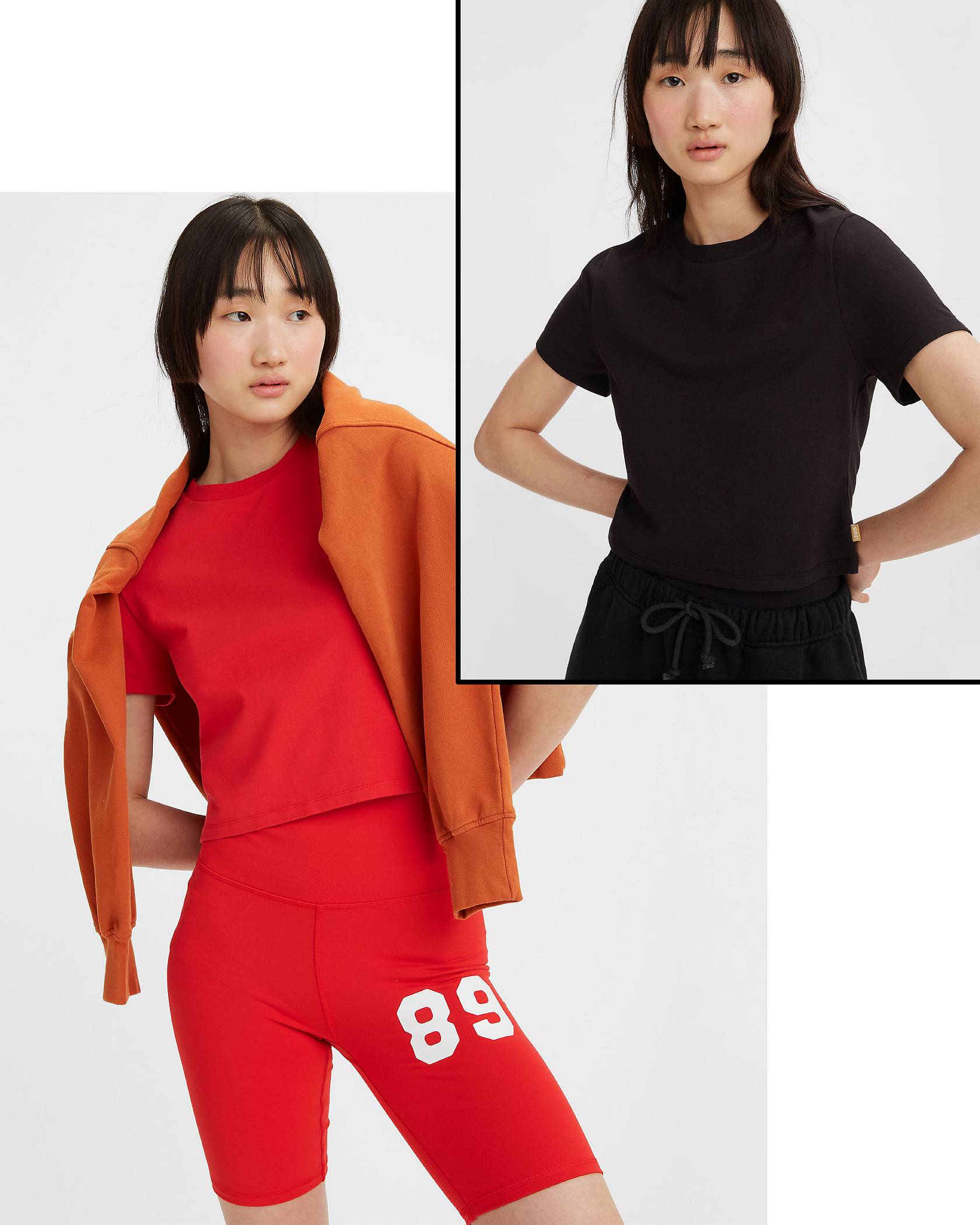 LONG-SLEEVE BABY TEE
Better than basic, it's the little details in the long-sleeve baby tee that make it really special. A cropped cut pairs perfectly with high-waisted looks (may we suggest the High Loose?), while a ribbed knit makes for a close, curve-hugging fit. Striped and solid color options let you express yourself, while a Levi's® housemark logo at the left chest let's 'em know.
- Soft, 100% cotton jersey
- Ribbed knit construction
- Chic cropped cut
- Crew neck
- Long sleeve with batwing chest hit
SHORT-SLEEVE RIB BABY TEE
All the charm of the long sleeve version, in an easy short sleeve silhouette. The Short Sleeve Ribbed Baby Tee is made from ultra-wearable cotton jersey that pairs perfectly with sweatshirts, jackets, and shackets alike. Ribbed knit crew neck looks clean classic and adds a little extra coverage in the neckline while a slim fit shows off your shape. So easy you can wear this women's tee with just about anything.
- Soft, 100% cotton jersey
- Ribbed knit construction
- Slim fit
- Crew neck
- Short sleeve with batwing chest hit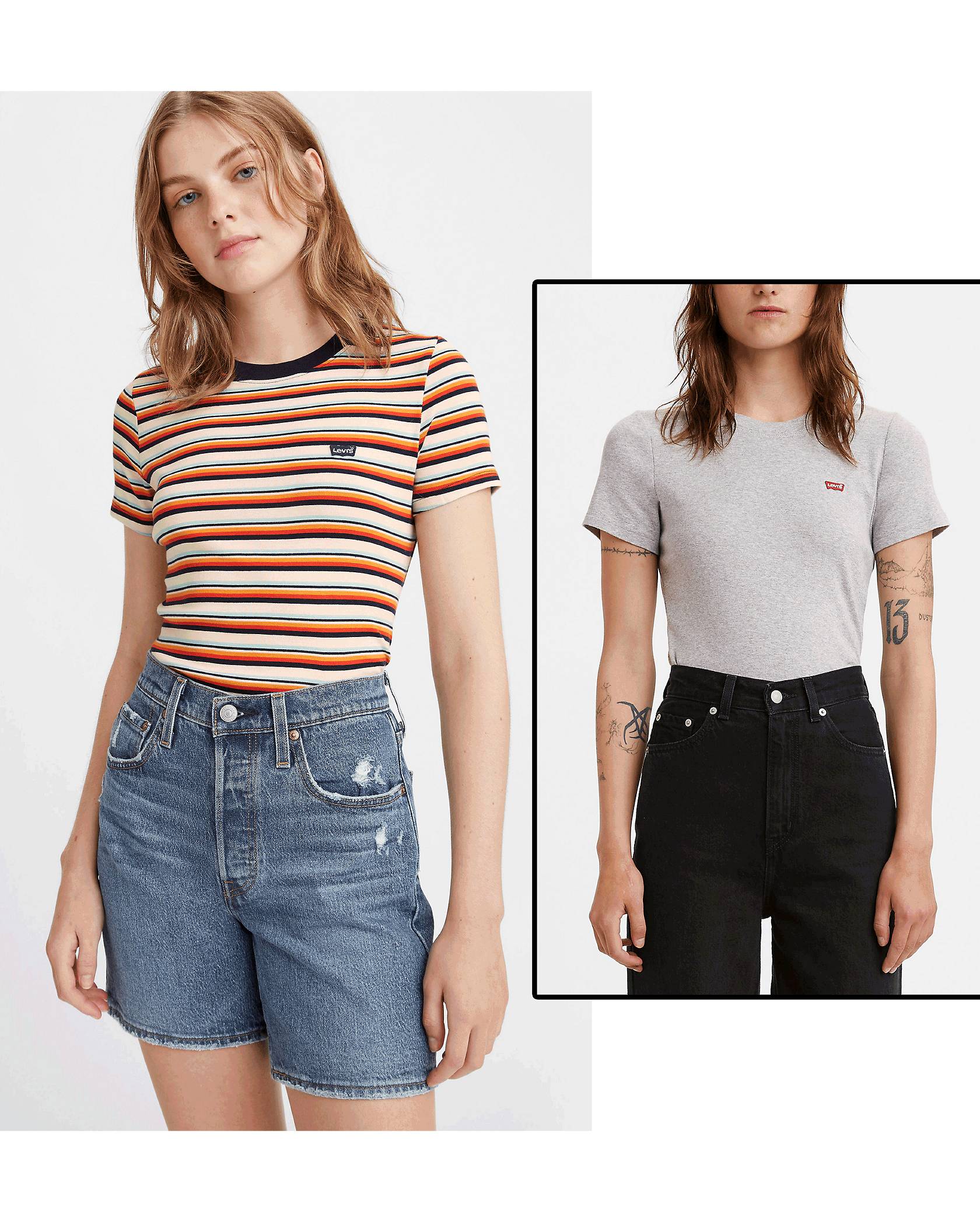 THE PERFECT TEE
Sized for everybody, the Perfect Tee is everything its name suggests. A crew-neck, soft cotton jersey, and the perfect length short sleeves lend that classic t-shirt look while an embroidered pop color Levi's® logo at the left chest marks this style as an authentic original. Wear on its own or layer to your heart's content, pair with everything from sweats to jeans to skirts and everything in between.
Love these looks? Want to discover more Levi's® fits? Shop our assortment of women's tees to find the style that's right for you!