Black History Now
THERE'S POWER IN COMMUNITY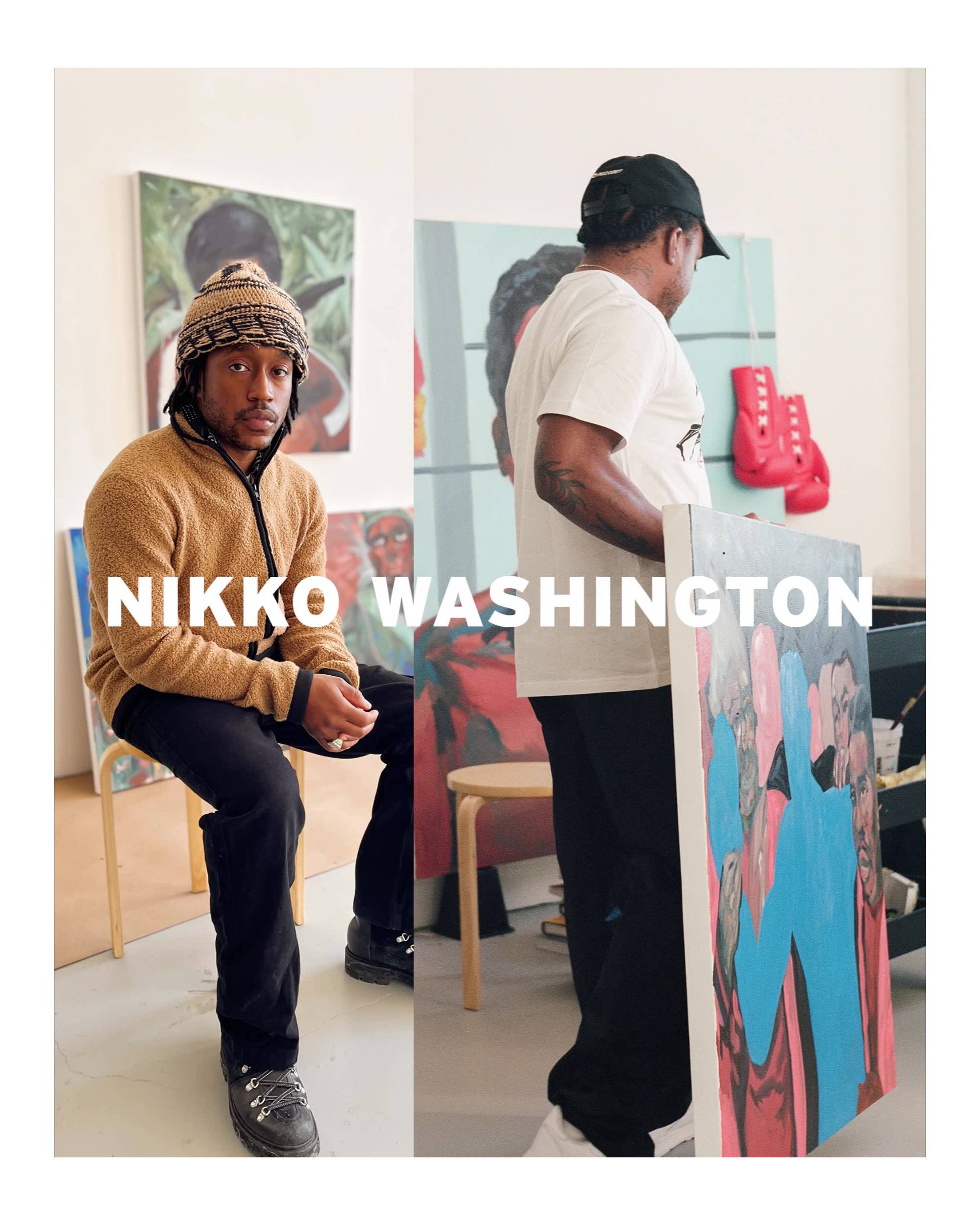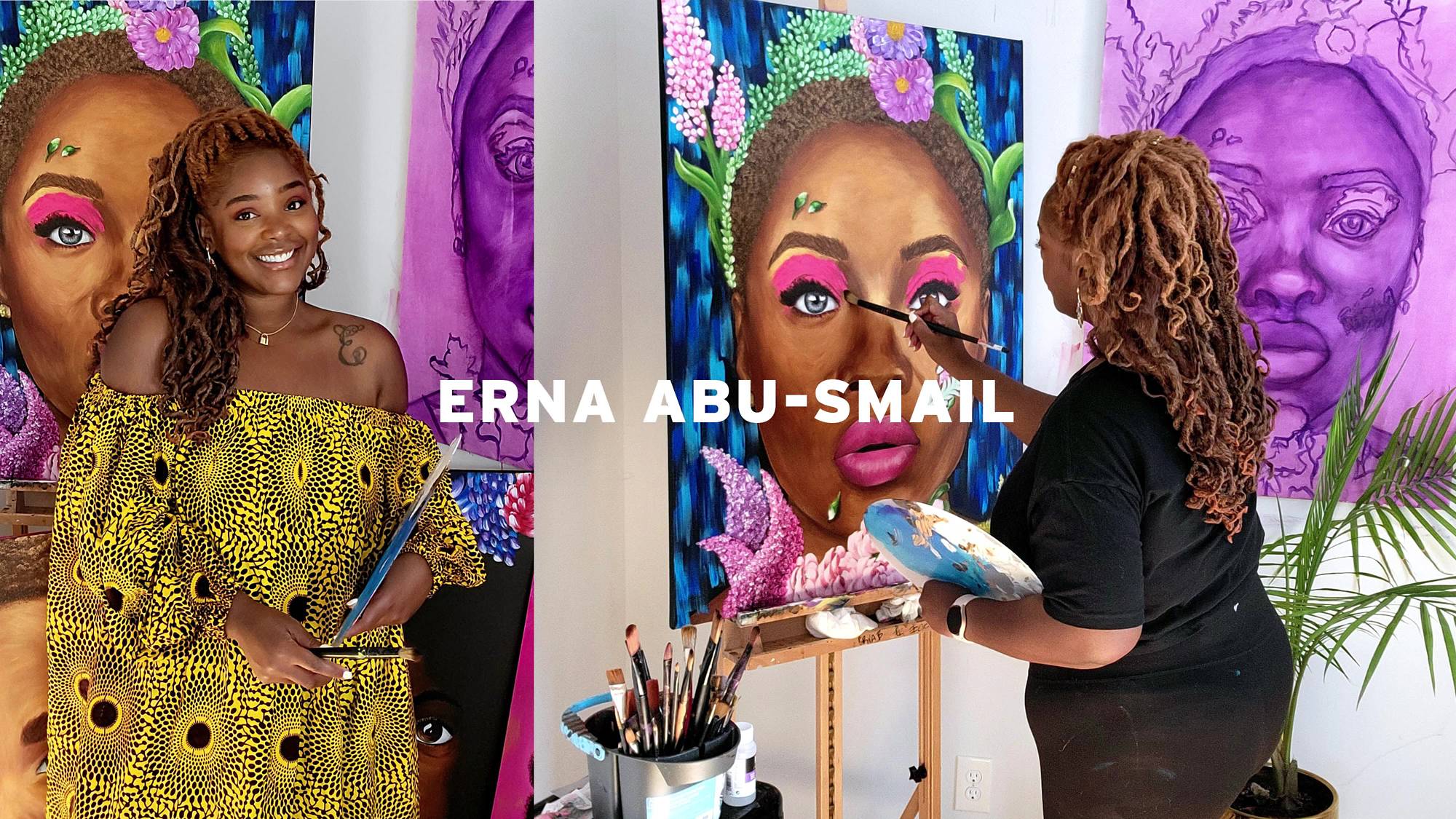 3 Artists. 3 Cities.
Black culture and creativity are inherently intertwined. From iconography that's fueled world-shifting movements to art collectives that have birthed cultural reckonings, creatives have always been at the center of storytelling around the Black experience in America.

In the spirit of celebrating the work and diverse experiences of these creatives, we're partnering with three artists in three cities that have shaped Black history to explore their unique journeys and how having the city as their backdrop has allowed them to blossom.

Throughout the month we'll be teaming up with these artists for in-store workshops at Levi's Ponce City in Atlanta, Levi's Michigan Ave. store in Chicago, and the Levi's Century City location in Los Angeles where they'll unveil 6 one-of-a-kind 501®s they've custom-designed through the lenses of culture, connection, and community.
ERNA ABU-SMAIL
Atlanta, Georgia

For first-generation Liberian-American painter Erna Abu-Smail, art is the language that transcends all cultural barriers. She dabbled with painting during her childhood, but by the time college rolled around, the pressure was on to pursue a professional career. She studied public health before moving to South Korea where she resumed her passion for painting. "In South Korea, I just started painting. I bought a bunch of supplies and I went to a bunch of art shows." She didn't speak the language, but that didn't stop her from connecting with other like-minded individuals through art.
I'm painting what I want to paint. I paint what's real to me. I want to paint something that still uplifts people. I want to show my colors.
Today, Abu-Smail resides in Atlanta, Georgia — a city renowned just as much for its deep influence within the arts as it is for its historic ties to Black history. It is the birthplace of the Civil Rights Movement and some of its most revered leaders, like Dr. Martin Luther King, Jr. It's a hub for thriving Black-owned businesses in the South and home to the landmark film production company Tyler Perry Studios, designed by the African-American filmmaker as a love letter to other Black creatives. Abu-Smail rightly refers to Atlanta as being the "Black Mecca" of the South. And despite concerns around gentrification, the city remains an embodiment of Black culture. "I think because of the change that we're seeing in Atlanta, a lot of Black artists are coming together, supporting more Black-owned galleries and starting different Black initiatives within the community."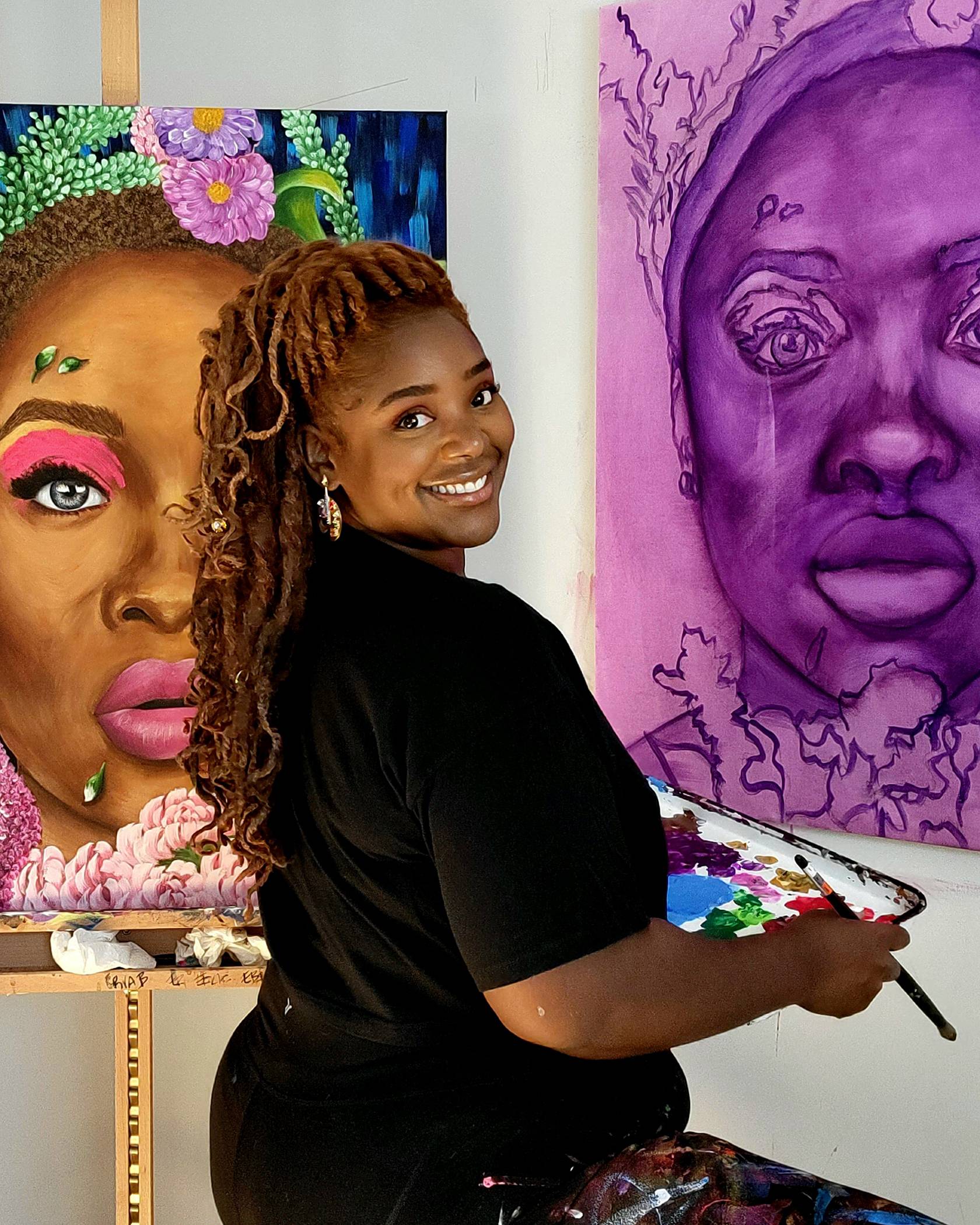 For Abu-Smail's Black History Month tribute with Levi's®, she custom-designed 501® jeans using her home in Atlanta as the backdrop. Her works underscore the city's rich and colorful Black history through homages to civil rights heroes, legendary musicians, and the historically Black colleges or universities (HBCUs) that call the Georgia capital home. "If you're going to do something for Black history, Atlanta is the place to do it. You have to talk about the history of Atlanta. We can highlight those that were pioneered within Atlanta, which is what I thought about immediately with the jeans."
Friday, February 10 1:00 pm – 7:00 pm
Saturday, February 11 11:00 am – 7:00 pm
Levi's® Ponce City
650 North Avenue NE
Suite S106-B
Atlanta, GA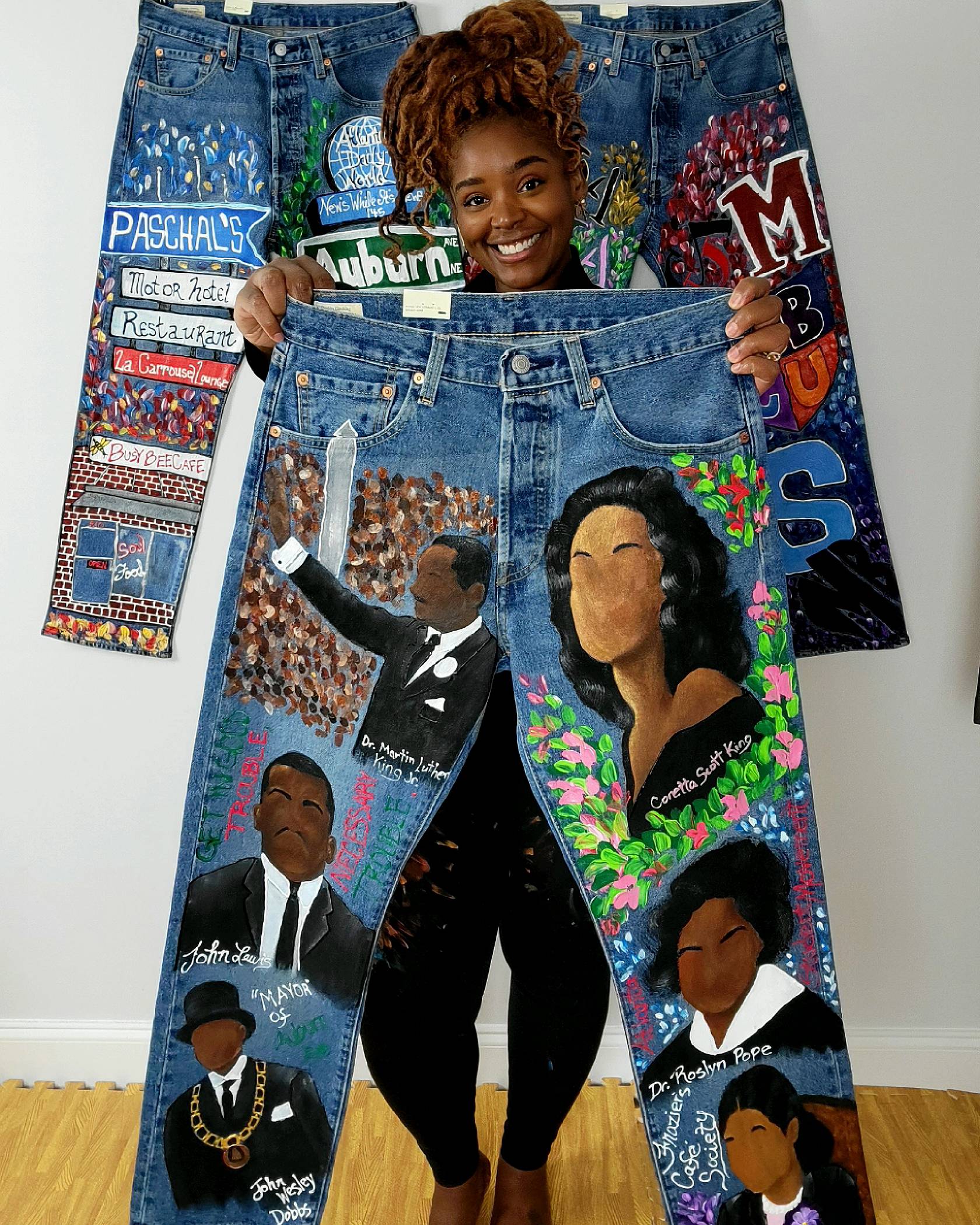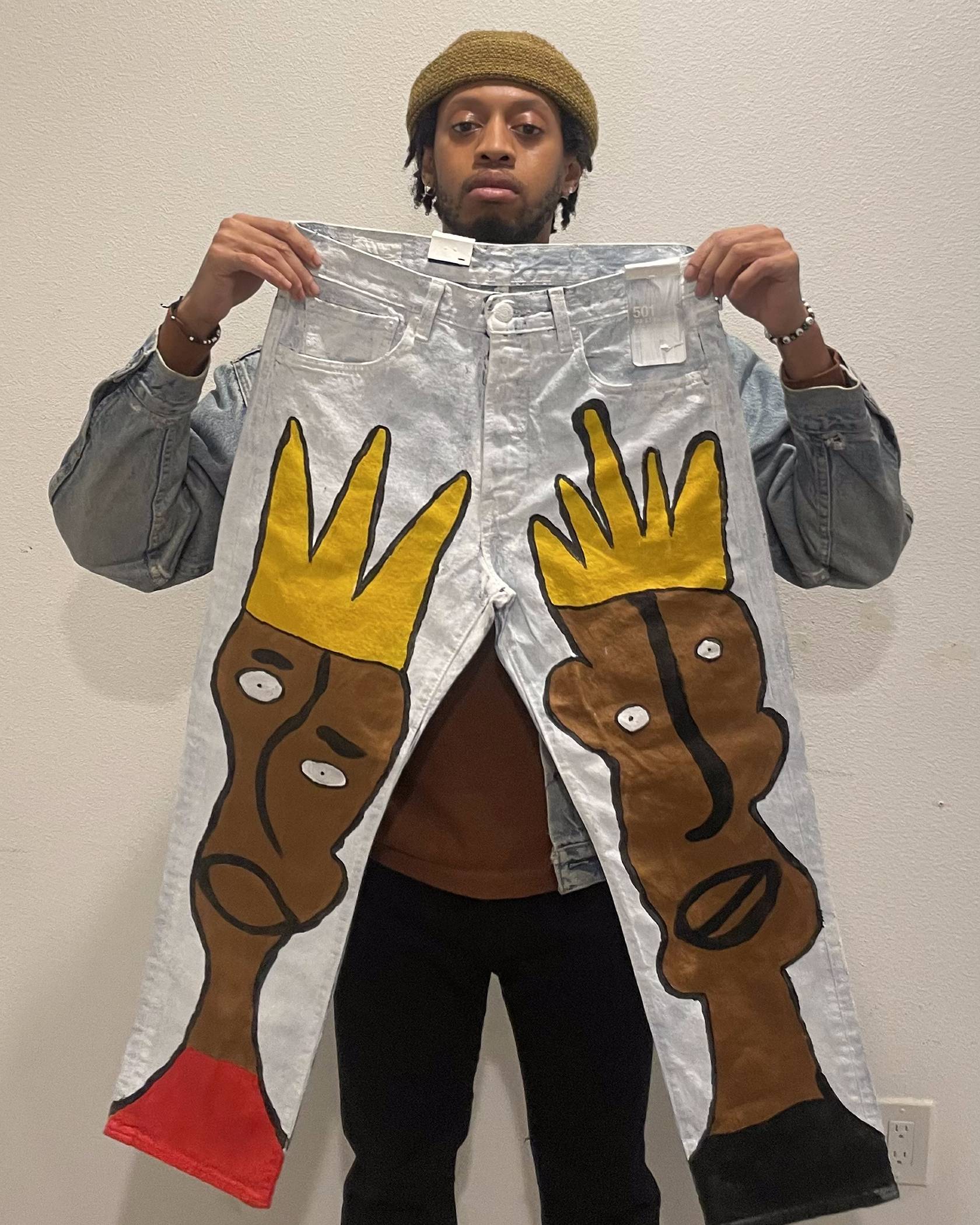 JERIS JOHNSON
Los Angeles, California

Painter and filmmaker Jeris Johnson's creative process began with single line drawings, using basic techniques to draw faces and flowers. During quarantine, he started sketching caricatures of celebrity photos he came across online, which allowed him to fine tune his craft. He admittedly got a little creative with his iPhone when finding friends to portrait model for him. "I would just draw people I was on FaceTime with."
[Los Angeles] has allowed me to really dive into a process and express myself the way I really want to. This is the emotion I'm putting in my paintings. This is what I want people to see.
Originally from Louisville, Kentucky, Johnson now calls the sunny city of Los Angeles home. The West Coast has offered him a different outlook on life and his own creativity. "In Kentucky, we don't have surfing. So coming out here and really getting a chance to surf, to hike, it expands what I can really do." His migration West is fitting considering the fact that the city of Los Angeles was established in 1781 by 44 settlers, 26 of whom were of African descent. There's a deep-rooted history there, and Johnson finds inspiration in it. "Black folks had to move to the West Coast and settle here and then they could trace it all the way back to where their first house was. That's what I love about the Black people here. They choose to expand, because the ones that moved out here, those are the ones that [are] now seeing what's flourishing."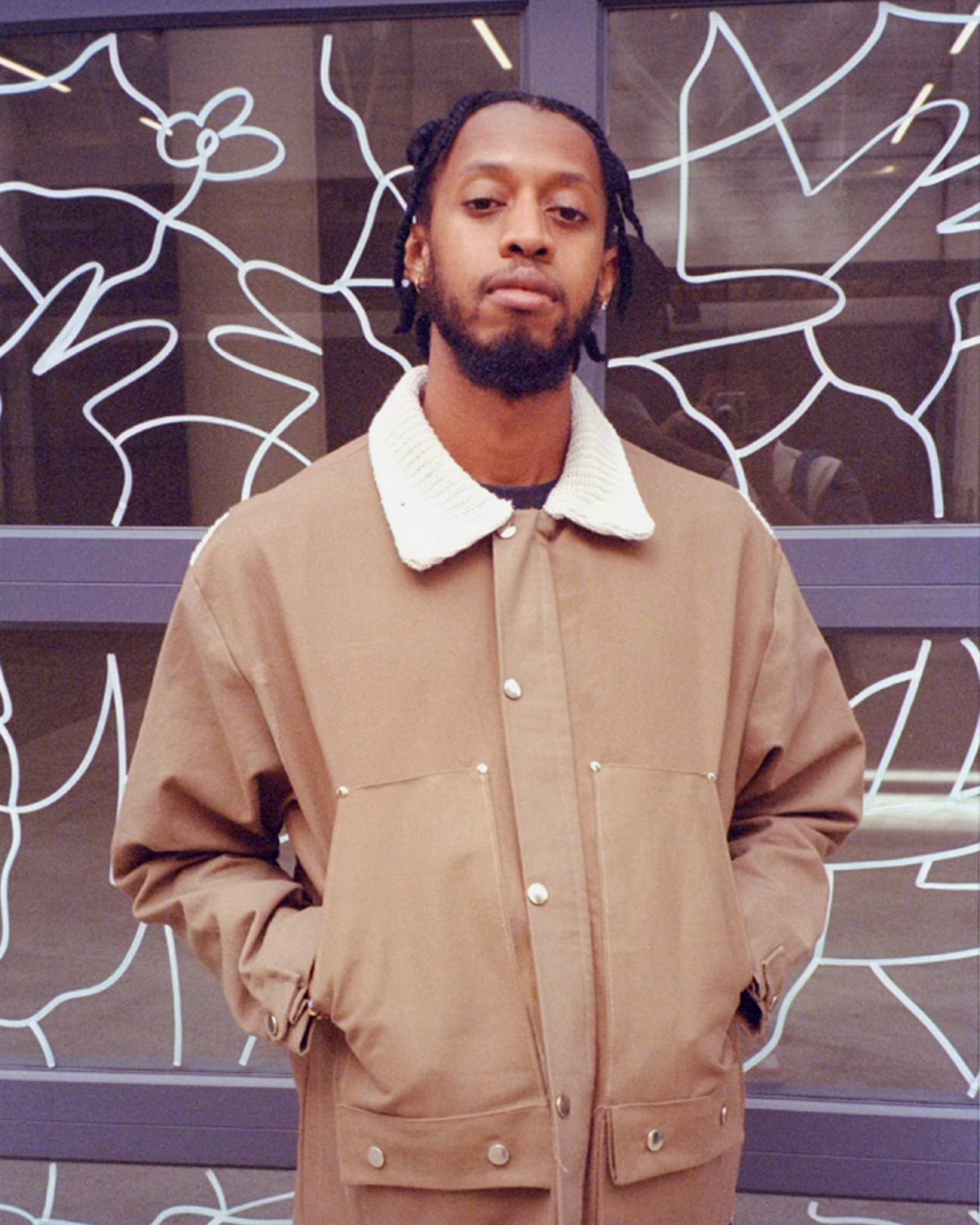 Johnson celebrates the diverse tapestry that makes up Los Angeles and its Black community's everlasting influence on culture as we know it with his Levi's® Black History Month tribute. His designed 501®s showcase a variety of different approaches that all boil down to the importance of community. "It has to start with the people. You got to really know what's going on. The LA community is very beautiful. They'll tell you how it is. And even if they don't, you'll definitely pick up on how things can move forward from how things are."
Friday, February 10 1:00 pm – 7:00 pm
Saturday, February 11 11:00 am – 7:00 pm
Levi's® Century City
10250 Santa Monica Blvd
Suite 2350
Los Angeles, CA
NIKKO WASHINGTON
Chicago, Illinois

Hometown hero Nikko Washington's creative approach is deeply rooted in the Black Chicago experience. The midwestern city has long served as an historical touchpoint for Black history in the U.S., with its first non-Indigenous settler being a Black Haitian named Jean Baptiste Point du Sable in the 1780s.
Chicago loves their unsung heroes. We lift each other up, we support each other.
Born and raised in Chicago's Hyde Park neighborhood, known for its large population of Black residents, Washington was encouraged to chase after his creative pursuits from an early age. He believes it's important for Black artists to be able to tell their own stories and control their own narratives. "The Black experience is unique to each individual person, it's not just a monolith culture. And that's why it's important, from whatever your background is, to paint your experience and not a general understanding."
The majority of Washington's paintings depict impactful Black figures in shades of blue and purple to highlight just how unique Black skin can be. "There are so many different tones and undertones to our skin that should be highlighted and depicted. But I think however I paint these figures, you know that they're Black no matter what colors you see on the canvas."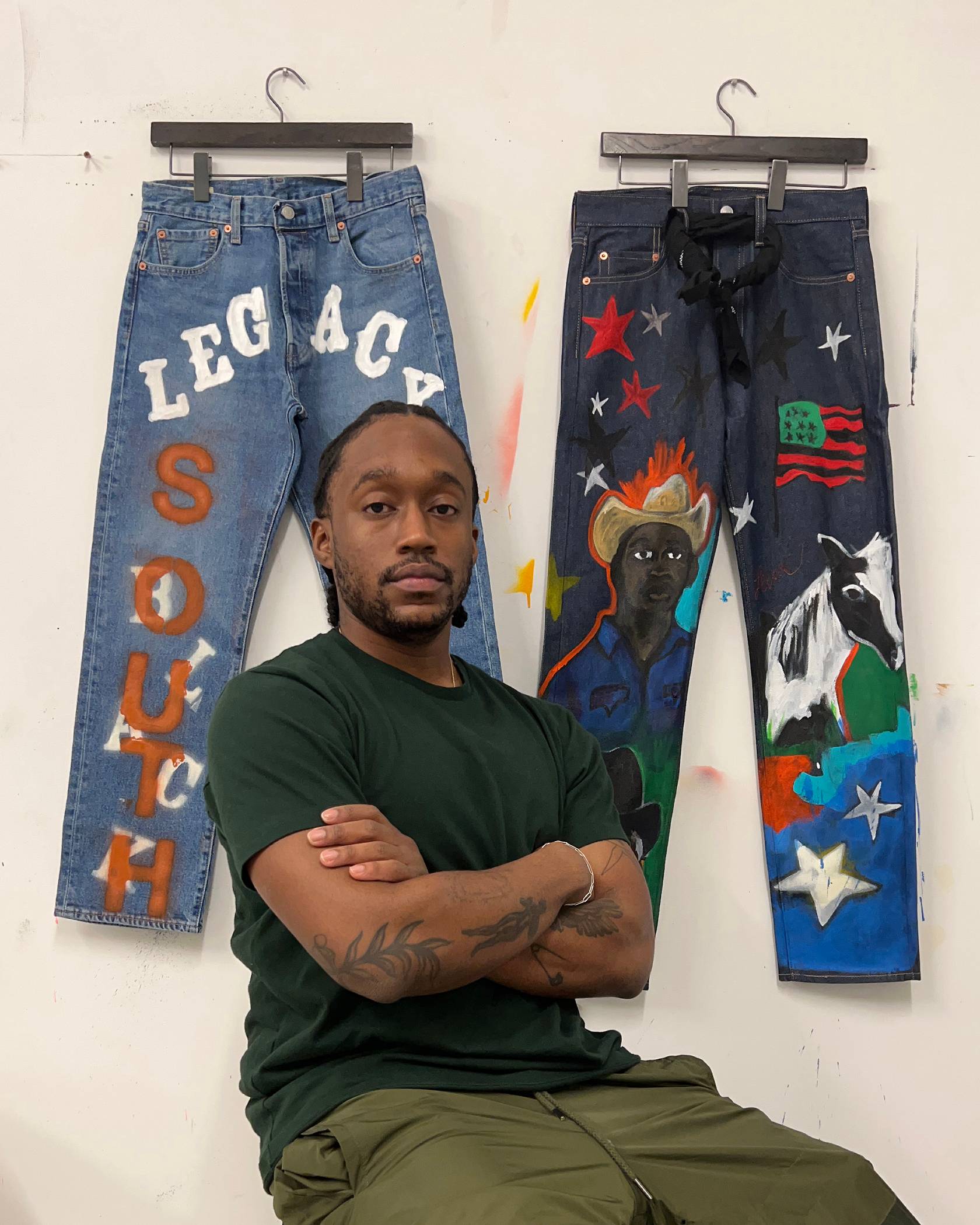 Washington draws upon the beloved heritage of Levi's® for his 501® designs. His paintings reflect Black culture's influence on denim as well as the fabric's iconic history alongside the Black American cowboy. "Our history isn't really heralded in the school system and in everyday life, so I think it's important to tell those stories through our lens. That's what my work really revolves around, the central point of telling those stories through my painting style."
Friday, February 10 1:00 pm – 7:00 pm
Saturday, February 11 11:00 am – 7:00 pm
Levi's® Michigan Ave
600 Michigan Ave
Chicago, IL