Top 10 Levi's® Black Jeans for Men
Style / 
December 2022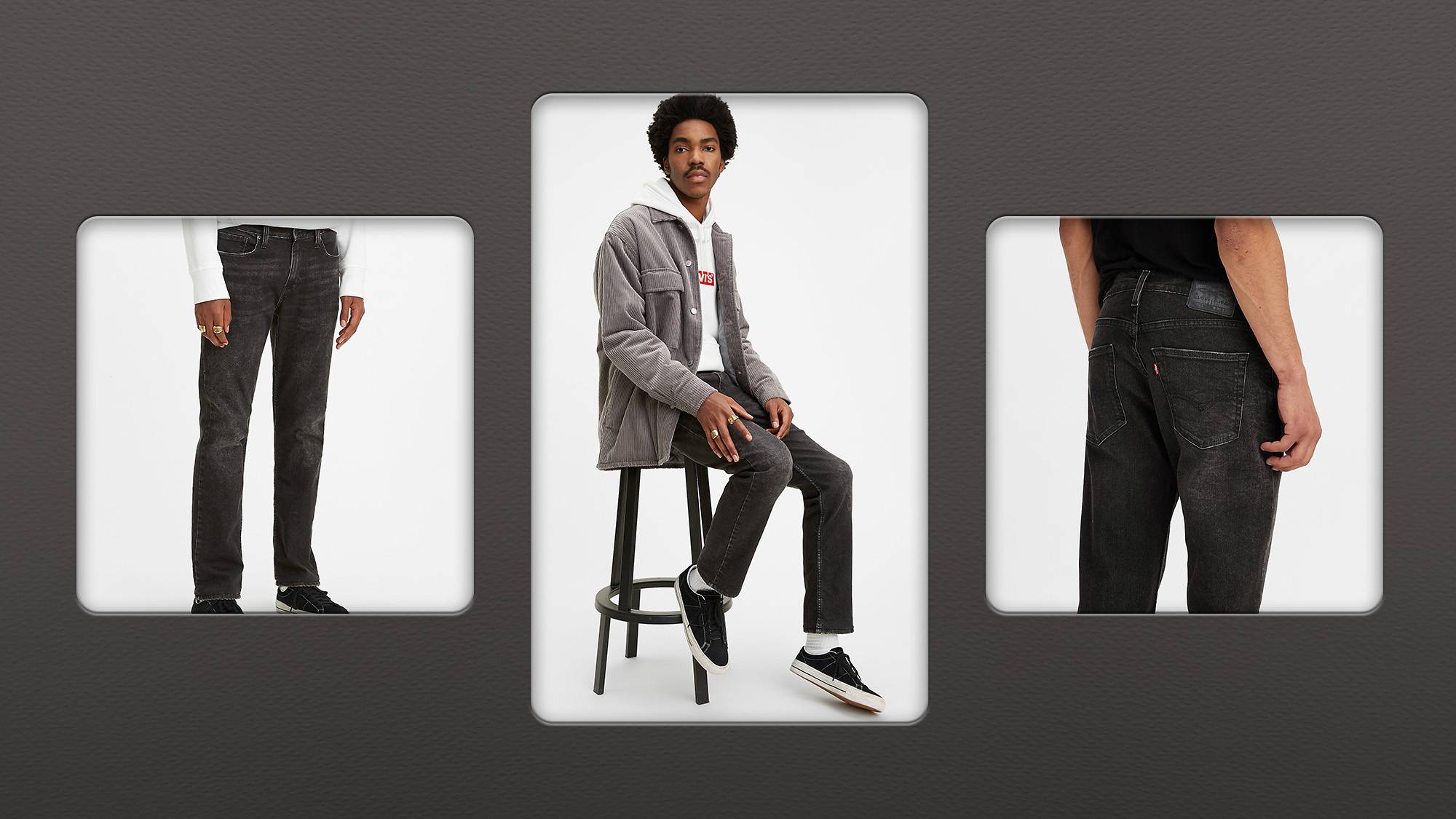 If Levi's® is known for anything it's denim–obviously. But not just any denim, Levi's® is known for universally loved, internationally coveted, prototypical denim—like the kind of thing you wear your entire life and then pass on to your kids and it's just as iconic as the first day you bought it. Given its legendary status, we think it's safe to call our denim a must-have wardrobe staple. And as the unofficially official authority on must-have wardrobe staple denim, we feel entitled to use our platform to draw attention to an often overlooked, but extremely hardworking style that always surges in popularity when the temperature drops: The Black Jean.
What Are Black Jeans?
So you know the regular blue jeans right? Well, they don't start out that way. The raw denim fabric is dyed with an indigo dye to give them their iconic color. So, logically black denim is just like normal denim but dyed with a black dye instead of a blue one. See? Easy peasy. And while you may assume that black jeans are a new invention they actually go almost all the way back to the birth of jeans as we know them. Our best guess is that we invented them (yes, us) back around 1903.
Why We Love Black Jeans
There's something a little rebellious about a black jean for men. They're unconventional and edgy. They buck convention. The moody hues say "I'm too complex to be understood by regular old blue denim." But color aside, we love black jeans for much of the same reasons we love our original blue jeans. They break in beautifully for a glove-like fit. They're durable, reliable and versatile when you need them—and most importantly they are always, always in style.
Our Favorite Black Jeans (Ever)
Ok, so we all love black jeans now, great. But what black jeans are right for you? This is where it gets fun. Here are 10 of our favorite, best, tried and true black jeans for men.
MEN'S BLACK 501® JEANS
The 501® is the original blue jean–and actually the original black jean too. We all know how much there is to love about the 501®. The fit? Iconic. The durability? Legendary. The styling? As classic as you can get. But when we think about the 501® in black we get totally different vibes. It's a little rebellious, a little subversive and a lot chic. It's the denim equivalent of "devil may care". We're pairing ours with a classic tee (what else?) and a throw-and-go jacket—you know, like a Trucker or a Leather Biker, whatever goes best with your sunglasses and slight disregard for authority.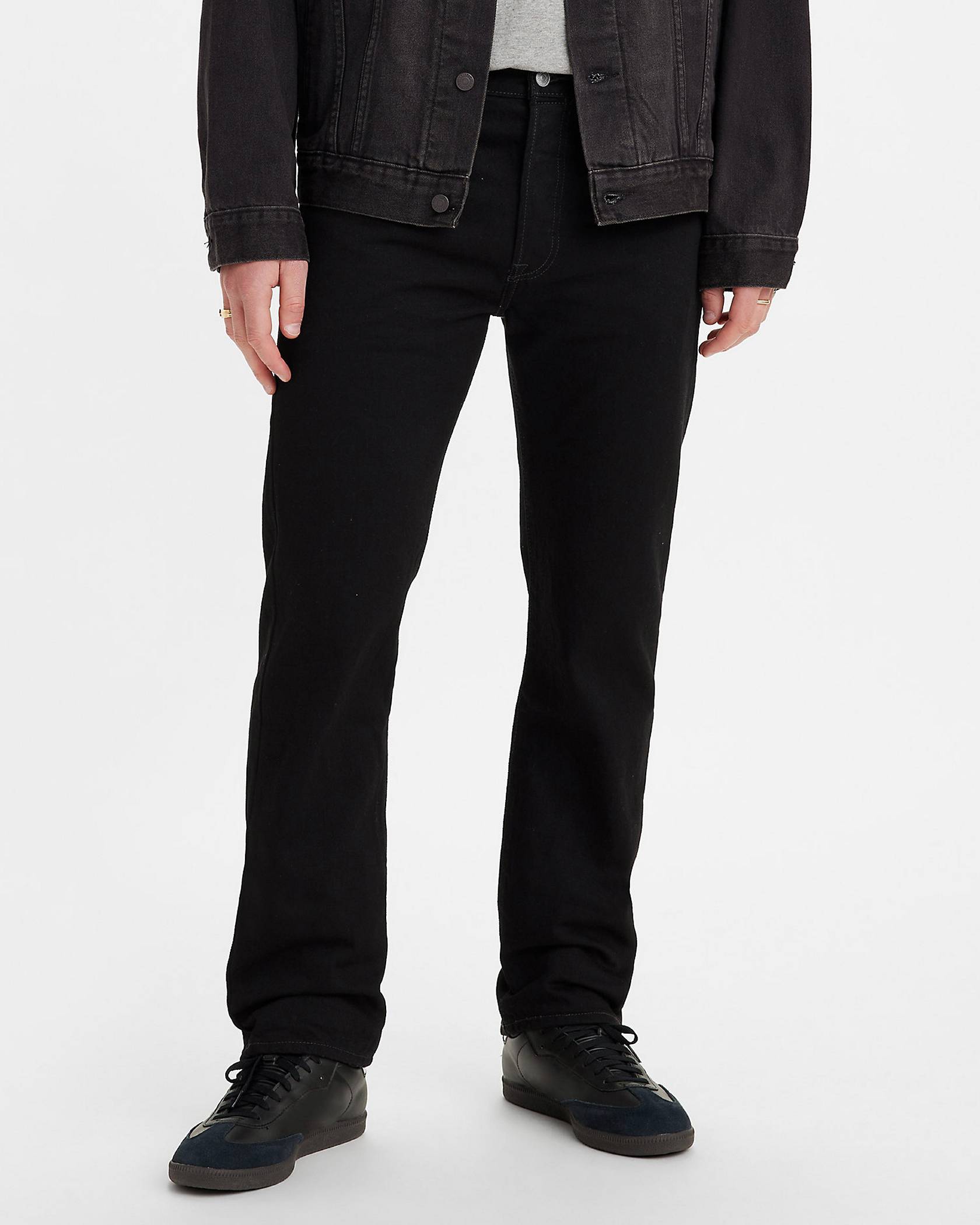 MEN'S BLACK 511™ JEANS
The 511TM is a slim fit made with an advanced stretch feature for ultimate flexibility. So they're sleek and slim and not constrictive at all–and that's just the blue version. Put them in black and you're taking things to a whole new level. The already sleek streamlined silhouette meets our most polished color in the black version. The result? A totally polished, super versatile, ultra-comfortable look you can pair with anything. Like really anything. T-shirts, sweatshirts, button-ups, polos, sneakers, sandals, loafers–it all works with the Men's 511TM in black.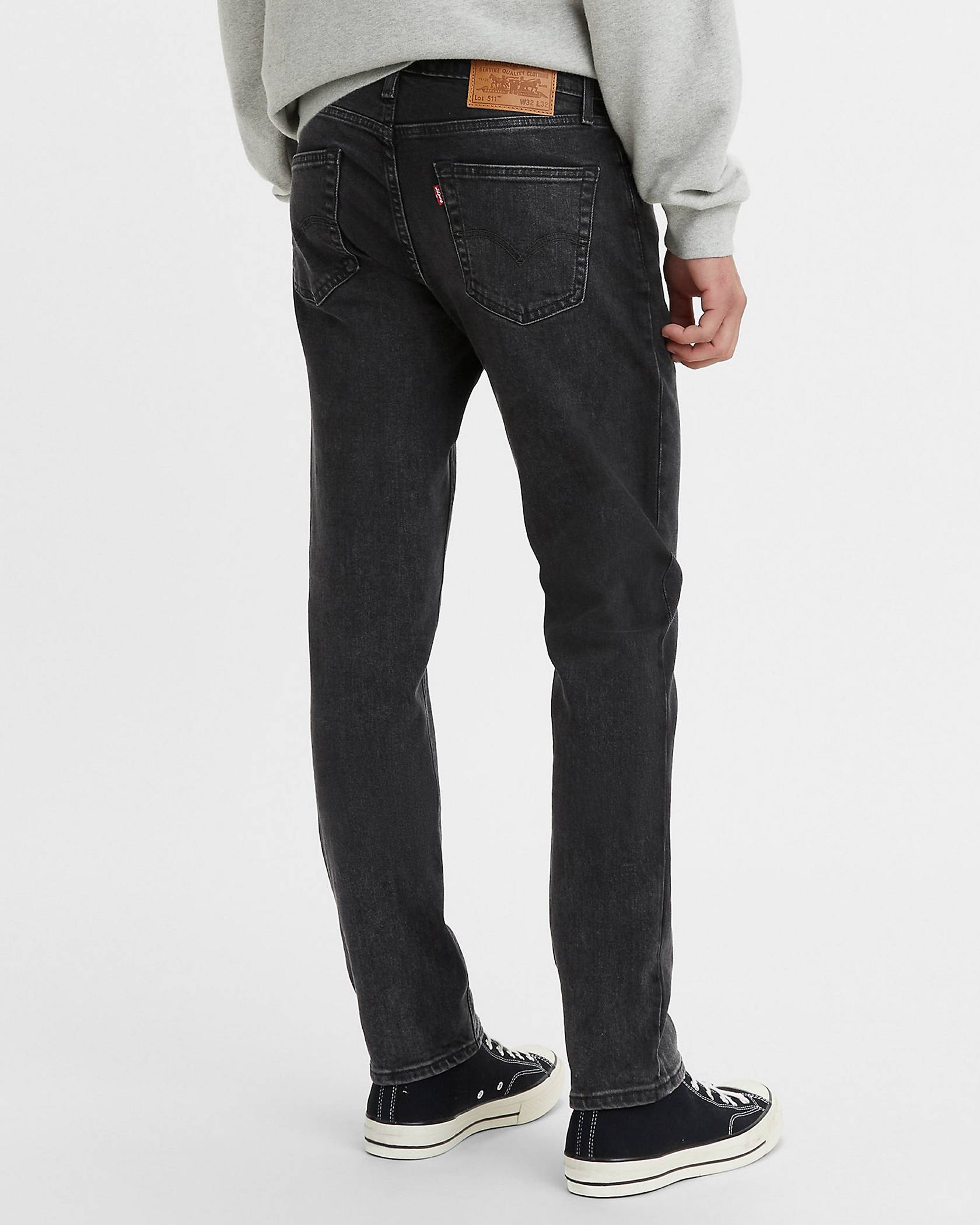 MEN'S BLACK STRAIGHT-LEG JEANS
If straight-leg jeans are the ultra-classic look that never goes out of style then, the black version of that x1000. Straight cuts are flattering and timeless with their clean lines and universal appeal. The men's black straight leg jean takes that idea even further. They're a truly timeless universal style that looks good on everyone and can be worn with anything. We're keeping it ultra classic and pairing ours with a button down and baseball cap and sneakers–but pretty much anything goes with this easygoing style.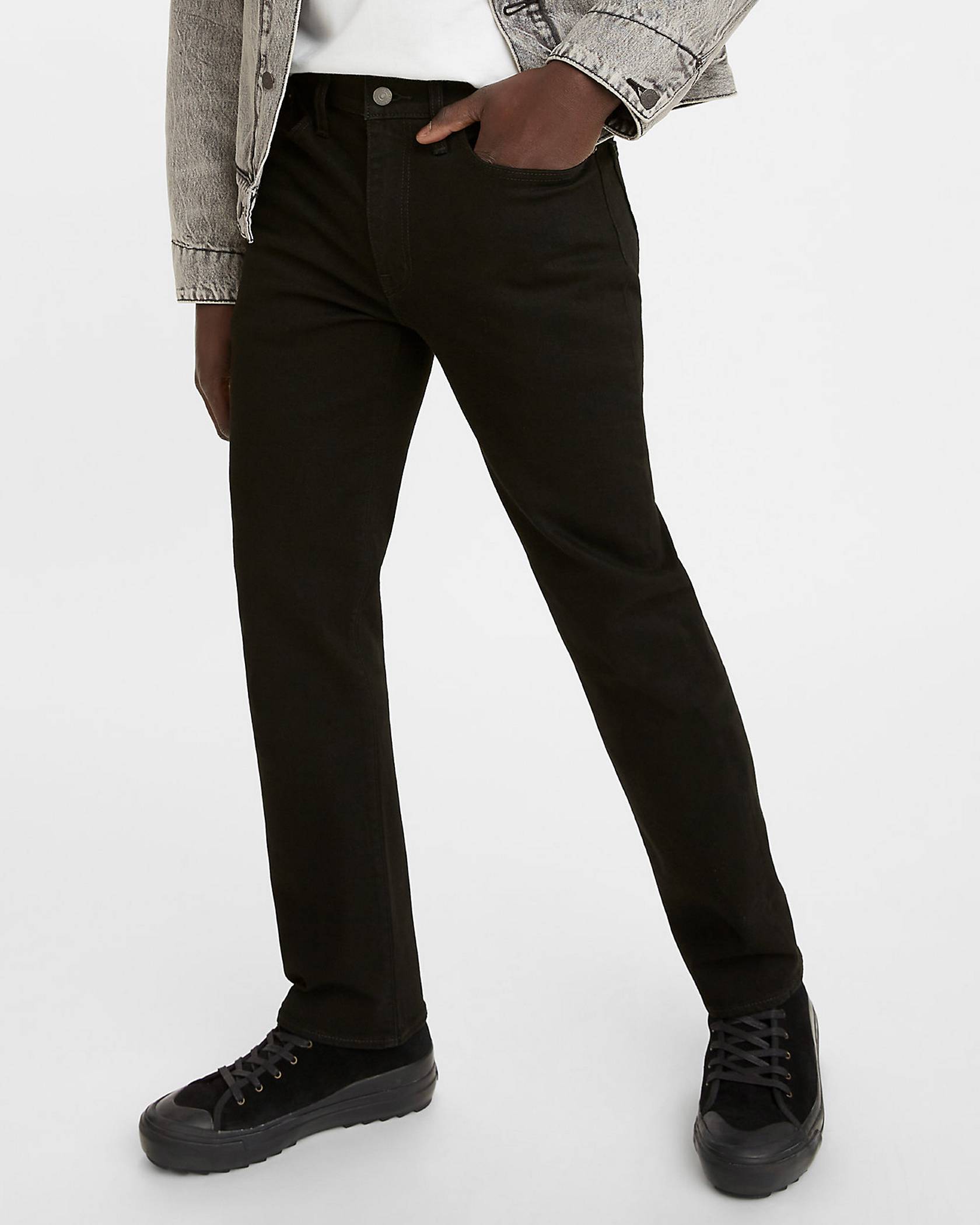 MEN'S BLACK SLIM JEANS
Slim-cut styles combine the best of skinny and straight looks, but don't let that fool you, they have their own vibe entirely. The mix of fitted sections and looser sections strikes the perfect balance for a harmonious look and feel while the black colorway adds a certain seriousness that feels somehow work-like. To be clear, we're definitely not calling these work pants, but just something about them kinda feels like that you know? We're playing into that aesthetic by pairing them with a crisp white button-down, a blazer and a serious Oxford.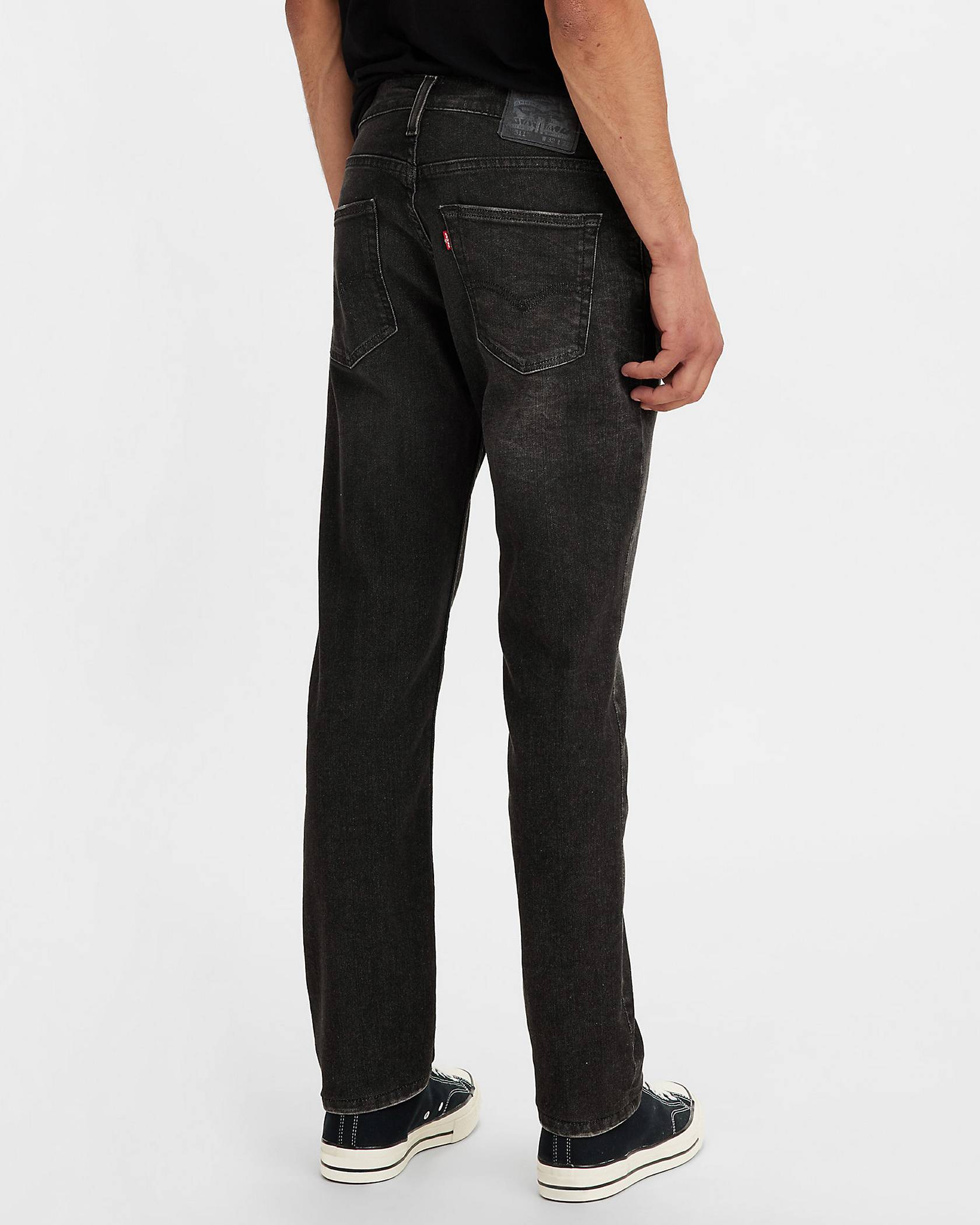 MEN'S BLACK SKINNY JEANS
Black skinny jeans give us kind of a punk rock vibe. Like we feel like we should be wearing them with a band t-shirt, a wallet chain and just a hint of a scowl. But associations aside these snake skinnies have a secret weapon not a lot of people talk about. They're ultra-soft and super flexible so they move with you not against you. Plus our super special denim fabrication means they'll keep their shape with every wear so you can always count on that "fresh pair" look at the end of the day.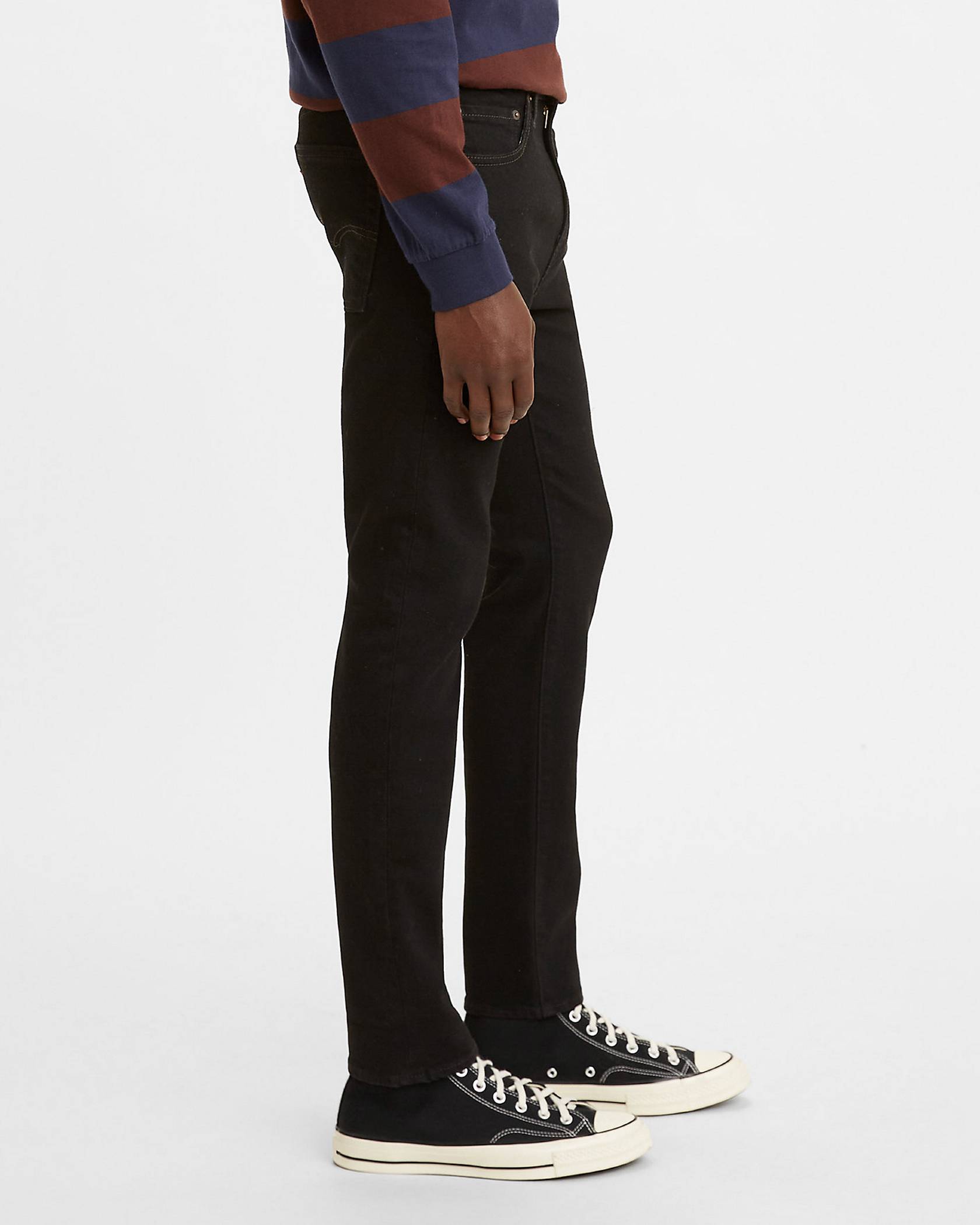 MEN'S BLACK TAPERED JEANS
Man do we love a black taper fit. Something about the roominess at the top and the sleek look at the bottom just feels right. And speaking of feeling, did we mention just how comfortable our tapered jeans are? Like they're so comfy you may even forget to take them off at the end of the day before your lounge time. In black, we're amping up the versatility of this already go-with-the-flow style. Use the neutral color as a jumping-off point for whatever you're feeling. A hoodie and sneakers? Great. A polo and windbreaker? Cool. It all works.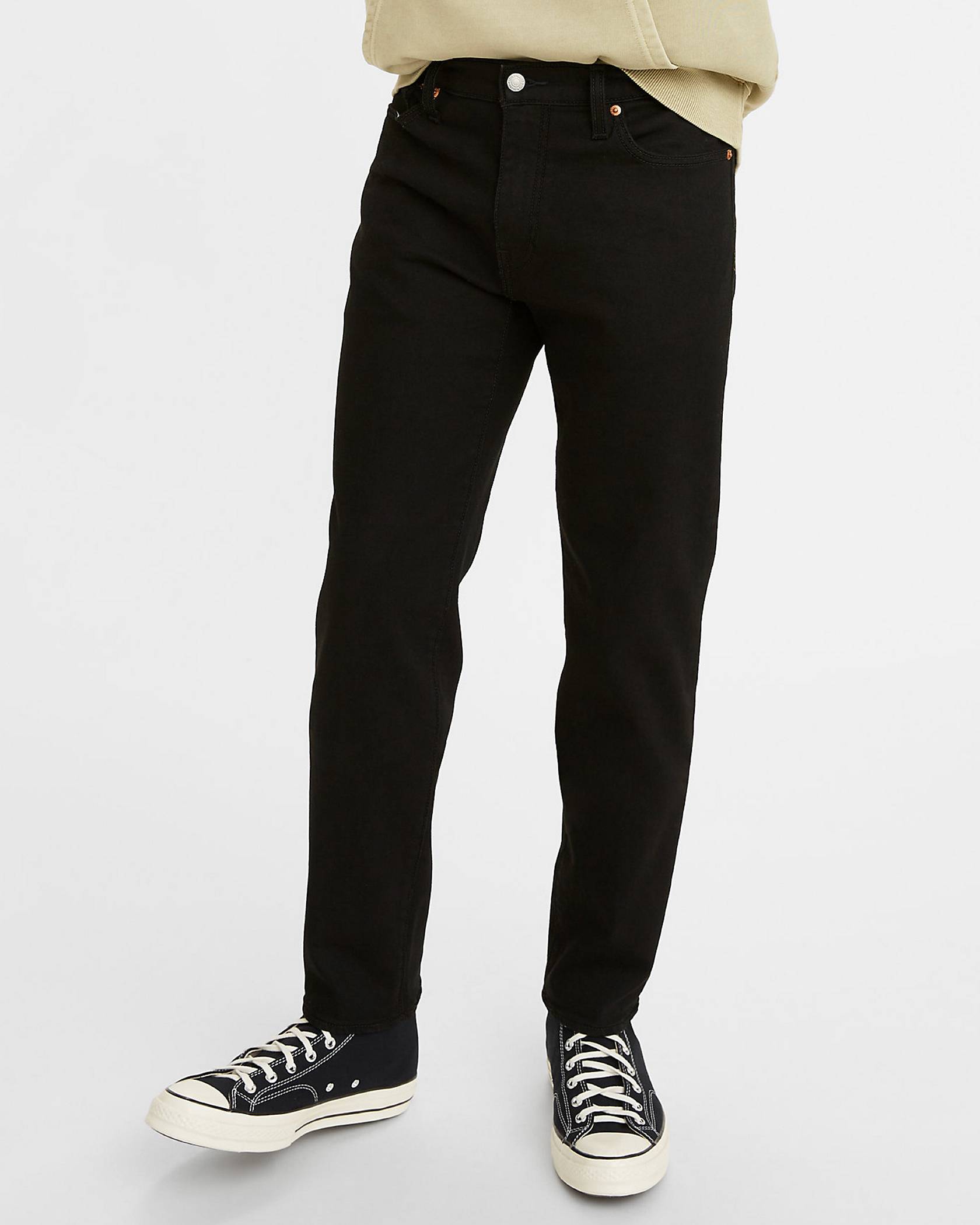 MEN'S BLACK BOOTCUT JEANS
Bootcut jeans for men are already an interesting proposition in and of themselves. Bootcut styles have that real cowboy edge to them. Black jeans? Not so much. Combine them, and we're left with an entirely new entity. The black bootcut jean is a little bit rock and a little bit "Walk The Line". The mix of volume from sleek to flared will always be a showstopper while the black color provides the perfect canvas for following your creative inspiration. We don't know quite why, but we just want to pair these with, like, a bolo tie and a harmonica—but you'll look cool no matter what you wear them with.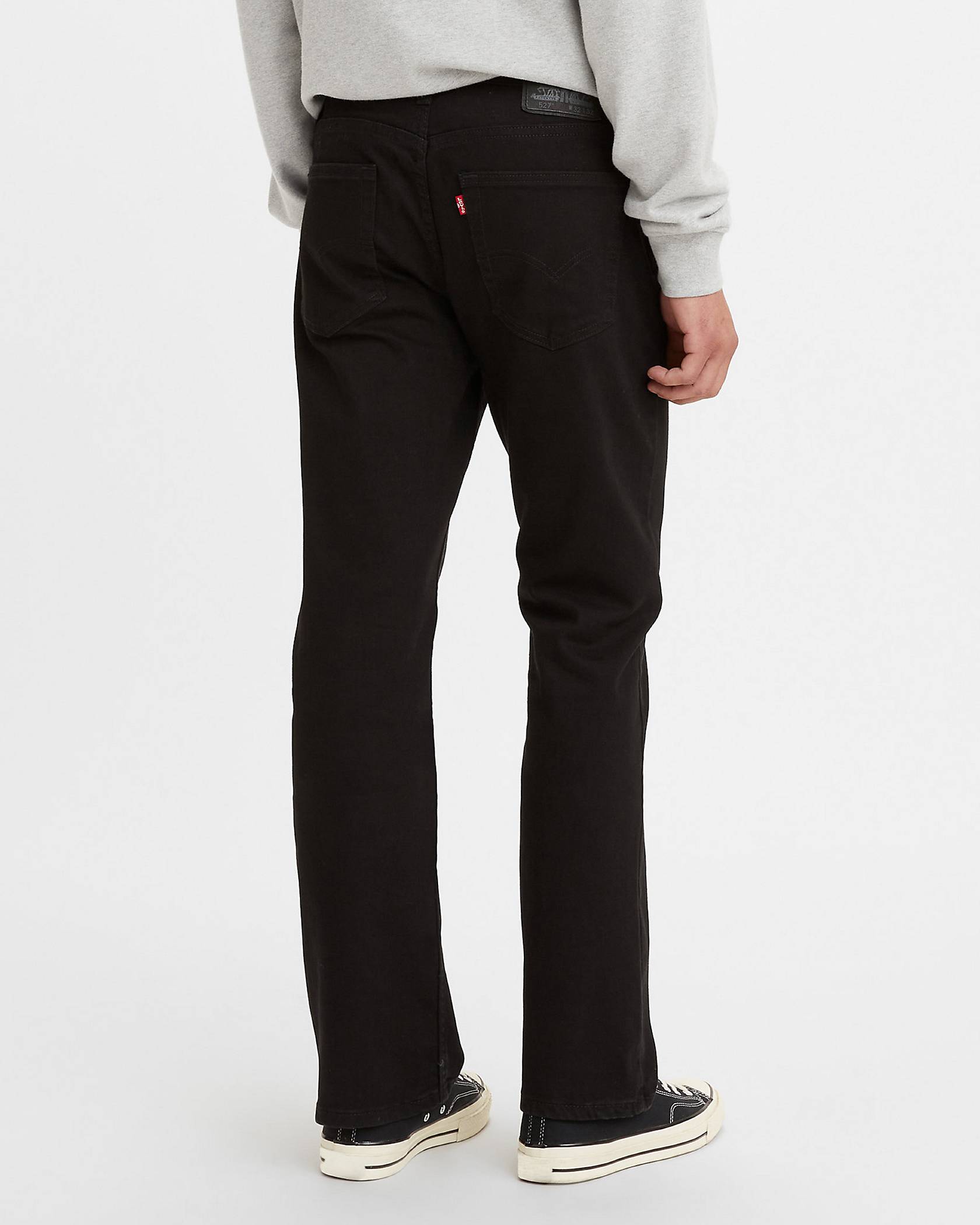 MEN'S BLACK RELAXED JEANS
Relaxed jeans are everyone's favorite. They're chill, they're laid-back and they have that perfect lowkey slouchiness to them that just feels right. So what are black relaxed jeans like? Well as we know, black is sort of a formal color—suiting and such—so you'd think the color would sort of clash with these no-fuss fits. But actually, it does the opposite. The color kind of dresses up the slouchiness and the slouchiness dresses down the color. The result? A versatile style that feels equal parts dressy and casual.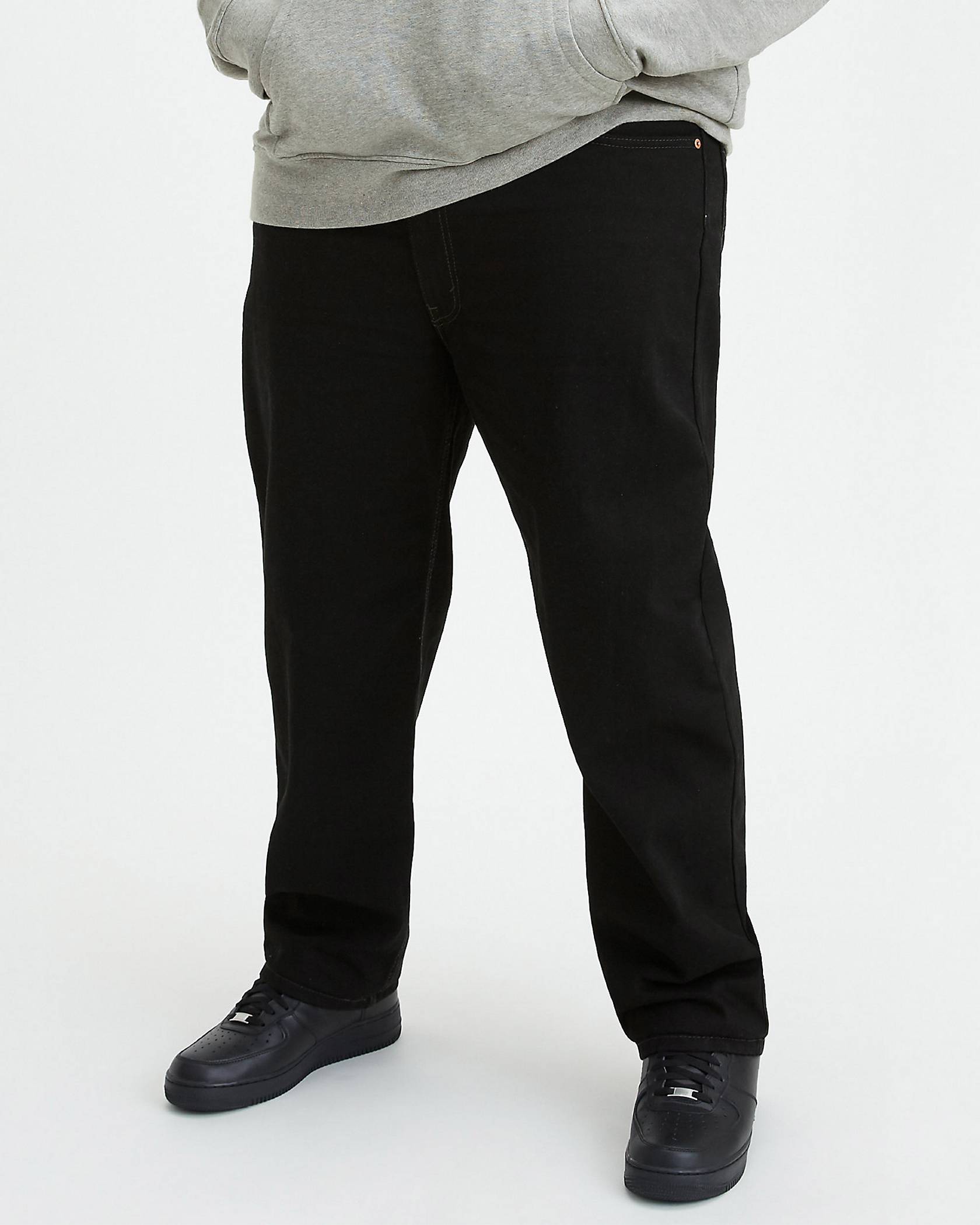 MEN'S BLACK 505™ JEANS
You already know the 505TM. Some would say you already love the 505TM. So logic would dictate that if you haven't already met the 505TM in black, you're gonna like the 505TM in black. Maybe even love it. The zip fly stays the same, that's been a standby since 1967. What's new though? We added a stretchy flexible fit and some sustainable construction techniques just to keep things modern. Also the same is an easy fit through the hip and thigh and a reliable classic straight leg.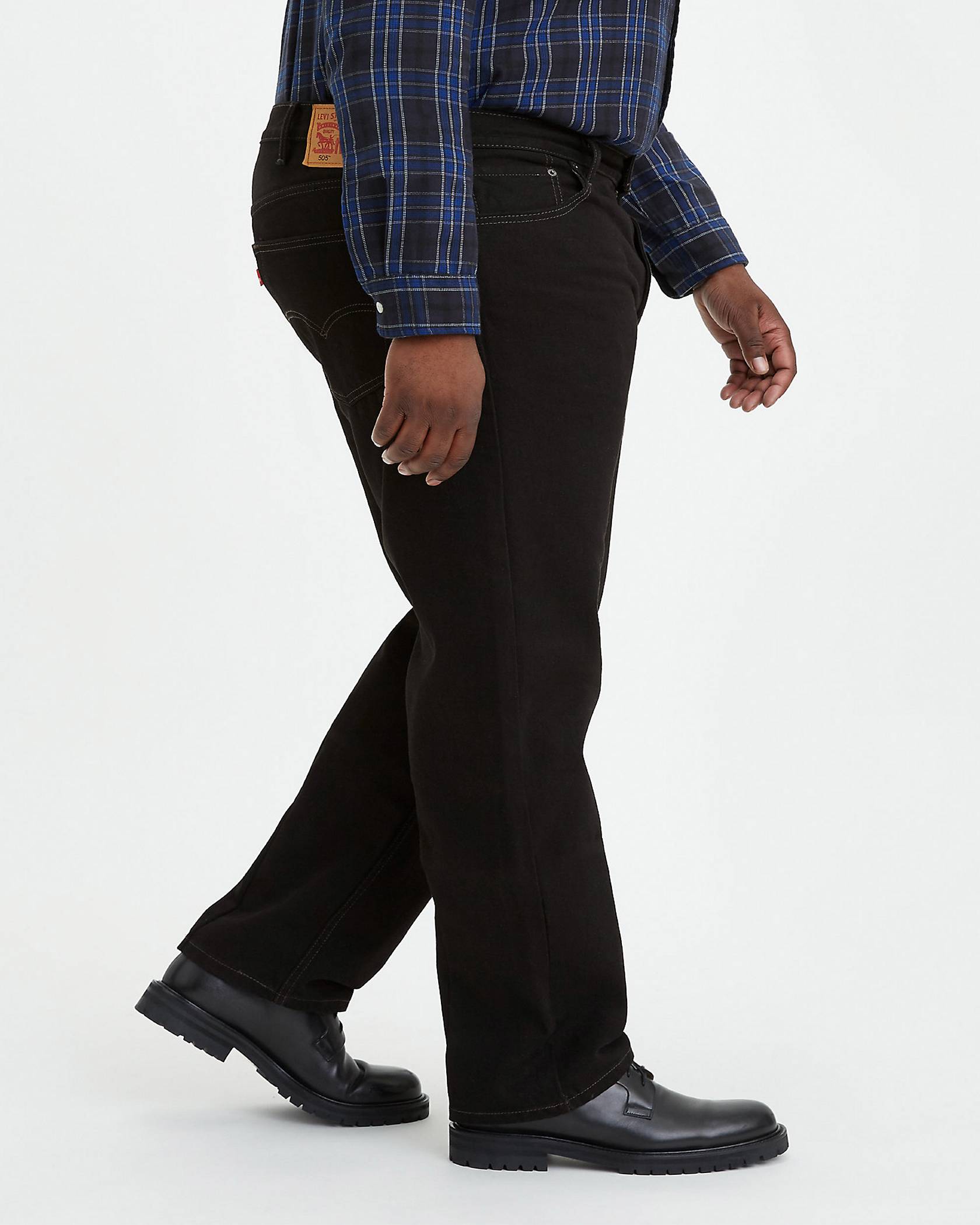 MEN'S BLACK 512™ JEANS
The 512TM for those of you who don't speak our little numerical Levi's® language is the Slim Taper fit. The Slim Taper is for everyone who wishes the taper fit was just a liiiitle bit skinnier and the slim was just a liiiittle more tapered. Together it makes both crowds incredibly happy. The black 512TM jean takes that passion for hyper-personalization to the next level by offering you not just the blue version of this incredibly specific look, but the black version as well which means those tough customers who have been looking for this very specific combination of attributes will be extremely pleased.