Monthly Muse
London Muse: Corbin Shaw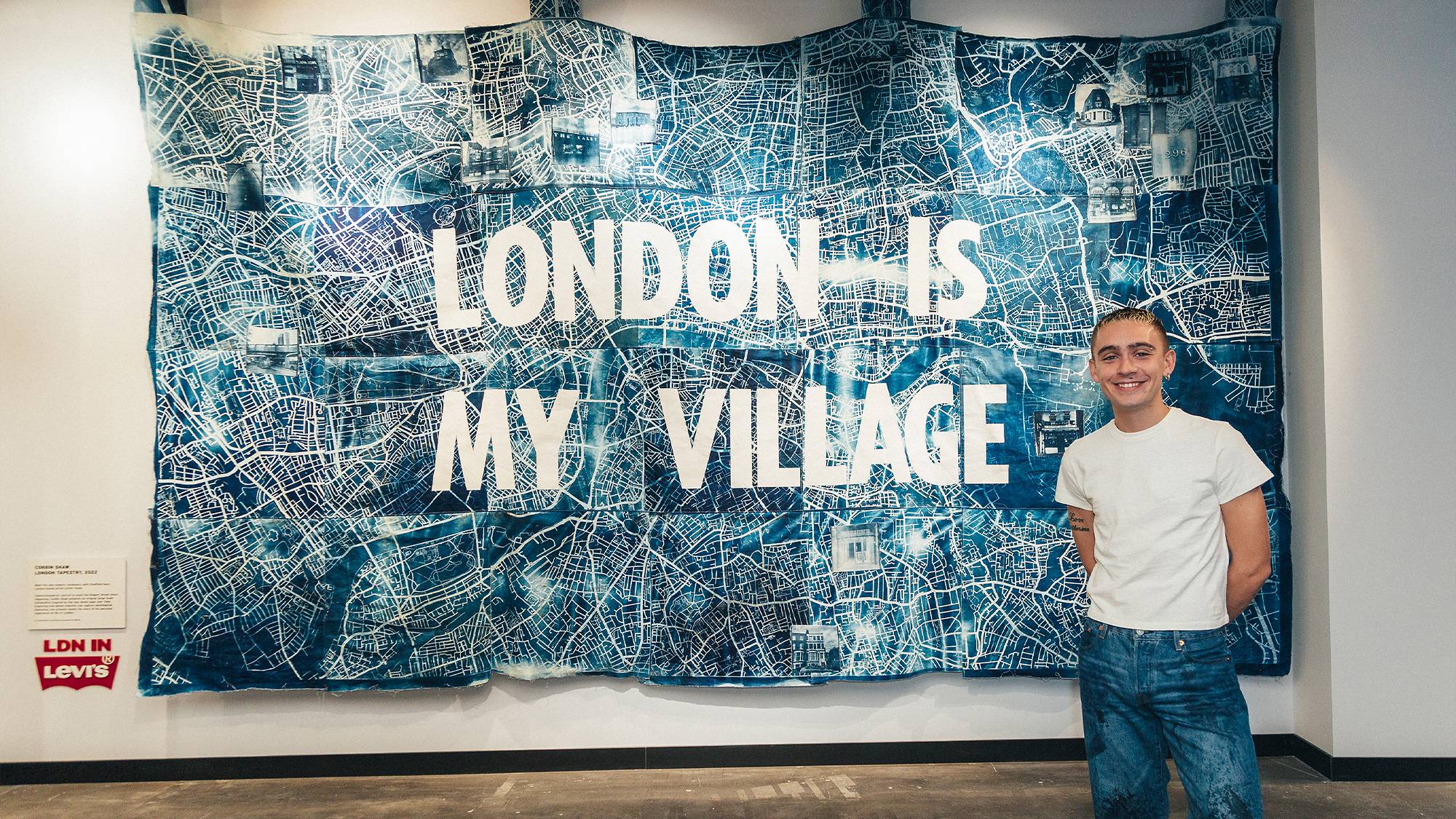 To celebrate the reopening of our London Regent Street Flagship store, we introduce to you a new interview series where we speak to young creatives and entrepreneurs living, working, and thriving in the Capital. We'll talk motivation, inspiration, and what it means to be a true Londoner, no matter where you're from.
Meet our first London Muse: Corbin Shaw. Corbin is a London-based, Sheffield-born artist and Central Saint Martins alumni. Shaw uses his upbringing in South Yorkshire to investigate masculinity through the medium of textiles. He breaks stigmas and stereotypes by re-imagining masculine icons and objects, paying homage to the people and places that have shaped his northern identity. 
As part of the relaunch of our Regent Street Flagship, Levi's commissioned Corbin to create a large-scale artwork entitled 'London Tapestry' currently on exhibition in the store. We caught up with him at his East London studio in Bethnal Green to talk about how London informs his practice and his personal style. Read on to learn more about Corbin in his own words.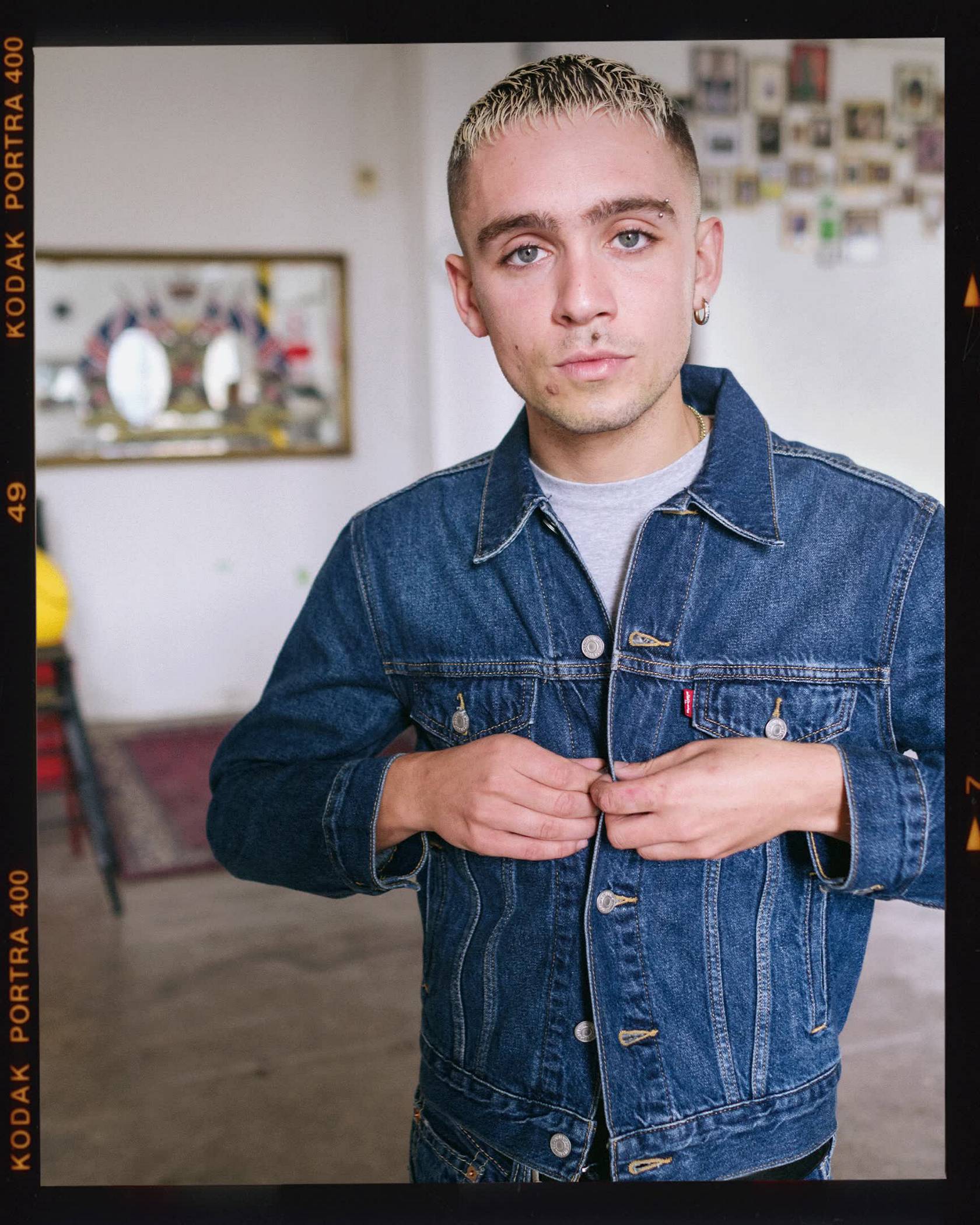 Tell us about the commission you've just worked on for Levi's. How did it come about, and what did you want to communicate?
"I'm obsessed with denim and the way that each pair of jeans tells the story of the person who owns them, where they have been, what they have carried with them. Each fade is like a memory"
Working with Levi's was such an easy fit because Levi's jeans have genuinely been part of my life since I was about thirteen. I remember getting my first pair of stone-washed Levi 501s with my Dad, who was getting me ready for the football. I got so much life out of them – football, gigs, dates. I still have that same pair back home in the garage. 501's are a staple, known for being a blank canvas for us to project our identity onto, depending on how we wear them. Clothes are these 2D objects that cover our bodies, and then our bodies imprint ourselves onto the clothes. With my London Tapestry, I wanted to imprint my life experiences back onto the fabric. For the images on the tapestry, I took a trip down memory lane and photographed places like my first ever flat, my first workplace (a pie shop), and where I studied when I first moved here. I then used the cyanotype process to imprint those spaces onto the denim fabric of my tapestry.
You've used a specific type of process to create this meaningful centerpiece titled 'London Tapestry'. Can you tell us more about it? Which materials did you choose and why?
I used cyanotype to make my tapestry. Cyanotype is a water-based solution that you paint onto fabric, overlay your text or images then expose to UV light. 15 minutes later, the images have been ingrained into and onto the fabric. The cyanotype sets in a darker blue the longer you expose it. I took raw denim and replicated the indigo dye used on denim through my cyanotype process.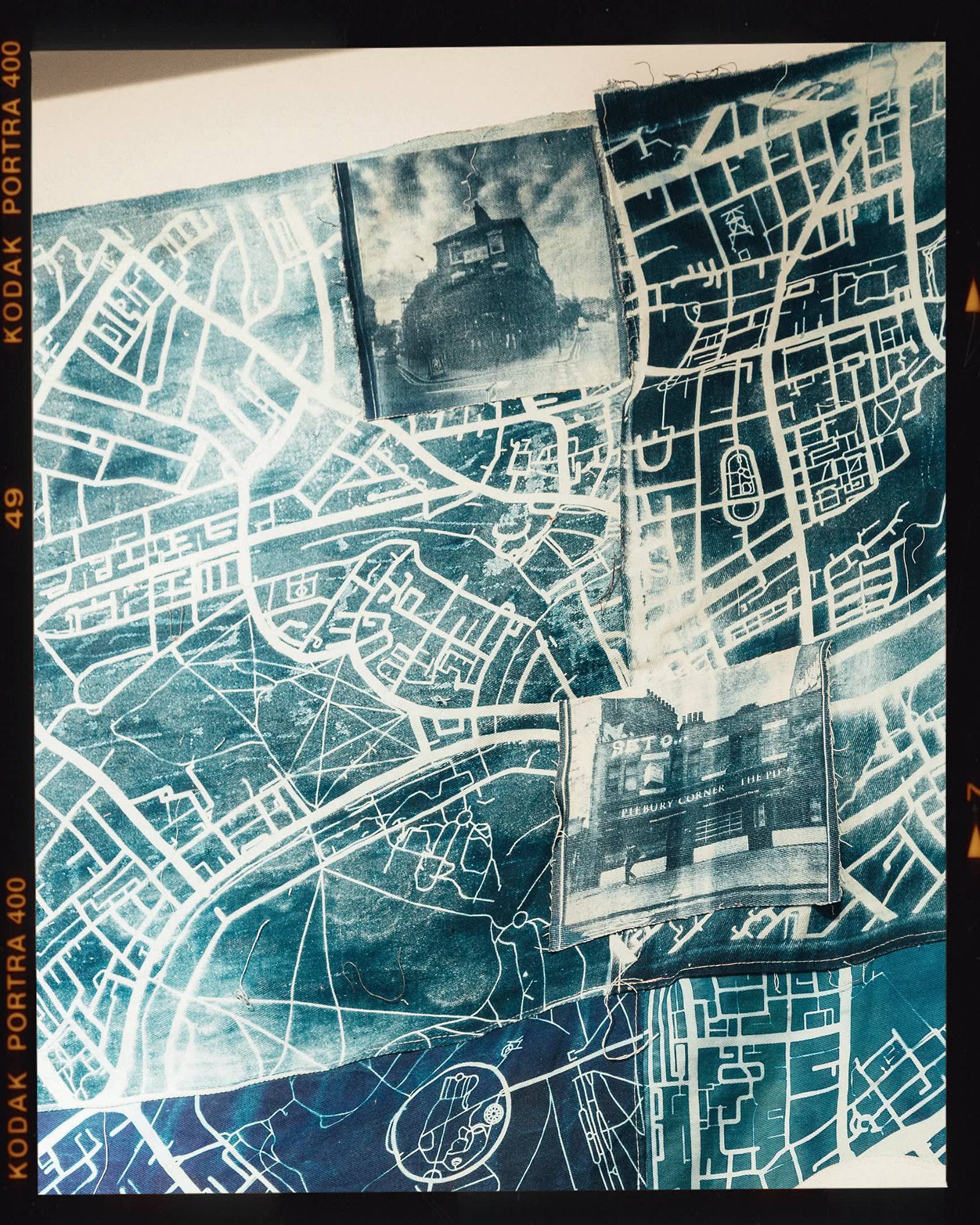 LDN in Levi's is all about the idea of feeling like a true Londoner even when you're not from London. How does this apply to you personally, and how do we see it coming back in the artwork you created for Levi's Regent Street store?
I think the term 'Londoner' is very open to interpretation. I'd class myself as an exiled northerner but now a Londoner. I've earnt my badges. I've done time. I've been here five years now. I've hated and fallen in love with the place. In those five years, London's people and places have formed who I am now. When I look at my London tapestry, I see all those years laid out before me and how integral London has been in shaping who I am today and the work I make.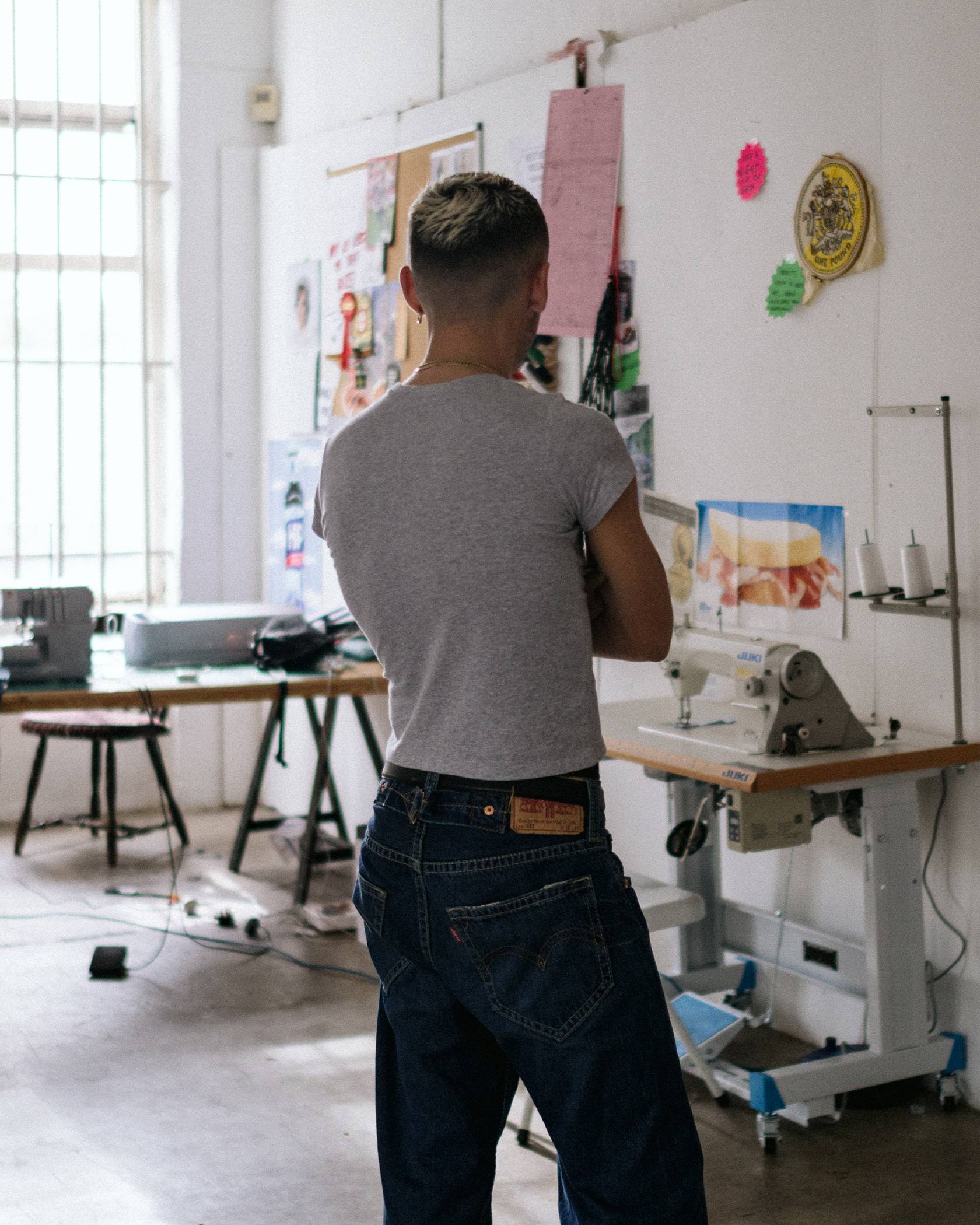 Reflecting on your childhood in South Yorkshire, how was it growing up there, and how has that experience impacted your journey to becoming the artist you are today?
I didn't grow up with an art background at all – instead of going to galleries, I grew up going to the pub to watch football with my Dad. My parents have worked their trades since they were teenagers and growing up in Sheffield, there was never the expectation that I would be an artist. This made me very insecure when I arrived at university; my foreignness to the art world, paired with the references and knowledge of my classmates, led to a very strong sense of imposter syndrome. 
I've been interested in art from a very young age; I always drew my environments and the people within them, so in hindsight, I learned to be observant very early. Growing up going to football with my Dad, I also had to be aware of what was around me on the streets; the violence surrounding local football fandom necessitates you keeping your wits about you. I would sit with my mum for hours, drawing things, which was my mum's way of calming me down as a hyperactive little kid. But it was also the beginning of me communicating my thoughts and memories visually. 
Any other thoughts on the inspirational effect of London on young creatives nowadays?
For me personally, I'd say keep your mental voice recorder on. Inspiration can come from anywhere but I always listen to what people say to me on the street, at the pub, or in the cafe because there's probably work in that to be made.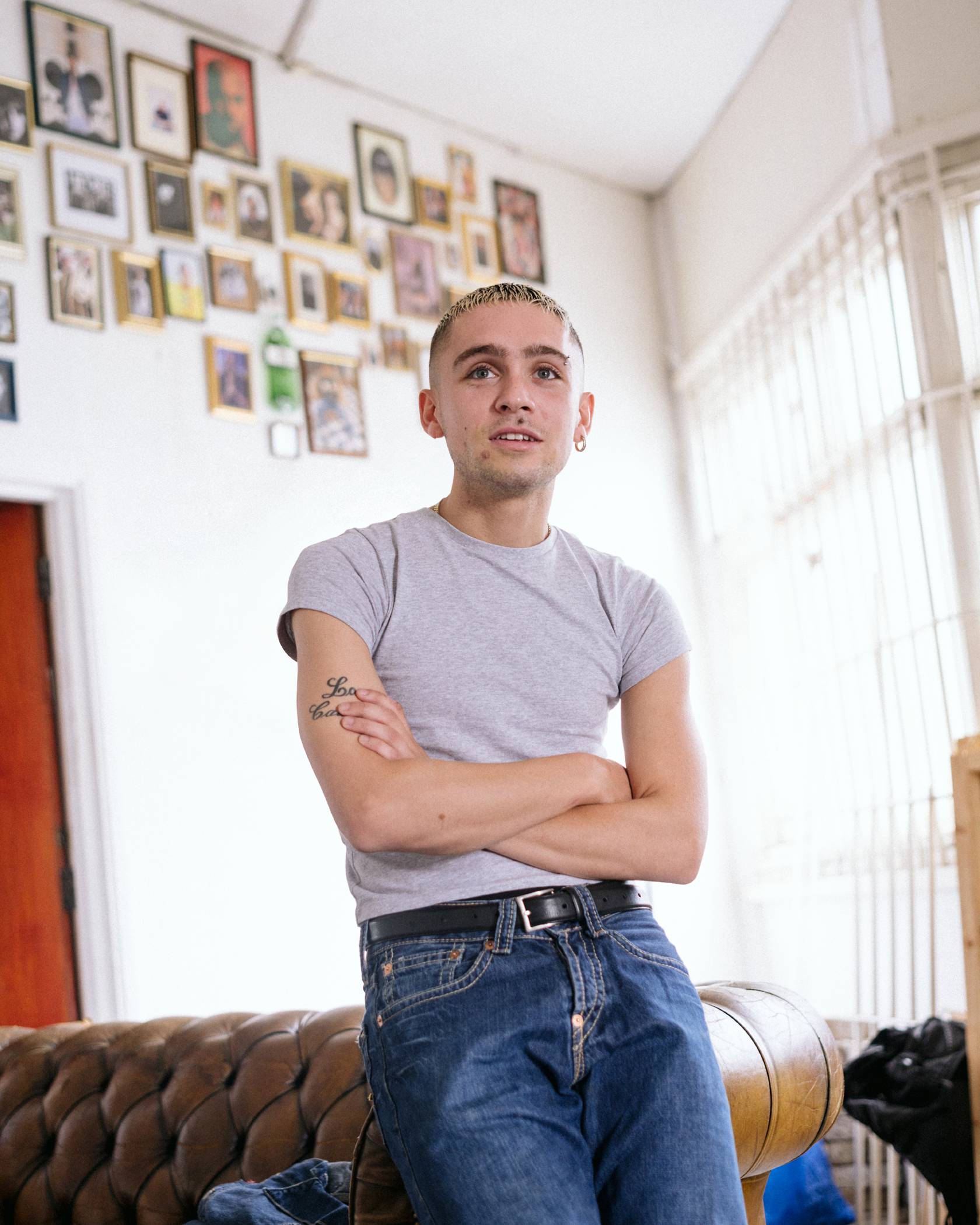 Could you tell us more about your personal style?
I tend to wear a lot of denim. If I wear Levi's, I'll usually wear a pair of lot 902's. Can't go wrong, rare though! I'd describe my style as a 2000's footballer who just signed for a big club. Think like Ronaldo's first season at Man U.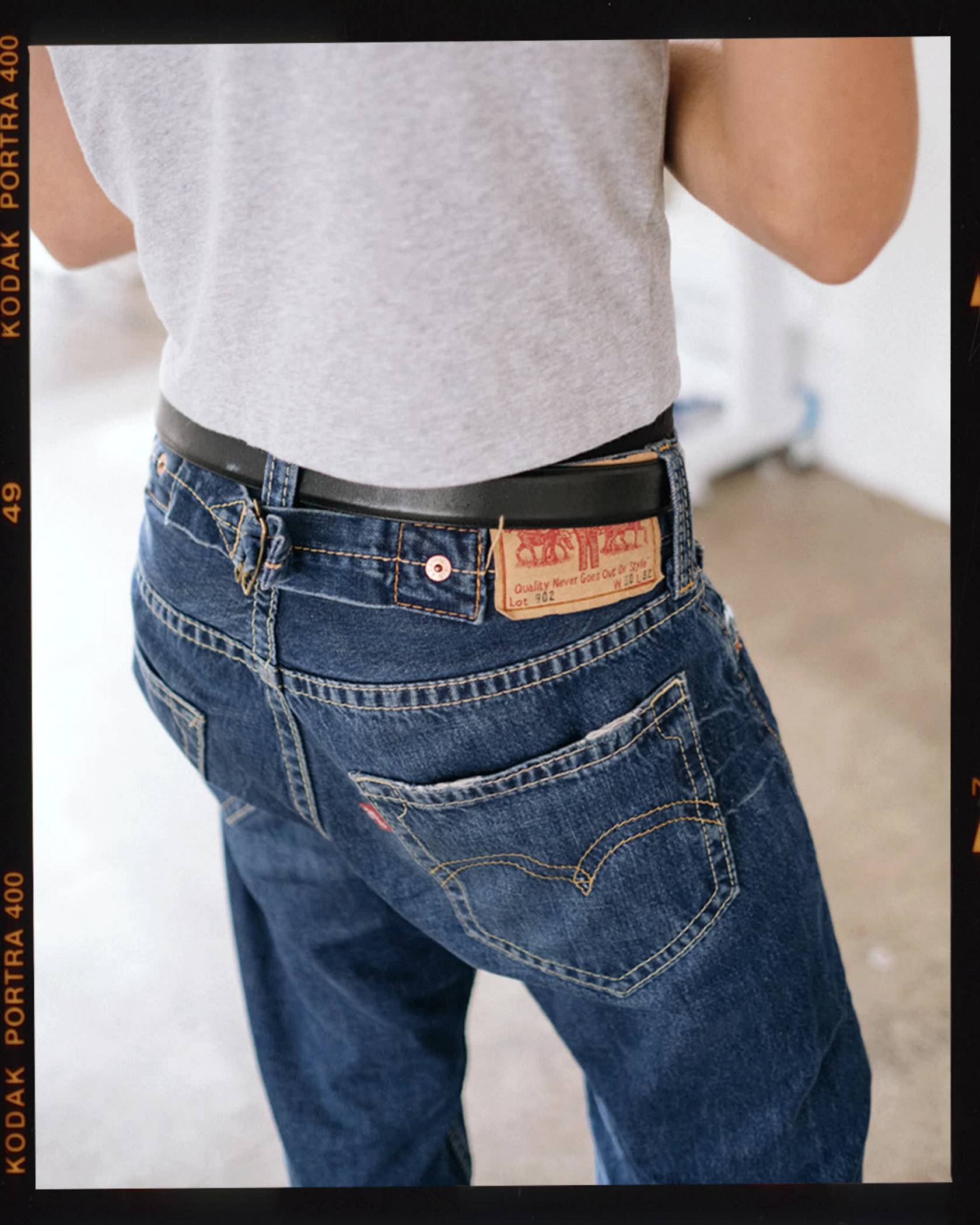 How do you use fashion in expressing yourself?
One of the interesting things about clothes, or things with a legacy, is that they get appropriated by the next generation, and they choose to do whatever they want to do with it. Levi's 501's are a pop cultural artifact. When you wear them, you're wearing that history of everyone who wore them before you. I wore them because my Dad works in them, now I'm working with them. Like my Dad first got me a pair of Levi's when I was 13 I think, to wear to the football. I still wear those jeans but completely different to how he would've worn them. The great thing about the 501 is that, its what you make of it.