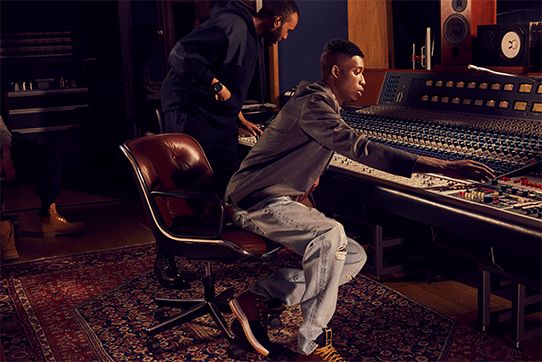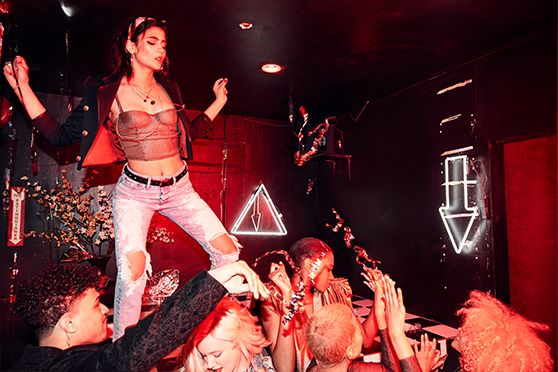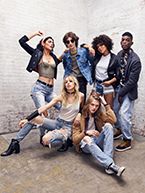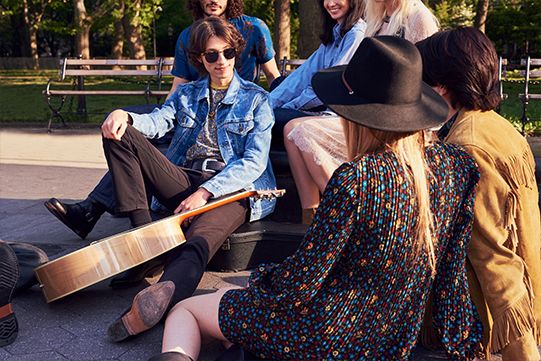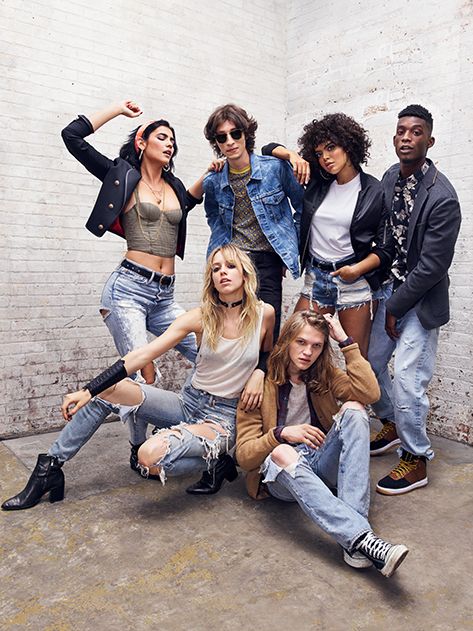 1967. The Summer of Love was born. Space travel was in the
works. And our Type III Trucker Jacket and 505™ Jean hit the
stage, igniting a global denim craze and giving birth to iconic
rock 'n' roll style. At the same time, Rolling Stone laid the
groundwork for music journalism with its premier issue.
To celebrate the street-magazine-turned-cultural-icon's 50th
anniversary this year, we've created a special collection of jeans
and jackets. It's a look back on all the headlining moments
throughout the past five decades from two brands that've been
at the center of it all.
LOVE & REBELLION
In the '60s, protesters, hippies, artists, musicians and
everyday people from all over the world came together
during the Summer of Love to start a revolution. This
jacket celebrates the first time clothes were made for
the young and rebellious.
SHOP TRUCKER JACKET IN 'INDIGO REBEL LOVE'
PUNK ROCK
The '70s gave birth to some of the most defiant
music and art movements of the 20th century.
Inspired by psychedelia, free love and skin-baring
style, these Wedgie Fit Jeans with extreme rips
and shreds give a nod to the punk rock craze.
COMING SOON: 'INDIGO PUNK ROCK'
POP QUEENS
Music subcultures collided in the '80s with androgynous
rockers redefining "glam" and pop queens ruling the
scene. To create these slashed and painted jeans, we took
inspiration from all the different ways icons of the era
customized their denim.
COMING SOON: 'INDIGO POP QUEEN'
GRUNGE
During the grunge movement, it was cooler not
to be cool. '80s flashiness changed into less
materialism and more realism, especially in rock
music. These 501® Jeans are inspired by the
ways people rebelled against the establishment
by wearing their clothes to shreds.
SHOP 501® ORIGINALS IN 'INDIGO GRUNGE'
HIP-HOP
Technology ruled early-2000s music and style. The digital
age brought sampling to life, and musicians blended genres
to create new sounds. Internet culture sparked nostalgia for
'80s and '90s hip-hop, and baggy styles—like these 501®
Jeans—became the official dress code.
AVAILABLE IN A STORE NEAR YOU
REMIX
Today, music and style are all about remastering.
We're in the era of mixed mediums and
individuality, where people rethink the past in
new ways. We transformed this pair of classic
jeans into 501® Cut-Offs to show the many ways
today's pop divas show off their personal style.
SHOP 501® FESTIVAL SHORTS IN 'INDIGO REMIXES'
PLUS, NEW ROLLING STONE TEES
GREATEST HITS
Discover some of the styles that kicked off our Rolling Stone collaboration earlier this year. Women's Trucker Jackets,
tees with vintage vibes and perfect pins.