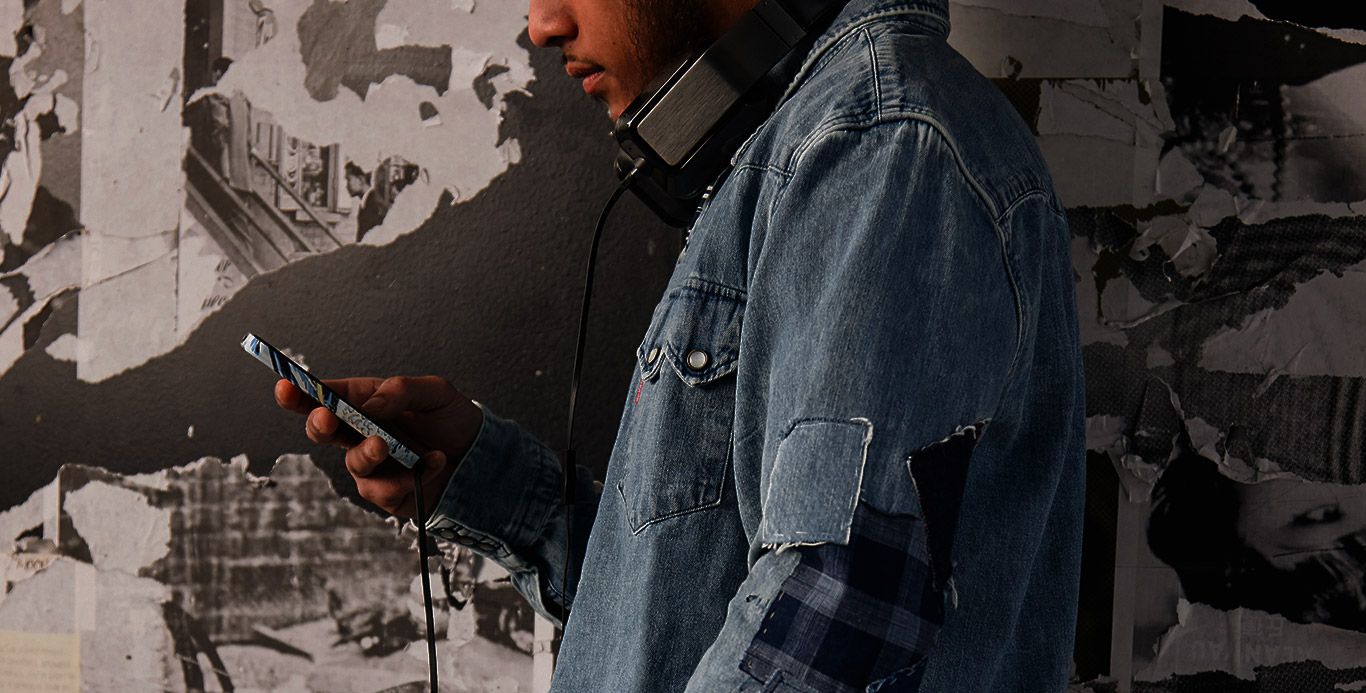 Levi's
®
is not just the home of denim.
It's the home of customising denim.
#LEVISTAILORSHOP
Services
The Levi's
®
Tailor Shop allows you to customise & repair your Levi's
®
. Start the story with a new piece
and make it truly personal, or give a new lease of life to a much-loved existing Levi's
®
product.


Alter the length of your Levi's® jeans for free to get that made to measure look.
Levi's® Store Birmingham
39-40 High Street
B4 7SL Birmingham
+44(0)1216334804
MON-FRI : 10:00 - 18:00
SAT : 09:30 - 18:00
SUN : 11:00 - 17:00
Levi's® Store Brighton
Unit 69, Churchill Square
BN1 2TB Brighton
+44(0)1273725338
MON-FRI : 09:30 - 18:00
SAT : 09:30 - 18:00
SUN : 11:00 - 17:00
Levi's® Store Bristol
81 Park Street
BS1 5PF Bristol
+44(0)1179252483
MON-SAT : 10:00 - 17:00
SUN : 11:00 - 16:00
Levi's® Store Bristol Cabot Circus
Unit SU15, Concorde Street, Cabot Circus
BS1 3BF Bristol
+44(0)1179258505
MON-FRI : 10:00 - 20:00
SAT : 10:00 - 20:00
SUN : 11:00 - 17:00
Levi's® Store Bromley
Unit 222, The Glades Shopping Centre, Bromley
BR1 1DD Kent
+44(0)2084660267
MON-WED : 09:00 - 18:00
THU : 09:00 - 21:00
FRI-SAT : 09:00 - 18:00
SUN : 11:00 - 17:00
Levi's® Store Cambridge
SU17 Grand Arcade, St Andrews Street
CB2 3BJ Cambridge
+44(0)1223321130
MON-TUE : 09:00 - 18:00
WED : 09:00 - 20:00
THU-SAT : 09:00 - 18:00
SUN : 11:00 - 17:00
Levi's® Store Dublin
38 Grafton Street
Dublin 2
+353(0)16336750
MON-WED : 10:00 - 19:00
THU : 10:00 - 21:00
FRI : 10:00 - 20:00
SAT : 09:30 - 19:00
SUN : 11:00 - 18:00
Levi's® Store Edinburgh
109 Princes Street
EH2 3AA Edinburgh
+44(0)1312263990
MON-WED : 10:00 - 18:00
THU : 10:00 - 19:00
FRI : 10:00 - 18:00
SAT : 09:00 - 18:00
SUN : 11:00 - 17:00
Levi's® Store Metrocentre
Unit 257, Red Mall, Metrocentre
NE11 9YR Gateshead
+44(0)1914611909
MON-FRI : 10:00 - 21:00
SAT : 09:00 - 19:00
SUN : 11:00 - 17:00
Levi's® Store Glasgow Buchanan
Unit L45 Buchanan Galleries, 220 Buchanan Street
G1 2WF Glasgow
+44(0)1413327139
MON-WED : 09:00 - 18:00
THU : 09:00 - 20:00
FRI-SAT : 09:00 - 18:00
SUN : 11:00 - 17:00
Levi's® Store Bluewater
Unit LO25 Lower Rose Gallery, Bluewater Shopping Centre
DA9 9SH Greenhithe
+44(0)1322624871
MON-FRI : 10:00 - 21:00
SAT : 09:00 - 21:00
SUN : 11:00 - 17:00
Levi's® Store Leeds
30 Leeds Lane
LS1 6LB Leeds
+44(0)1132469427
MON-FRI : 10:00 - 19:00
SAT : 09:00 - 19:00
SUN : 11:00 - 17:00
Levi's® Store Leicester
Unit LL91, Highcross Shopping Centre
LE1 4FS Leicester
+44(0)1162425452
MON-FRI : 09:30 - 20:00
SAT : 09:00 - 19:00
SUN : 11:00 - 17:00
Levi's® Store Liverpool
Unit 102 Paradise Street, Liverpool One
L1 3ED Liverpool
+44(0)1517085251
MON-FRI : 09:30 - 20:00
SAT : 09:00 - 19:00
SUN : 11:00 - 17:00
Levi's® Store London Brent Cross
Unit Y14, Brent Cross, Hendon,
NW4 3FP London
+44(0)2082016547
MON-FRI : 10:00 - 20:00
SAT : 09:00 - 19:00
SUN : 12:00 - 18:00
Levi's® Store London Canary Wharf
Unit 19 Canada Place, Canary Wharf
E14 5AH London
+44(0)2075196870
MON-FRI : 09:00 - 20:00
SAT : 10:00 - 18:00
SUN : 12:00 - 18:00
Levi's® Store London Carnaby Street
51 Carnaby Street
W1F 9QB London
+44(0)2072870629
MON-FRI : 10:00 - 19:00
SAT : 10:00 - 19:00
SUN : 12:00 - 18:00
Levi's® Store London Regent Street
174-176 Regent Street
W1R 5DF London
+44(0)2072922500
MON-WED : 10:00 - 19:00
THU-SAT : 10:00 - 20:00
SUN : 12:00 - 18:00
Levi's® Store Manchester
Unit U27, Upper Level, Manchester Arndale
M4 3AQ Manchester
+44(0)1618334979
MON-FRI : 09:00 - 20:00
SAT : 09:00 - 19:00
SUN : 11:00 - 17:00
Levi's® Store Trafford
156 Regent Crescent, The Trafford Centre, Barton Dock Road
M17 8AP Manchester
+44(0)1617468800
MON-FRI : 10:00 - 21:00
SAT : 10:00 - 20:00
SUN : 11:00 - 17:00
Levi's® Store Milton Keynes
Unit 22, 67 Midsummer Place
MK9 3PD Milton Keynes
+44(0)1908607715
MON-FRI : 09:30 - 18:00
SAT : 09:30 - 18:00
SUN : 17:00 - 11:00
Levi's® Store Newcastle
13A Eldon Way, Eldon Sqare
NE1 7XS Newcastle
+44(0)1912305107
MON-FRI : 09:00 - 18:00
SAT : 09:00 - 18:00
SUN : 11:00 - 17:00
Levi's® Store Norwich
Unit 14, Upper Ground, 253 Merchants Hall, Chapelfield
NR2 1SU Norwich
+44(0)1603660738
MON-WED : 09:00 - 18:00
THU : 09:00 - 20:00
FRI-SAT : 09:00 - 19:00
SUN : 11:00 - 17:00
Levi's® Store Nottingham
21 Clumber Street
NG1 3ED Nottingham
+44(0)1159501655
MON-FRI : 10:00 - 18:00
SAT : 09:00 - 18:00
SUN : 11:00 - 17:00
Levi's® Store Sheffield
64 High Street, Meadowhall Centre
S9 1EN Sheffield
+44(0)1142568398
MON-FRI : 10:00 - 21:00
SAT : 09:00 - 20:00
SUN : 11:00 - 17:00
Levi's® Store Southampton
Unit 32 West Quay
SO15 1QD Southampton
+44(0)2380223731
MON-FRI : 09:00 - 20:00
SAT : 09:00 - 19:00
SUN : 11:00 - 17:00
Levi's® Store Stratford
Unit SU2047, Westfield Stratford City Shopping Centre, Montfichet Road
E20 1EQ London
+44(0)2085553291
MON-FRI : 10:00 - 21:00
SAT : 09:00 - 20:00
SUN : 12:00 - 18:00
Levi's® Store Lakeside
Unit 324A Lakeside Shopping Centre, West Thurrock
RM20 2ZT Essex
+44(0)1708681813
MON-FRI : 10:00 - 21:00
SAT : 10:00 - 21:00
SUN : 11:00 - 17:00
Levi's® Store White City
Unit 1140 Westfield Shopping Centre, 1 Ariel Way
W12 7GG London
+44(0)2087495400
MON-FRI : 10:00 - 21:00
SAT : 10:00 - 21:00
SUN : 11:00 - 17:00
Levi's® Store York
17-18 High Ousegate
YO1 8RX York
+44(0)1904656196
MON-FRI : 10:00 - 18:00
SAT : 09:00 - 18:00
SUN : 11:00 - 17:00