OUR STORY
IS BEHIND EVERY SEAM
Strength. That's the meaning behind our iconic Two Horses logo — and it still resonates today, more than a century since it was first branded into a leather patch of 501® jeans in 1886.
When Levi Strauss co-invented the blue jean in 1873, he didn't know that he was creating a global brand that would become known for self-expression and classic American cool. And that's the beauty of the Levi's® story.
---
Craftsmanship
Levi's® clothing is crafted for life.
Unrivalled construction. Tried and tested. American originals.
No matter how you say it, every piece of Levi's® clothing embodies a sense of craft and quality — from the classic fit of Levi's® 501® jeans to the refined details of Levi's® Made & Crafted collection.
For us, craftsmanship translates to design with purpose. From fabric to stitching, here's just a slice of how Levi's® products are crafted with care.
---
Levi's® clothing starts with quality components
EVERY PAIR OF LEVI's® IS MADE WITH THE BEST FABRIC FOR FIT: NATURAL COTTON.
Because we're committed to doing good for people and the earth, we support sustainably grown cotton and the Better Cotton Initiative to improve the cotton production process.
GETTING THE COLOR JUST RIGHT
From deep blues to faded indigos, for us, denim is equal parts fashion, art and function. The colors you choose are an expression of who you are. That's why we offer a range of colors to suit all your wearing occasions.
LEVI's® RIVETS: MADE STRONG ENOUGH FOR AMERICAN COWBOYS AND MINERS.
The Levi's® rivet has become a standard in quality design around the world — and it all started with two American entrepreneurs joining forces during the Gold Rush era.
As the owner of a San Francisco general-goods store in 1872, Levi Strauss supplied denim to Jacob Davis, a tailor who had created copper rivets to fasten pockets to pants. With the goal of making workpants as strong as possible, Jacobs' invention was so good that he couldn't keep up with demand. Enter Strauss, who pioneered product development and manufacturing of the original Levi's® blue jeans.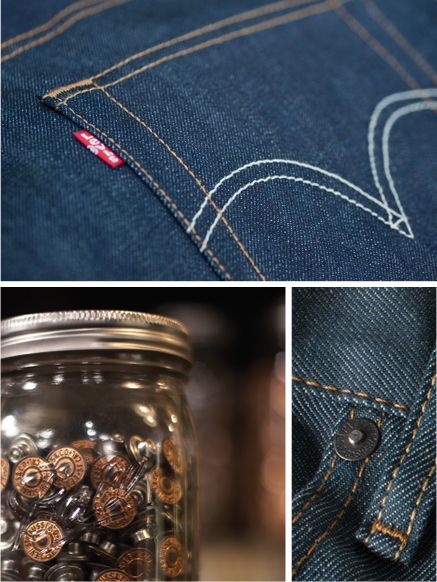 ---
DETAILS MAKE THE DESIGN

We're a bit obsessed with selvedge.
Selvedge or selvage (meaning "self-edge") — the natural edge of a roll of denim fabric — is part of our DNA.
As an ode to the original Levi's® signature red-stitched selvedge, we created Levi's® Selvedge, a collection known for its heavyweight, raw denim and khaki and red stitching on its inside seam. Woven on traditional shuttle looms that operate at a slow speed, the time-consuming process of making selvedge denim ranks it the highest quality in the world.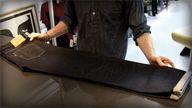 Learn more about selvedge
WATCH THE VIDEO
Denim and the machine: Our looms keep up with global demand.
Rooting back to the 1870s, denim was produced on 29" looms, which operated at a relatively slow speed. Due to increased demand for denim, in the 1950s, Levi Strauss & Co. replaced the old shuttle-style looms with modern projectile looms. The new looms produce wider fabric at a faster speed.
We take every stitch seriously.
Whether you favor the single-needle stitching found in Skinny Men's Jeans, double-needle stitching in Levi's® Vintage 501XX® 1947 Big E Redline Selvage "Rodeo Hero" Jeans or the double felled inseam characteristic of Levi's® 606 (Janis Joplin's favorite), we take pride in paying attention to the details.
You make our classics classic.
We're honored that denim aficionados pay thousands of dollars for vintage Levi's® jeans. But we also want to make the vintage looks you love more accessible. Enter the Levi's® Classics Upgrade collection, which resurrects the craftsmanship, durability and simplicity of vintage styles. Made with slightly heavier-weight denim dyed with a deeper indigo and high-quality reinforcements in areas like back pockets, Levi's® Classics Upgrades are the same as ever — but like never before.
---
Innovation
Wear the uniform of progress
A wise person once said that the best way to have a good idea is to have lots of them. Luckily, we have no shortage of ideas — and they're largely inspired by you.
From our rivet patent in 1873 to the Levi's® Commuter series antimicrobial protective fabric to environmental advances of the Water<LESS™ collection, every Levi's® innovation starts when we ask ourselves, "What can we do better?"
As an international team who wears our own designs, we view fashion as a merger of art, innovation and sustainability. After all, Levi's® jeans are what the next generation wears — and we take that role to heart. Here are a few examples of how we're constantly reimagining the Levi's® brand…
---
Water<LESS™ — Start small, think big.
In 2011, we launched Levi's® Water<LESS™, a collection produced with significantly less water. Instead of using water during the stonewash process, we use a dry-stone process that produces similar results in more than a dozen classic Levi's® jeans, including 501® jeans, 511TM jeans and the Levi's® Trucker Jacket. We've already saved over 170 million liters of water with Water<LESS™. And this is just the beginning — we're committed to doing right by the planet in as many ways possible.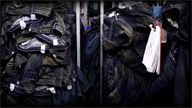 Want to help save water? Watch this video.
WATCH THIS VIDEO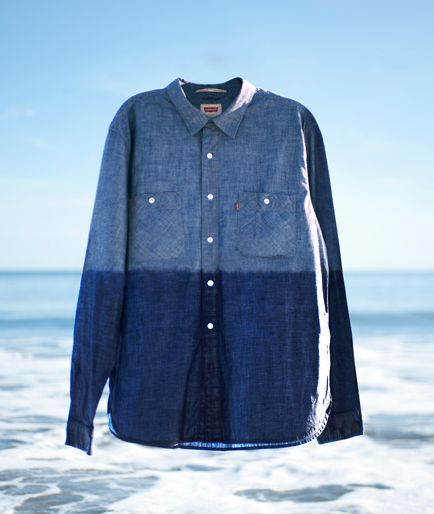 ---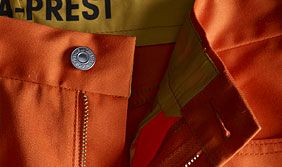 Sta-Prest — Permanent. Sharp. Crease.
In 1964, Levi Strauss & Co. patented the Sta-Prest process at our plant in Knoxville, Tennessee — giving a permanent, sharp front crease to fine trousers and shirts. Engineered with a resin-coated twill/polyester blend to prevent wrinkling, Sta-Prest was reintroduced in spring 2012.
---
Levi's® Commuter — Form. Function. Cycling.
Masterminded for cyclists and people with active lifestyles, the Levi's® Commuter series is designed to stay stronger longer, with reinforced fabric that wicks sweat and repels water and dirt. Constructed with protective features — including a U-lock storage waistband, reflective tape for nighttime visibility and antimicrobial technology — these jeans, shirts and jackets are the epitome of functionality with uncompromised style.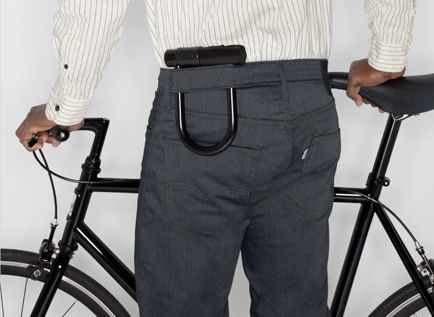 ---
MADE OF PROGRESS
Our global commitment to responsible craftsmanship
We believe that meaningful progress is about getting better at creating less impact on the planet and supporting programs designed to benefit the greater good. And that's why we're proactive about developing sustainable products and business practices.
From the integration of our factories in the 1940s to our outspoken advocacy for equality and civil rights, we've always been agents of progress. Since the early 1990s, through efforts like establishing one of the first Restricted Substance Lists (RSL), that set a standard for chemical management, to most recently making jeans from Better cotton, we've taken a leadership role in attempting to minimize the adverse environmental impacts of our business.We can't do this work without you. Together we can make a difference. Here's how we're making progress, and we invite you to join us…
---
LESS IMPACT > < GREATER GOOD
AS OBSESSED AS WE ARE WITH DESIGN DETAILS, WE ALSO TAKE A HOLISTIC APPROACH TO MAKING LEVI'S® CLOTHING; FROM CONCEPTION TO THE RETIREMENT OF JEANS AND DEFINING OUR TERMS OF ENGAGEMENT TO PROVIDE A SAFE WORKING ENVIRONMENT.
DOING RIGHT SUSTAINABLY
To design with awareness of the greater impact is an ethos that continues to drive our progress in creating less impact on the planet and our achieve mission to help restore the environment.We're proud to have created one of the first set of requirements for suppliers that include water quality and chemicals used in our products.Because 95 percent of Levi's® products are made of cotton, the first stage in making our products sustainable, throughout the Levi's® Lifecycle of a Jean, is assuring best practices for farmers growing cotton. We collaborate with the Better Cotton Initiative, a non-profit that aims to make global cotton production better for the environment and the 300 million people who grow cotton. In 2012, we created 20 million pairs of Levi's® and Denizen™ jeans made with a blend of Better Cotton.Through participation in the Business for Innovative Climate and Energy Policy (BICEP), we've joined other global companies in calling for leadership and support from U.S. Congress to develop energy and climate legislation that promotes energy efficiency and reduces overall greenhouse gas emissions.
The Water<Less™ Challenge — Less is more
In 2011, we launched Levi's® Water<Less™, a collection produced using less water during finishing. Levi's denim finishing experts innovated new techniques with an eye to reduce water consumption while achieving the same great style and look that our customers expect. For example, instead of using water during the stonewash process, Water<Less™ products use a dry-stone process that produces similar results in more than a dozen classic Levi's® jeans, including 501® jeans, 511™ jeans and the Levi's® Trucker Jacket. In 2012 we produced 29 million Water<Less™ products saving over 360 million liters of water. And this is just the beginning — we're committed to doing right by the planet in as many ways possible.
Standing up for workers' rights
In 1991, Levi's® implemented its <Terms of Engagement>to help improve the lives of apparel workers in factories around the world. As the first apparel company to set standards for suppliers globally, Levi's® terms have become known as the code that launched a thousand codes, remaking the way the apparel industry is run. On the 20th anniversary of our first TOE, we recently recommitted to not only enforce our current requirements for factories but to take our programs one step further through pilot programs that seek to improve the lives of workers outside the factory walls.We also created the Social and Environmental Sustainability Guidebookto benefit members of the Levi's® family. The guidebook covers topics ranging from safety guidelines for garment makers to Freedom of Association.
Engaged with the community
In the spirit of our founder Levi Strauss, our employees have been giving back to our communities for more than 150 years — by mobilizing volunteer teams that work year round to support charitable organizations, by rushing to help when disaster strikes and by supporting special events to raise awareness and funding for important causes.
WE SET THE BAR HIGH WITH OUR MATERIALS
Global bottled water consumption is over 29 liters per person, per year. Unfortunately, many of these bottles are not recycled – in the US, only 29% of PET bottles are recycled; in Europe, only 48%; and in Japan, 72%. Garbage is piling up. These disposable bottles are not going to just disappear.Municipal recycling programs use new technology to recover plastic bottles and food trays across the U.S. They are cleaned, sorted, crushed and made into a polyester fiber, which is then blended with cotton and woven into the denim of Waste<Less™ jeans and Trucker jackets.Recycled brown, green, blue and clear plastic bottles, as well as black food trays have become a new resource efficient material that also provides a unique color and finish. The lightweight, non-stretch White Oak Cone denim, found in our 2013 collection, is also remarkably soft and flexible.By incorporating post-consumer waste into our Waste<Less™ denim we use less virgin cotton and virgin polyester and, in turn, less natural resources. In the spring of 2013, we'll recycle approximately 3.5 million PET plastic bottles, and that's just the start. In seasons to come, look for more impact-reducing Waste<Less™ apparel.
BETTER COTTON
Cotton accounts for 40% of the world's fiber production and generates a $40 billion a year textile market. Though we are a big consumer of cotton, we use less than 1% of the world's annual cotton crop. But regardless of the size of our cotton consumption, we're committed to promoting more sustainable practices and have done so by joining forces with other brands and retailers to form the Better Cotton Initiative.
ADDITIONAL FIBERS
Within our product offering, we also use organic cotton, which requires no pesticides to grow, and Tencel®, a natural fiber made from wood pulp that takes less energy to produce.
RECYCLED PACKAGING CONTENT
Because we want to use recycled materials as much as possible, in 2009, we introduced clothing made with post-consumer fiber. In 2010, we committed to a Sustainable Forest Product Procurement Policy, which states that we promote sustainable forestry practices, and we will not knowingly purchase wood and paper products from endangered forests and other highly controversial sources such as high-risk regions for illegal logging.
We created a Care Tag for our Planet
Did you know that you can reduce the full lifecycle climate change impact of your jeans by up to 50 percent by line drying and washing them in cold water? We were surprised, too.In 2010, we created the Care Tag for our Planet initiative with this simple message: Machine wash cold, line dry when possible, donate to Goodwill.Donating your used Levi's® jeans to Goodwill helps reduce the approximately 23.8 billion pounds of clothing and textiles that go into U.S. landfills each year, said Jim Gibbons, president and CEO of Goodwill Industries International.